Talking Dead with Pedro: The Season 7 Finale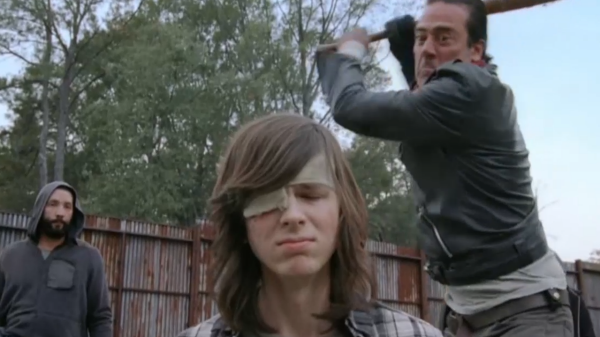 Hang on for a minute...we're trying to find some more stories you might like.
Welcome back walker fanatics to the reaction of The Walking Dead season 7, episode 16, the finale! This season finale is truly one to remember and there are surprises in this episode that fanatics didn't see coming, or did you? The finale starts off with Sasha in what looks like a coffin, listening to music on the og iPod with her earbuds in her ears. As music plays, Sasha begins to dozes off.  What got me nervous was when she completely shuts her eyes and her earbuds fall out of her ears, and gets us fanatics thinking is Sasha dead?
In a flashback, Sasha wakes up from a nightmare and kisses Abraham in Alexandria! (This scene happens before they leave for the Hilltop and cross paths with Negan for the first time!) Sasha fully wakes up at the Sanctuary where Negan welcomes her to the first day of the rest of her life as a member of the Saviors. Sasha is going to help settle the issue of where people will die.
Daryl and Dwight have a stare down, but Rick asks Dwight why he came to Alexandria. Dwight said it was because he wants Negan dead. Rick was curious why he couldn't do it himself, it was because Dwight is Negan. Tara brings up the fact that he killed her girlfriend, Doctor Denise. Dwight said that he's sorry for her loss, but he didn't intend to do it, which frustrated Daryl, so Daryl picked him up, held him against the wall and held a knife towards his face. Daryl couldn't finish the job. Dwight proposes the idea to attack outpost by outpost to get to the area Negan is in, and Dwight warns them that they're coming tomorrow. They agree to go with the plan, but Daryl is ready to kill Dwight!
This next scene shows Sasha listening to her music once again, but then flashbacks to her conversation with Abraham. Sasha tells Abraham that she had a dream about him. Abraham flattered by what he's hearing asks what was he doing in Sasha's dream. Sasha said that he died! Back to reality, Negan brings Sasha pancakes with a smiley face made of blueberries. Negan tells Sasha the plan, but she can't let three or more people die. Negan and Sasha debate how many people will die, and they both agree on one. A video of Maggie and Sasha watching the sunset plays.
Jesus tells Maggie what's going to happen at Alexandria and how Maggie is ready to lead the Hilltop to fight.
Kingdom head to the battlefield and are interrupted by another wall of carriages, but Morgan sets them up this time to tell King Ezekiel that he isn't going. Ezekiel is surprised by what Morgan tells him and encourages Morgan to come along and do it for Benjamin, but still doesn't change Morgan's mind.
Back in Alexandria, the Scavengers show up in garbage trucks and motorcycles, ready to fight! Daryl, Rosita, and Aaron are setting up bomb traps for the Saviors on sides of trucks. Dwight was up late the night before cutting down trees to make the Saviors late. The Saviors stumble upon the trees and work together to move the trees over, and at the same time, Eugene asks for a promotion. Michonne and a Scavenger set up on a post with sniper rifles, and the scavenger purposes that she go on the other side.  Michonne asks why and she does anyway, but tells Michonne, "We win."
Sasha listens to more music, until she flashbacked to the conversation between her and Abraham where Abe asks how he died. Sasha responds with the two of them on the beach, and a wave pulled Abraham in and he never came out. Sasha tries to look for him, but she drowned. Abraham tries to be funny and tells her that he hates the beach. Abe purposes they leave the house to help Maggie take the Hilltop, but Sasha said let Maggie take care of Maggie!
Eugene escorts Sasha out of her cell and asks if she took the pill and she said yes.
In Alexandria, the Scavengers signal each other that they're ready. Eugene and the Saviors show up, but Eugene said that they have to follow the rules.  Rick is shocked of how Eugene turned his back on the group after everything they've done for him. Rick asks Eugene where's Negan, but Eugene said he's Negan. Rick tried to set off the bombs, but nothing happens, and out of nowhere, the Scavengers turned their backs on Rick and his army and they all point guns at them! Michonne realizes what's going on and she turns around to find the other Scavenger, who says, "We win!"
Negan talks smack to Rick for being so stupid in trying to end the Saviors! Dwight and Simon lift up the casket that holds Sasha, but Negan knows how weird that is, and promises that Sasha is alive and well. Negan demands all of their guns, Daryl, and their pool table—everything!
Another Sasha flashback, but this time she says, "It felt real," and Abraham kisses her, and together they leave Abe's home and head to the Hilltop. Abe said "Maggie is carrying the future" and Sasha agrees.
Before the catastrophe happens at Alexandria, Sasha and Eugene leave the Sanctuary and Sasha is led into the mysterious casket. As they closed the casket, Sasha listens to her music, looks at her pills, and dances along to the music.
Present time rolls around and Negan asks Sasha through the casket if she could believe what's happening and as he opens the casket, Sasha is a walker! (Fun fact about this scene, is that as I was watching it, my phone rang, I tried to pause it, but I paused it as Sasha came out as a walker and I got so scared, it took me a while to comprehend what was happening and almost missed talking to my father.) Sasha took down Negan and a fight breaks loose. Carl takes the first shot in the all-out war! Rosita got shot in the arm and she retreats. Negan fights walker Sasha, but the Savior who annoyed Enid about the vegetables comes to Negan's rescue, and gets his face bitten off by Sasha, and takes one for the team! Rick tries to work out a deal with Jadus, but she shoots Rick in the ribs and pushed him off the platform while saying, "Sit down!"
The fight continues, but Michonne and the Scavenger are fighting now, and it looks like Michonne is losing as she's bleeding severely after taking many blows to the face. Jadus takes Rick to the infamous line up and Rick sees dead, but unimportant Alexandrians after lining him up with Carl. Unfortunately, Negan has to start all over again! The Scavenger and Michonne are fighting on the ledge and Michonne is on the bad side of the ledge. Rick hears a cry from a distance and is immediately visibly nervous. Negan says he's going to kill Carl, but he's going to try and make it quick since he likes Carl. Rick states that he'll kill him, not today, not tomorrow, but he'll eventually will kill him! Negan says okay and takes off Carl's signature sheriff hat, but Shiva the tiger comes out and attacks the Saviors indicating the Kingdom has arrived! The Kingdom fights off the Saviors and Scavengers.  At the same time, Hilltop arrives with great force and kills more Saviors and Scavengers! Shiva is truly the beast—more than WWE superstar and former UFC fighter Brock Lesnar! Saviors and Scavengers retreat as they were outnumbered. They use smoke to retreat and as Negan gets in his truck, he flips the bird to them in a heartfelt goodbye. Rick and Carl sprinted to Michonne's spot and find the dead Scavenger, and a bloody Michonne alive.
Back at the Sanctuary, Negan asks Eugene how Sasha died. Eugene said her death was probably due to a lack of oxygen/air. Negan bought the idea, and told the remaining Saviors that they're going to war!
The three groups helped clean up the mess in Alexandria. Jesus kills walker Sasha as Maggie looks on and begins crying for the loss of her best friend. In the background, she delivers a well thought out tribute to Sasha and for the future of their lives, as the camera zooms in on Maggie's hand holding her father's pocket watch that he gave Glenn and a clip of Maggie and Sasha admiring one more sunset!
This was a fantastic season finale! I really enjoyed the unexpected death of Sasha and the Scavengers turning their backs on the group. Be ready for the return of The Walking Dead in late October. I have more reviews coming in for the return of the Fear of The Walking Dead, and other articles. This is Pedro Vasquez signing off ready for All Out War to truly begin! Ta-Ta!