This Year's All-Shore Symphonic Band Audition Results!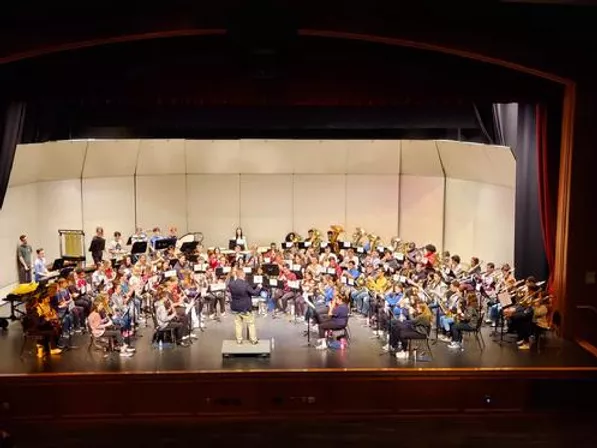 As most of us know, on March 15th, 2022 Freehold Township hosted auditions for the All Shore Symphonic Band. These auditions were highly competitive, with over 100 students from the Shore Conference competing for a spot in such an honorable ensemble. 
Now, the results are in! 18 members from our Patriot family were accepted, with 7 of them being considered first chair/Principal Players. This is absolutely incredible considering last year we only had 5 Principal Players! Once again, our school reigns successful in accomplishing such prestigious goals/opportunities. With such success and bragging rights, it definitely is a great day to be a student at FTHS!
Furthermore, between the All Shore Jazz Band and the All Shore Symphonic Band, FTHS has the most students at the All Shore level! 
In the FRHSD…
Colts Neck: 3 instrumentalists 
Freehold: 1 instrumentalist
Howell: 6 instrumentalists 
Manalapan: 2 instrumentalists
Freehold Township: 18 instrumentalists!
Township really has proved its talent with these statistics! Now, let's mention the 18 instrumentalists that are representing our school…
Jessica Hakanson: Principal Flute. (Jessica has been best in the shore for 3 years in a row, AND was the top scoring piccolo!)
Olivia Raguseo: Principal Bassoon(Also best in the shore. Olivia is holding the seat of a former Township student as well.)
Taylor Traynor: Clarinet(#2 in the shore)
Victoria Sanchez-Marquez: Clarinet
Kevin Sweeney: Principal Eb Alto Clarinet  (#1 in the shore)
Lianna Augusto: Principal Bass Clarinet (#1 in the shore)
Justin Morgan: Principal Tenor Saxophone (Best in the shore, #2 on Alto Sax, and principal on Soprano Sax last year.)
Aaron Stern: Principal Baritone Saxophone (Last year, he was best in the shore for the 2nd year in a row on Tenor Sax.)
Brian Yaniro: Trumpet
Sophia Briggs: Trumpet
Nancy Armstrong: French Horn
Douglas Luke: Principal Trombone (#1 in the shore and was the first on Euphonium.)
Annabelle Fredericks: Trombone (#3 in the shore.)
Jacob Goetke: Trombone
Madeleine Raguseo: Trombone
Jason Feldman: Tuba (#2 in the shore)
Greg Megas: Battery Percussion (#2 in the shore).
Michael Hynes: Battery Percussion
The 18 students above will be performing Saturday, April 2, 2022 at 3pm at the Michael T. Lake Performing Arts Center (55 Neptune Blvd, Neptune City, NJ 07753). 
Once again, thank you to everyone for supporting the music program and the talented members of FTHS! Our accomplishments have been so great, and we should all be so proud! 
Congratulations everyone!