When in Rio: Former FTHS Student Brings Home Paralympic Bronze Medal
Their adventure began in a small airport in the city of Rio de Janeiro.
The Griswold's first taste of the "Marvelous City" were moments of cultural connection, a colorful wonder, and glimmering revelation.
There was a "huge number of Paralympic athletes from around the world standing around me in the airport while we waited to be transported to the Athlete's Village," Robert Griswold remembers.
"Having my passport stamped with a Brazilian symbol along with the Olympic and Paralympic logos signified to me that I was really there and that the adventure was about to begin," Robert's sister Molly Griswold says, reliving the moment.
This past September, Robert competed in the 2016 Paralympics in Rio de Janeiro where he got 5th place in the 400 Meter Freestyle, 4th place in the 200 Meter Individual Medley, and brought home a bronze medal for Team USA for his 100 Meter Backstroke with a time of 1:04.68.
What is it like now representing Team USA as a medalist?
"I don't look at it as being that different. As an athlete, the expectation is always that you take everything you have and lay it on the line to represent Team USA."
What was it like swimming in the pool that some of your favorite Olympians have swam in?
"I had the honor of traveling to Rio in April for a test event and actually competed in the pool then, just days after it had been completed. But, while watching the Olympics, it was cool to look at a lane and know that I had swum in it or see the deck and know that I had walked on it."
His sister, Molly, also played a role in this incredible story of a beautiful achievement in a beautiful country.
Did you ever imagine that your brother, Robert, would become a Paralympic medalist?
"Yes, I did. We have trained alongside one another for many years, and I have seen his passion and drive. I have known for a long time that he has had the tools for success."
What was your initial reaction when Robert won the bronze medal for backstroke?
"I was extremely proud! By the time he placed third, we had already made friends with Brazilian fans sitting around us, so to hear them start the chant, "USA! USA! USA!" was unforgettable."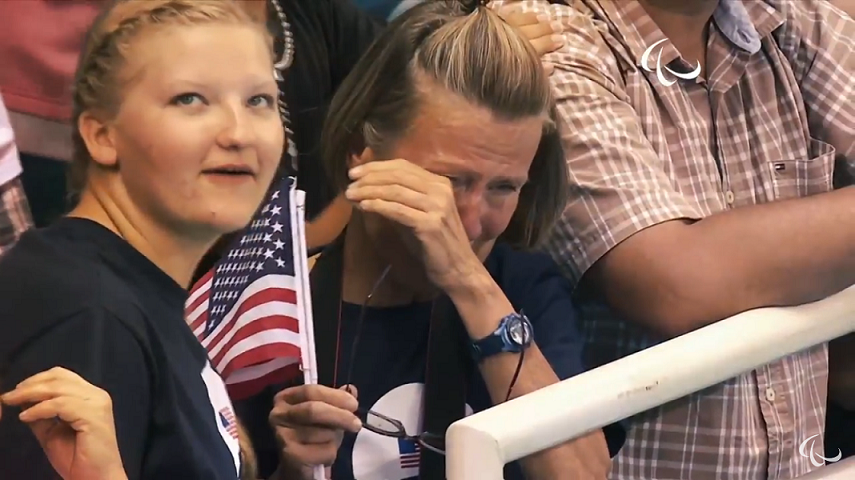 How does rooting from the stands of the Olympic Stadium differ from watching from home?
"Wow! It is so much better! There is no greater feeling than cheering for your country on the world's biggest stage and while waving the American Flag. When watching on TV, you don't really hear the roar of the crowd or feel the excitement."
Besides swimming the lanes with flying colors or flying our red, white, and blues from the stands, the Griswolds also explored Christ the Redeemer, the steep peaks of Sugarloaf Mountain, the glittering beaches of Barra, Ipanema, and Copacabana, and the Ipanema Hippie Market. Robert, Molly, and their family even had the amazing opportunity of going to the Paralympic Closing Ceremony.
"Oh, and I ate acai every day!" exclaims Molly.
Yet, this once-in-a-lifetime experience gave Molly and Robert an opportunity to culturally immerse themselves within something of Rio that any beach could not offer: the people.
"On the last day, a local guy saw me- dressed in my stars and stripes- attempting to dance [at the Aquatic Center in the Paralympic Park] to a popular song and stepped in and taught me the correct dance moves. Having the opportunity to have a dance party with complete strangers and truly embrace the culture was one of the best parts of the trip," Molly reminisces.
Robert explains that "Trying to learn key words of Portuguese to try to interact in a more normal way with the Brazilian employees and volunteers in the Athletes Village and at the aquatic center" truly connected him to Rio on a personal level. "They really seemed to appreciate when people made the effort to do that" he adds.
While competing in Rio, Robert evidently made connections with many new people, but found most of his motivation through connections with people back home.
Did you form any strong relationships with the other swimmers that came from around the world to join you in Rio?
"I had known many of them previously, but until the Paralympic Games, I had never had the chance to actually hang out with my competitors in a non-competition setting for an extended period of time. I really enjoyed that, as well as getting to know athletes from other sports from both Team USA and from around the world."
Who or what was your greatest motivation during this amazing experience?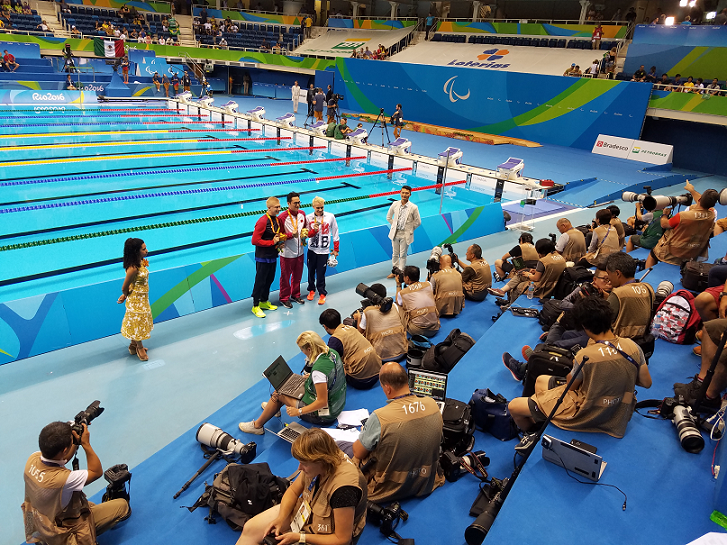 "All of the people from my past from all different parts of my life who had reached out to me with support. In addition to hearing from people on social media, my mom had printed pictures and words of encouragement from hundreds of people, and those were hanging in the Athletes Village right outside my dorm door to see when I left or came onto my floor."
In January, Robert plans to return to Carson-Newman University– his home in Jefferson City, Tennessee– to continue with his education in political science. But, of course, he plans "to train for World Championships in Mexico City next fall, and then, the Tokyo 2020 Paralympics Games," he says confidently.
Robert, what would you like to leave in the minds of all of the future Paralympians throughout the world?
"I would tell them: You are not a victim. Nothing is ever going to be easy, but you will never achieve your dream if you don't go for it."
From the bravery and talent it took to embark on such an amazing journey to winning the bronze at the edge of the Olympic pool, Robert Griswold believed in himself, inspired his family, wowed the world, and made Team USA proud– stars, stripes, backstrokes, and all.