Talking Dead with Pedro (7.13)
Hang on for a minute...we're trying to find some more stories you might like.
Welcome back walker fanatics to the reaction of The Walking Dead, season 7, episode 13. AMC does it again with another phenomenal episode of TWD—truly something to remember, and too many unexpected things to go over in this episode! The episode begins with a short scene where the Kingdom load the Kingdom truck with melons for their weekly delivery to the Saviors.
Right before the group decided to roll out, Morgan is seen training Benjamin's younger brother with the stick. Morgan thought it a good idea to train Ben's younger brother when he's still young so he can be a great warrior like Ben, but his side of the story is so that he can beat up his older brother. Morgan is smart enough to know the real reason, and how Benjamin's younger brother looks up to him and wants to be like his older brother.
Carol packs her stuff, and makes a short trip to the Kingdom. In doing so, she kills all of the walkers banging the gate like paparazzi as if the Kingdom were the Kardashians. Carol killed the paparazzi walkers with a street sign and made her way inside the Kingdom looking for Morgan. Carol approached Morgan's room and asked why Rick and company were at the Kingdom. Morgan responds so they can make a deal with them. Carol asks if everything is really okay back at home, but Morgan trying to play the wise guy here tells her to go talk to Daryl about that. Morgan also tells her to stop worrying because this is what she wants, to get away from everyone. As Carol was leaving the place with such disappointment in her face, Benjamin follows her out, so he can learn from her, but Carol said no.
Richard is seen outside of the Kingdom digging something to bury, but what?
Ezekiel looks on with Shieva at the Kingdom and how everything is so peaceful there. That moment was interrupted by a Kingdom civilian who works at "The Royal Garden" and is now the bearer of bad news. The bad news was that somehow poison got onto the garden, and Ezekiel has to burn it all! Upset by this news, Ezekiel continues to look on, and the lady peed her pants because she was intimidated by Shieva.
Morgan was approached by Benjamin in his room with a present for everything he has done for him—a painting of a bull fighter.
Halfway to the Savior meeting point from, the group were intercepted by a wall of carriages. The group got out of the truck, and together they protected the King with their fire arms. As they were walking, protecting the King, they stumble upon the spot Richard was digging a hole, and they stumble upon a sign that says "Bury me here." Oh what a crazy world they live in!
The Kingdom was late for their meeting, and the Saviors called them out on it. Gavin looked at the work they produced, and Ezekiel was mid sentence before he cut the king off which ticked off Jerry who called him out on it. The Savior torturing Richard decided to hit Jerry on the side of his head with the stick! Then, Gavin told Ezekiel to stop this fairytale nonsense. Gavin told the Kingdom to surrender their guns too, but after arguing and debating, the Kingdom finally surrendered their guns! The reason behind this new request was because Gavin counted only 11 guns, and there should have been 12. Ezekiel shocked by this mistake decided to count himself, and found that Gavin was correct! Gavin told the person with Morgan's stick to kill Richard, but Ezekiel's begging and pleading didn't save him this time! The shocker is instead of popping Richard, he shot Benjamin in the artery!
A very upset Gavin was not to be messed with because he gave a direct order to kill Richard, but instead the Savior disobeyed his order and forced him to relinquish the stick back to Morgan and go sit in the car. Before the Kingdom was allowed to leave, Gavin said that this is now a lesson for them to learn for showing up late and not having what they originally asked for!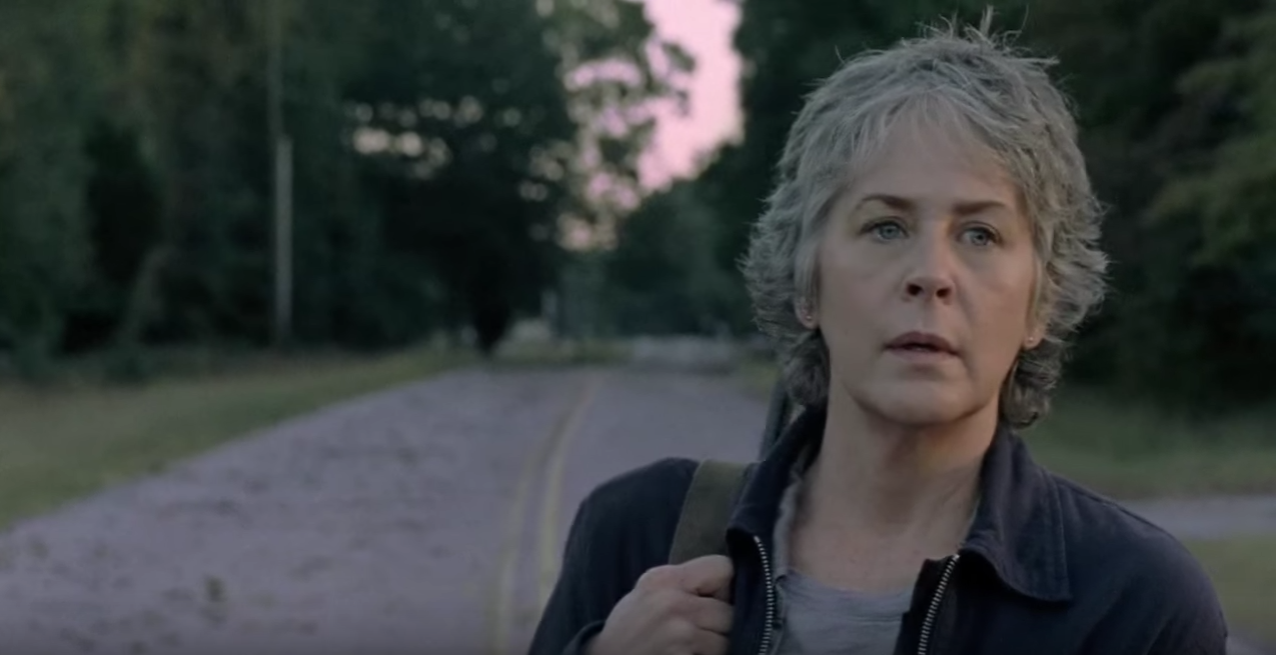 The Kingdom arrived at Carol's place to bandage up Benjamin, but when they put pressure on his wound, a pint of blood spurted everywhere before uttering his final words, "It's going to be okay." May Benjamin rest in peace! In a crazy state, Morgan rushed out the door and experienced flashbacks of his dead wife, son, and now Benjamin. He was about to end it by slicing his wrist, but only kicked a basket instead taking out his frustrations on walkers who were at the wrong place at the wrong time.
Morgan barged into Richard's room where Richard lamented that he wanted to die, not Benjamin. He was the one who made them late to the meeting and took one fruit out of the basket for them to make the decision and kill Richard instead of Benjamin. Richard purposes to Morgan that they show the Saviors who's the boss by joining Alexandria in the battle and destroy the Saviors once and for all! A lot of people will die from both sides, but if he doesn't join them, Morgan might as well kill himself. Morgan walks in on Ezekiel breaking the news to Benjamin's younger brother and both share an emotional moment.
The Kingdom arrived to the meeting spot the next day to deliver a single piece of fruit to them as an apology from yesterday. Morgan asked Richard if he told Ezekiel of the plans, but he said not yet. A curious Ezekiel interrupts the two having the conversation to see what they're talking about, but RIchard says it'll be better if they talk later. Ezekiel demands to know what the conversation is about, but before Richard could say anything, the Saviors arrived. Gavin asks if the kid is okay, but the Kingdom said nothing about Benjamin's death. Gavin told Benjamin's killer to leave right away, or he'll be the one who dies next. Gavin then asks if they got it, and Richard was seconds away from delivering the last fruit to the Saviors, but that was finessed by Morgan who hit him in the head with his trusted stick, and the two brawled for a moment until Richard was choked to death by Morgan! His explanation for all this is that Richard told Morgan that he was the one who made them late in the first place, and took that one fruit out of the truck thinking that he'll be the one who gets killed, but instead got poor, young Benjamin killed! He then explained to Gavin and the Saviors that they all understand the rules and laws, but all Gavin had to say was, "Be here by next week, nothing more, nothing less, don't be late." The king surprised by all this never would've thought it was all Richard's fault everything had happened, and asked Morgan to come back home, but Morgan wanted to stay for a bit, and stuck a knife onto Richard's head to prevent him from turning!
Morgan dragged Richard's body to the spot where he wanted to be buried, and as Morgan was making the hole bigger for Richard's body, he found a backpack that had the name "Katy" sewed on it and also buried that too. Morgan made another trip to Carol's place to ask her if she really wants to know what really happened with the Saviors. Carol said yes, and indeed she got the full story: Glenn, Abraham, Spencer, and Olivia dead, Eugene held hostage, and Alexandria Was working for the Saviors!
After the conversation between Morgan and Carol ended, she arrived at the Kingdom to see Ezekiel and to apologize for his loss of both Benjamin and Richard as he and Ben's younger brother were burying Benjamin. Carol told Ezekiel that they have to join Alexandria and fight against the Saviors! Ezekiel nodded yes, and all three helped bury Benjamin. The final scene shows Morgan sharpening his stick into a spear!
Like I said from the beginning, this episode was memorable! Join us next week with another Walking Dead episode reaction where we take another trip to the Hilltop, and possibly see Rosita and Sasha invade the Savior Sanctuary to kill Negan!?!? This is Pedro Vasquez signing you off leaving Richard a very important message, "Richard, you got you and Benjamin killed, but in the end, you gave birth to the Rebellion!" Ta-ta!