Talking Dead with Pedro (7.14)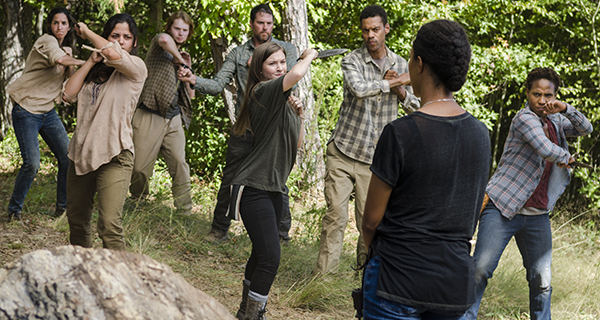 Hang on for a minute...we're trying to find some more stories you might like.
 Welcome back, walker fanatics, to the reaction of The Walking Dead season 7, episode 14. Despite the fact the episode lacked excitement in the beginning, it did redeem itself later on in the episode with major character growth and development. Episode 14 started off with Maggie looking on the Hilltop warriors training for the battle. In doing so, they made small knives and tested them by the regular people of Hilltop throwing them at a wooden log. Hilltop also teaches a small class of people who don't know how to use a weapon. Jesus is currently making a map for Rosita of the Sanctuary and afterwards Sasha continues mourn over Abraham. Maggie is being a nice host and delivers food to the Hilltop's lodger, Daryl. Gregory continues to sit at his trusted desk and drink liquor and sees Rosita out from his window paying a visit. The visit is for Sasha which was the ending scene of episode 12.
Jesus approached Maggie to talk about how it was when Jesus first got to the Hilltop, but everything changed because of her. Sasha went to Jesus' RV and finds a book with bullets. Jesus and Enid walk in and allows her to take them, but tries to talk her out of going to the Sanctuary because the Hilltop needs her and Maggie as one. Jesus' words didn't change Sasha's decision of going to the Sanctuary, but as he left, Sasha tells Enid to protect Maggie because she's the future of the Hilltop. Enid responds she's going to tell Maggie the plan.
A Hilltop guard yells out "The Saviors are coming!" In doing so, Rosita and Sasha found an underpath tunnel that leads them out of the Hilltop without being detected. Maggie and Daryl hid in the food pantry/basement of the Hilltop. Simon and his team went to the main hall of the Hilltop to see Gregory once again, but this time to see of they have a certain someone (hopefully not Daryl). Rosita and Sasha were able to make it out of the Hilltop without being detected by the Saviors.
Rosita tries to hotwire a car, but something stops her from completing the task, which was the necklace she made for Abraham when they were together, but when they broke up, he gave it to Sasha. Telling Sasha in a grouchy mood, she says that the car is dead. As they found another car, Sasha tries to start up a conversation between the two and asks her where she learned how to hotwire a car. Rosita tells her to stop and only talk to her about the mission. Sasha then brings up the mission and tells her the spot she chose to shoot and kill Negan. Rosita and Sasha debate for a while on whether or not it's a good or bad idea. Sasha calls Rosita out on her attitude, but Rosita wants to make sure that she was still in on the mission, and she still is.
Enid approaches a Savior to give him a basket of vegetables, but he only takes one and takes Enid's knife. In doing so, he slaps the basket out of Enid's hands. The same Savior goes down to the food pantry where Daryl and Maggie are hiding, then Daryl pulls out his knife in protection in case he goes anywhere near him.
Gregory and Simon decided to visit Dr. Carson of Hilltop to deliver him the good news that he's being "promoted" to work for the Saviors as their doctor. Carson makes up an excuse that he has other patients here that need to be treated, and to judge the fact they need two doctors. Simon tells the story to Carson and tells him in return that he needs to pack his stuff, but he says no need because they have supplies for him back the Sanctuary, In return, the Hilltop gets a full box of soup.
As the Savior is about to leave the food pantry, Daryl is ready to leave his hiding spot to kill him, but Maggie stops him and lets the Savior go walk free. Daryl gets emotional and apologizes to Maggie because he was the one who got Glenn killed. Maggie told him that it wasn't his fault and he was one of the good parts of the world they live in today. When Daryl gets emotional, the walker fanatics all around the world get emotional.
The entire Hilltop witnesses Dr. Carson leave the Hilltop for good as he joined the dark side!
Rosita lit a stick on fire and poured honey on the car as she put the stick in the car as a distraction for the walkers to come towards it. Rosita and Sasha took advantage of this distraction and hotwired another car successfully and drove it to the Sanctuary.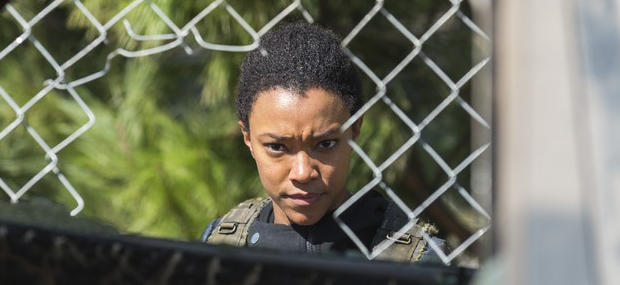 Sasha and Rosita are camping out on the bell tower across from the Sanctuary to scope it out. Sasha sees Eugene ordering around people. Sasha asks for a tip on tying knots, and Rosita gives her a lesson on it. Sasha and Rosita have a conversation about everyone who taught Rosita how to hotwire a car, tie a knot, defuse a bomb, etc. Rosita also tells Sasha that every guy she slept with thought she couldn't take care of herself, but she could. There was only one person who knew she could take care of herself—Abraham, and that's why she loved him. Sasha pulls out her rifle again to see what's going on and now she sees a car pulling in, and sees the Saviors now they have Dr. Carson.  Negan is out, but they can't get a clear shot of him. They decide to go inside to kill Negan.
Gregory is at his desk once more until someone knocks on his door.  Jesus was at the door, and Gregory let him and tells him to work on getting new people to stay at the Hilltop—he's lacking in doing so. He also gave Jesus a list of jobs to give to the new people and also threatens him with giving him to the Saviors! Jesus confronted him about that threat, and Gregory responds with that he never threatens people who are his friends, and in this case they were never friends. Another Hilltop person came in with some tequila for Gregory and shooed Jesus away as if he was a stink bug. Daryl runs into Jesus in the main hall and asks him where Rosita and Sasha are?
Eugene orders Saviors to do something about a walker, and out of nowhere like Randy Orton's RKO, Sasha shoots the walker and the Savior making it a collateral. Then Rosita and Sasha approach Eugene to set him free, but Eugene nervously said no, and ran away to possibly snitch. No one likes a snitch! As Rosita got the gate opened, she let Sasha in first, but Sasha closed the gate locking Rosita out saying it's not your time yet and ran in guns blazing and Rosita ran away until she was out of breath and sees a shadow of the one and only, Daryl Dixon!
I hope you walker fanatics enjoyed this episode of The Walking Dead season 7 episode 14. Join us next week where the crew takes a trip to Tara's camping spot, Oceanside, probably to ask them to join in on the fight. This is Pedro Vasquez signing off leaving Sasha a very important message: it was nice knowing you. Ta-ta!