Talking Dead with Pedro (7.15)
Hang on for a minute...we're trying to find some more stories you might like.
Welcome back walker fanatics to the reaction to The Walking Dead, season 7, episode 15. Overall, another excellent, exciting, well played out episode that showed great character development for major characters! Once this reaction is over, I have some sad, yet satisfying important news about The Walking Dead. The episode kicked off with Rick and group, plus Daryl and Jesus on a trip to Oceanside. In the background, you hear a conversation between Tara and Rick about Oceanside. Tara shares with Rick that this group has a lot of guns, and the reason she withheld this information from them is because she made a promise to never come back. Rick asks her if she's ready for trip south, and Rick also advises her not to feel bad for what's going to happen.
Maggie asks a Hilltop worker to go do a job requiring the vegetables, but the guy asks for clarification on the request because the person did not know how to farm, but Maggie with her brilliance in leadership told him that it was okay and that he could do it.
Rick helps Michonne on to her sniping spot to look out for Tara as she executes phase 1 of her plan for having Oceanside join them in the fight! Aaron tells his boyfriend, Eric how happy he is that he has finally came to one of these adventures.
It wasn't too long before the Saviors captured Sasha, and Sasha is being held in one of many Sanctuary prison chambers. A Savior named David opens her cell to tell her that he was the dude who put the rope on her to tie her up. Sasha asks for water, but David says yes even though this was against the rules only if Sasha does something for David (indicating rape). Sasha responds with a go to hell and headbutts him afterwards. Negan walks in and correctly assumes that David was about to rape Sasha! David tries to apologize for his actions, but Negan doesn't accept and stabs David in the neck with a knife! Negan tells the Savior with him to go get Sasha a new shirt as he was about to talk to her. Negan says Sasha has some "beach ball, lady nuts" for coming into their home guns blazing, but understands why after their first encounter at the beginning of the season. He gave Sasha a knife and gave her a list of options to do with that knife, either kill Negan (which is a very bad idea since he has a baseball bat made of barbed wire), slit her wrists (which will leave Negan very upset), let David turn and eat her pretty face (make Negan even more upset), or use the knife to kill David and prevent him from turning. Negan assumed that Rick was behind this madness, but Sasha said no and told her that it was all her! Negan astonished by this answer said that he pictures the two of them running the Sanctuary together!
Eugene feels like paying Sasha a visit in the chamber and brings her some bed sheets. He asks her if she would join the Saviors. Before Sasha could answer, Eugene told her how scared he was that night when Negan came out of the RV and beat their friends to death, but that all changed when he was asked to join them! Sasha said no and as Eugene left, she let David turn into a walker!
Maggie is next seen planting outside of Hilltop's walls and Gregory walks towards her asking why she's still here since Carson is gone, but she's still here for the people. Maggie asks Gregory to stay here to protect Maggie as she's planting. Gregory agrees, but in doing so, he pulls out his knife and is tempted to kill Maggie right then and there so no one could see, and can finally have his place back to normal. Gregory is distracted by a walker who poses threat, and Gregory offers to kill it since Maggie is pregnant. Gregory hesitates to kill this creature since its ugliness makes Gregory want to vomit. In doing so, Gregory tells Maggie to kill the walker, but as Maggie was about to kill it, another walker comes out of nowhere like Randy Orton's RKO, but Maggie is able to fight off this walker and killed Gregory's opponent walker. As she helped Gregory up, he vomits in front of other Hilltop workers coming home.
In Oceanside, the leader walks to her home where Tara greets her with a gun! The leader tells Tara that they should've killed her, but now Tara holds her and her granddaughter, Sydney hostage. Tara offers a deal for them to join the fight against the Saviors, but the leader says no! Sydney tries to convince her to say yes, but Tara looks at her watch and tells them it's too late! The people of Alexandria detonate bombs causing Oceanside to retreat, but the two who tried to kill Tara in the first encounter run to the arsenal.  Michonne stops them as Alexandrians tie the two up!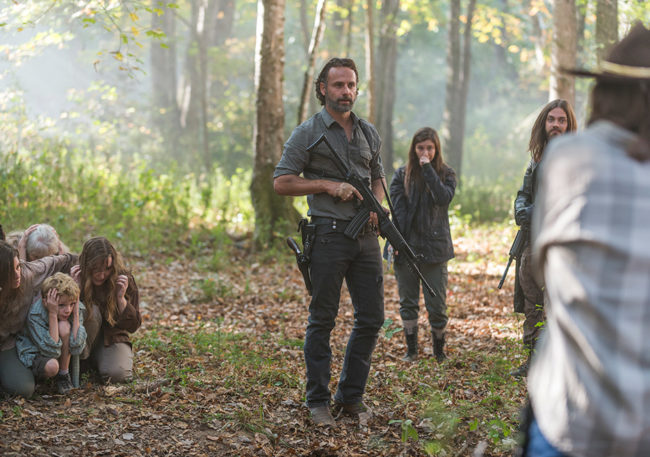 Tara still has the leader and Sydney hostage, but Sydney hits Tara causing her to relinquish her gun and puts the leader and Sydney in control of the situation. Tara's gun was empty, but they used Sydney's gun to hold Tara hostage. The civilians try to run away, but Rick and company manage to capture them all and have them sit in one area, but the leader and Sydney came out with Tara. Rick tells her to let Tara go, but refuses and tells them to leave. The non-hesitant Rick still goes on with the plan and tells them about the fight against the Saviors, but the leader still refuses! Michonne is trying to get a good shot of the leader, but instead sees a paparazzi heard of walkers coming their way because of the explosion! Michonne yells to warn Rick and Rick lets a couple of members of Oceanside loose to help them fight the walkers. Together, they managed to kill all of the walkers and the fighters shook Rick's hand, but the leader is still in denial about joining the fight, and lets Rick and company take their guns.
Negan knocks on Sasha's cell door, and opens it to see a knife in David's head, which satisfies Negan. Negan automatically assumes Sasha has joined the dark side to help them teach Rick and company a lesson in playing by the rules.
Gregory pulls out a map of Virginia for some unknown reason and asks one of his men to come to his office as he asks for him to pack a bag and take him to whatever is in Virginia that Gregory seeks.
Rick and company take Oceanside's guns and Sydney thanks Tara for fighting against the Saviors since Oceanside and the Saviors have a history. Some, but not all are going to fight with the group, but Sydney definitely is!
Eugene goes to Sasha's chamber once again, but Sasha asks Eugene to give her a weapon to kill herself because she doesn't want to help the Saviors attack their friends, and Eugene said he'll strongly consider it!
Eugene went back to Sasha's chambers and grants Sasha's request and gives her a pill that will kill her in 20-30 minutes.  Sasha breaks down into tears.
Rick and company are back home, and Rosita lets them in. Jesus asks where Sasha is, but Rosita didn't respond and says that someone is here to see Rick. They go down to the cell Morgan built back in season 6, and find Dwight—the person in the shadow at the end of the last episode! (Apologies for last episode's mistaken identity of the person in the shadow.) The mere site of Dwight infuriates Daryl who tries to fight Dwight, but everyone who followed Rick down to the cage held Daryl back. Rosita tells the group that Dwight wants to help.  Rick draws his trusted revolver and tells Dwight to get on his knees!