The 1975: At Their Very Best?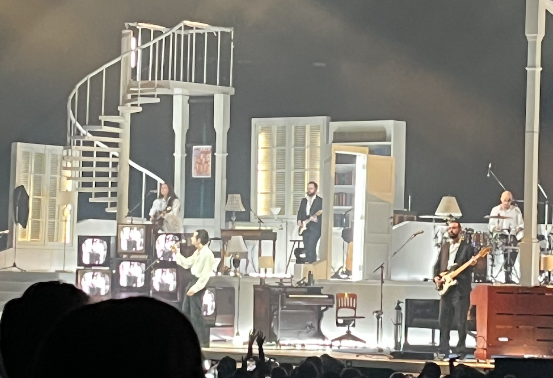 The 1975's North American branch of their "At Their Very Best Tour" has come to a grand close in Pittsburgh, Pennsylvania. The band, which recently released their fifth studio album Being Funny In A Foreign Language, engaged in plenty of hijinks and tomfoolery during their 28-show journey across America. The band's lead singer, Matty Healy, brought fans onstage to kiss them, stage dived, ate raw meat, and even got a tattoo during this month-and-a-half-long tour. Now that the tour is on hiatus until the first UK date on January 8th, I thought to examine this outrageous claim the band is putting forth. Is The 1975 truly "At Their Very Best?"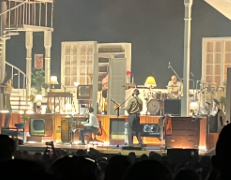 The tour itself began on November 3rd in Connecticut. Nobody knew what to really expect, so when the band opened with a 22-song set and stage that looked like a house, everyone was on edge. The first part of the show took a deep dive into their entire fifth album, playing pretty much every song with a couple of older hits like "fallingforyou" and "I Like America & America Likes Me" sprinkled in. After an—interesting—intermission, concluding with Matty climbing into a TV, the band reentered the stage and played their greatest hits in succession. "If You're Too Shy (Let Me Know)," "Somebody Else," "Chocolate," and "Give Yourself A Try" were among the songs consistently performed (although the setlist changed every night). The first half of the show was a display of performance art, which Matty intended to be a commentary on toxic masculinity, while the second half allowed the band's personality to shine through. 
The show I attended was at Freedom Mortgage Pavilion on November 9th. The band performed "A Change Of Heart", which shared an alternating slot with "Paris" on the setlist. Nothing particularly exciting happened at my show, but only two nights before, on November 7th in Madison Square Garden, Matty Healy unveiled a large chunk of excessively raw meat and took a plentiful bite out of it. The reaction to this stunt was outrageous, and I was severely worried that he would contract some sort of illness and be unable to perform at my concert.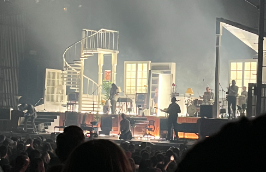 Shenanigans continued throughout the month of November, as Matty Healy ditched the slicked-back hair for his natural curls and sang hits that had not been on stage since 2017 like "So Far (It's Alright)." The chaos began on November 25th in Las Vegas, when Matty welcomed a fan onstage during the 2014 hit "Robbers" and ultimately kissed her. He repeated the act the next day in San Francisco and kissed fellow band member Ross MacDonald in Los Angeles on the 28th. Phoebe Bridgers was also welcomed onstage at the Los Angeles show to acoustically sing a deepcut of the band's, a song titled "Milk". He also ate raw meat AGAIN.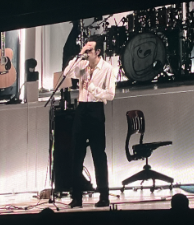 After the Los Angeles show, practically anything was fair game. "Wintering", "People", and "Sincerity Is Scary" were all added to the setlist at some point and the stage was decorated for Christmas. Matty even sang "102", an unreleased song he and the band wrote as teenagers. During the Toronto performance on December 12th, Carly Holt, bass player Adam Hann's long-time girlfriend, appeared on stage for the first time to sing a verse of the band's newest hit "About You", and Matty took to crowd surfing as the band sang "Love It If We Made It". In Newport, Kentucky on December 16th, Matty received a tattoo on stage and invited another fan up to get her own. The whole tour was nothing short of chaos, and every morning I would wake up and immediately check Twitter to see the updates about what strange atrocities Matty Healy had committed the night before. Altogether, it was an experience I would never trade anything for. 
Now that The 1975 is gaining momentum on the social media app TikTok, it comes into question whether the band is actually "At Their Very Best", and I would say there is no doubt this statement is true. Matty Healy has gone through multiple rounds of drug addiction, but concert videos make it obvious he is the happiest and healthiest he's ever been. Being Funny In A Foreign Language was produced by Jack Antonoff, former member of the band Fun. Antonoff, a New Jersey native, is known for collaborating with Taylor Swift, Clairo, Lorde, Lana Del Rey, and Florence + the Machine as well as being the lead singer for the band Bleachers. After a rocky road with their 2020 release Notes On A Conditional Form, including Matty being canceled on Twitter and the tour halted halfway through due to the COVID-19 pandemic, the band was radio silent for almost 2 years. The new era that The 1975 has entered is a combination of all their previous sounds but still exists as a unique entity.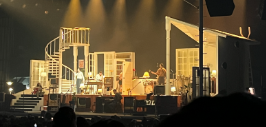 The reason The 1975 has to be one of the best bands in the world right now is because of the members' chemistry. Matty Healy, George Daniel, Ross MacDonald, and Adam Hann formed The 1975 as kids over 20 years ago and are still best friends. The foursome was able to build a successful career and capture the hearts of teenage girls across the world. If that's not a dream come true, I don't know what is! Matty Healy brings energy and personality to the stage as he engages in reckless and questionable activities, but he is having fun as he does it. The band loves what they do, and they pour their heart and soul into transferring their joy into the listeners. Heartfelt lyrics and genuine performances are sprinkled throughout Matty Healy's antics, but everyone involved is excited to be there, and it is incredible to see. The 1975 will continue to be my favorite band for years to come (as all my friends might know) and, as Matty Healy puts it, they might just be "the best ******* band in the world!"