Tasty Tuesdays with Gab: Cinnamon Buns
Hang on for a minute...we're trying to find some more stories you might like.
I always try to find delicious recipes for the school week, the kind that you can just grab off of the counter and run to the bus with. This week I decided to make cinnamon buns, which are one of my favorite desserts!
I started by mixing 2 ½ cups of flour, sugar, salt and the active dry yeast in my kitchen aid mixer. I then set that aside.
I melted the butter and put it on the counter and then poured some tepid water into my liquid measuring cup. Tepid is slightly warm, not hot and not cold. If the water is too hot/cold it will kill the yeast and the dough won't rise, this part is very crucial to the recipe! I then poured the milk into the same measuring cup along with the butter. These three ingredients together need to be tepid, which is about 115°. I don't have a cooking thermometer so I had to tell by feel which is perfectly fine so don't worry! When I mixed the water, milk and butter it felt like the perfect temperature so I was ready to go.
I whisked an egg and poured it into the mixer along with the water, butter and milk. I used the dough hook attachment to mix on the lowest setting, while using a rubber spatula to make sure everything was completely combined. Now you can start adding flour one tablespoon at a time until the dough isn't too sticky because you will have to roll it out and work with your hands. I then left the dough mixing on low for 5 minutes.
After you've mixed the dough, roll it out into a rectangle and spread on the brown sugar and cinnamon evenly. Slowly and tightly roll the dough and then cut into about 16 pieces. The cinnamon buns have to rise overnight so I placed them in a 9×13 pan, make sure that you leave each bun with a couple inches around it so they all have room to grow.
The next day, preheat your oven to 350° and bake the cinnamon buns for 20-25 minutes. While they're baking, you can make the icing. For the icing all you have to do is whisk together vanilla extract, powdered sugar and milk and then pour them onto the cinnamon buns after they have cooled for about 5 minutes.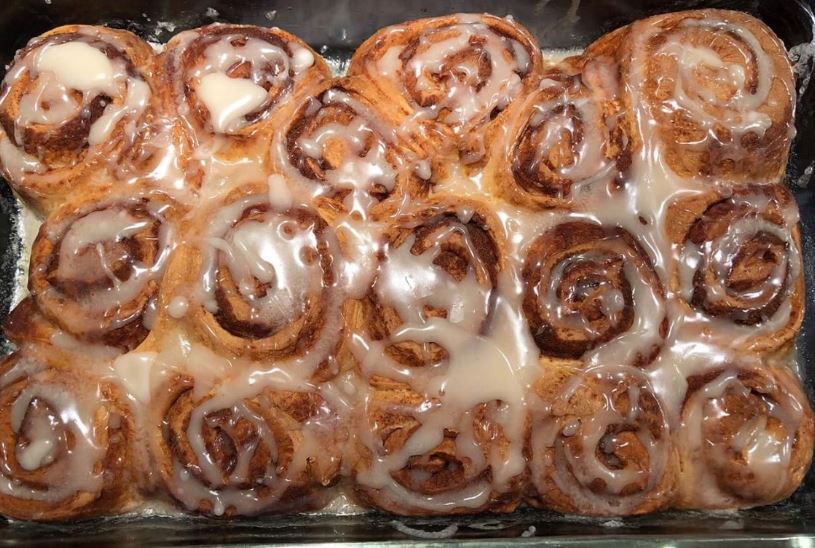 RECIPE:
For the dough
2 ½ – 3 cups flour
3 tablespoons sugar
1 teaspoon salt
2 ¼ teaspoons active dry yeast
½ cup water
¼ cup milk
3 tablespoon butter
1 large egg
For the filling
4 tablespoons cinnamon
¼ cup brown sugar
For the icing
1 cup powdered sugar
1 teaspoon vanilla extract
1 tablespoons milk