Tasty Tuesdays with Gab: Chocolate Cupcakes
Hang on for a minute...we're trying to find some more stories you might like.
I went to a New Years party this weekend and I wanted to bring something easy and delicious, so I decided on chocolate cupcakes! You can never go wrong with bringing something chocolate to a party.
I began preheating my oven to 350°. Then I mixed together the flour, sugar, baking powder, baking soda, salt and cocoa powder in medium-sized mixing bowl, I set that aside for later. After that, I whisked together the egg, greek yogurt, milk, water, canola oil and vanilla in a large bowl. I then added the dry ingredients to the wet and mixed them together. I filled mini cupcake liners about ¾ full and then baked for 10 minutes. I made mini cupcakes just because I had a lot of mini cupcake liners, but you can, of course, make regular sized cupcakes, too! If you are making regular sized cupcakes, bake for 20 minutes.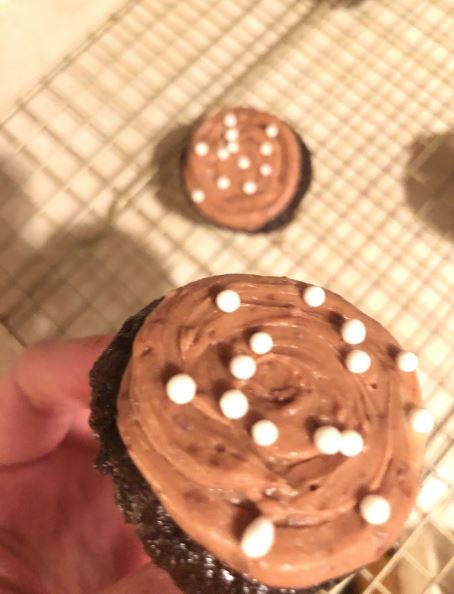 CUPCAKE RECIPE:
1 cup flour
1 cup sugar
⅓ cup cocoa powder
¾ teaspoon baking powder
¾ teaspoon baking soda
¼ teaspoon salt
1 egg
½ cup plain Greek yogurt
½ cup warm water
¼ cup milk
¼ cup canola oil
¾ teaspoon vanilla extract
The frosting recipe is very simple. I started by taking the stick of unsalted butter out of the fridge so that it could get to room temperature. I then melted the ½ of chocolate baking chips. Once the chocolate was melted, I combined the butter, chocolate, powdered sugar and vanilla in my kitchen aid mixer and mixed on high until the frosting was nice and creamy. Lastly, I piped the frosting onto each cupcake once the cupcakes completely cooled!
FROSTING RECIPE:
1 stick of unsalted butter
½ cup of chocolate chips
1 cup powdered sugar
1 teaspoon vanilla extract