Girls Swim Team Finishes Another Successful Season
Hang on for a minute...we're trying to find some more stories you might like.
Every year, the girls swim team here at FTHS is a force to be reckoned with. Winning championship after championship,the team has built up quite a reputation. This year, the team was crowned A-North championships and ended with an outstanding record of 10-1. Recently the Patriot Press was able to sit down with senior Madison Riccardi to discuss what a great season they had.
---
Patriot Press: Hi Maddy! How long have you been swimming? How long have you been swimming for the school?
Madison Riccardi: I began swimming when I was around ten or eleven. I started swimming my freshman year up until my senior year. After swimming for the school it inspired me to join a more competitive team my sophomore year.
PP: How does school swimming differ from other teams you have been on?
MR: School swimming is really about the team and less about you as an individual. It's all about having good sportsmanship and doing your best to gain points for the team unlike other teams i have been on where how you do does not really affect the team as a whole.
PP: What made you want to join Township swim?
MR: I joined the team because I had some experience with swimming and it was a way I could finally be involved in a school sport.
PP:  Since you are a 12th grader, looking back what are your favorite memories from your past years on school swim?
MR: I've had so many great memories with my team throughout the past few years but getting to be A-North champions my freshman, sophomore and senior years are definitely some of my favorite memories as well as having the opportunity to go states with my teammates. I've made so many memories on bus rides to meets and at morning practice; there are so many it's hard to pick a favorite.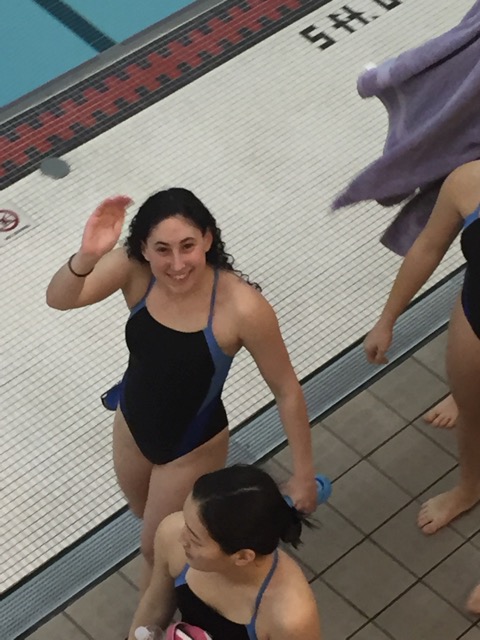 PP:  What did it take to win A-North? How did it feel when you won?
MR: Everyone had to work incredibly hard. Winning took a lot of early mornings, tough practices and an overall good attitude from everyone on the team. I think having such a close bond with the whole team really helped us feel motivated to win. When we won I was extremely happy and proud.  
PP: Who impacted your swimming most at Township?
MR: Coach Bott had a big impact on my swimming because she really pushed me out of my comfort zone and helped me see that i could do things I didn't think were possible. My teammates also had a big impact on my swimming, they are the ones who really inspired me to train harder and be the best I could be.
PP:  If you were to describe your swim experience here at FTHS in three words what would they be?
MR: Swimming at Freehold Township has been exciting, rewarding and fun!
PP: What advice would you give to any student who is considering joining swim?
MR: Just go for it! Even though it is a lot of hard work swimming is a really fun sport and it can teach you a lot. You are never going to know if you like it until you try it!
PP:  Anything to add?
MR: Swimming was my favorite part of high school and I just want my team to know that I am so thankful for them and so proud of everyone's accomplishments. They are truly a family to me and swimming for school is something I will never forget.