MLB Mourns Yordano Ventura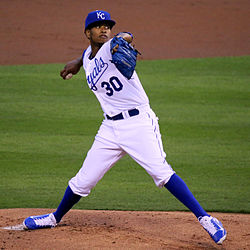 Hang on for a minute...we're trying to find some more stories you might like.
Yordano Ventura. Gone too soon, way too soon.

The 25 year-old pitcher for the Kansas City Royals was killed in a car accident on the morning of January 22, 2017. There are absolutely no words to describe how immense this loss is to his family, the entire Royals organization, and the baseball world. Ventura played with such great passion and emotion. He truly loved the game and you could see it clearly each time he took the mound. The sky was the limit for him, as he had already won a World Series Ring, and had an electric arm. He became an everyday starter in 2014 and his fastball consistently reached the upper 90s. He had three unbelievable seasons and was only trending upwards.

Not only was Ventura a great player, but he was a great person too. Sure he had his fiery moments on the field, but off the field it was a different story. He was beloved in the Royals clubhouse, as many of the Royals players such as Eric Hosmer and Salvador Perez were extremely close with him. They are all roughly around the same age so they all came up together in the minor leagues. Nearly every player that knew Ventura would say how he loved life and lived with such joy. Unfortunately a talent like this and person like this only come around so often. A loss like this is tough to get over, and Ventura will be remembered for years to come. Rest in peace Yordano.