Winter Sports Update
As our winter sports programs are near the middle of their season, here is a brief recap as to how both our men's and women's teams are doing so far. Although the winter season is still young, there have already been many emerging (and existing) stars who have been nothing short of amazing, and athletes who have really stepped up their performances from last year.
Boys Basketball
Township's varsity boys basketball team, led by Coach Golub (who recently collected his 400th win as head coach of the program), has been off to a terrific start. They are 8-2 overall, posting a 2-2 record at home and a formidable 4-0 record on the road. Despite dropping their most recent game in a tight finish to Marlboro (60-58), the Patriots have defeated tough competition along the likes of Manalapan, Colts Neck, and Christian Brothers Academy. The Patriots' offense has been incredible to start off the year, and a large part of their success is owed to two seniors, Jayden Holmes-Cotter and Malachi Harris. The duo has combined for 279 points combined (67% of the team's total scoring), and have been the two key pieces in a relatively young, and very successful, varsity squad. Congrats once again to Coach Golub, and best of luck for the rest of the season!
Girls Basketball
Despite the Lady Patriots' 4-5 record, the season has not been disappointing. Led by Coach Navalance, the extremely young (only one senior – Julia Wallace – is on the starting roster) team has held its ground against some tough conference and out-of-division play. Sophomore guard Gaby Parker is looking like a star and team leader for seasons to come, and the team has also gotten impressive play out of fellow sophomores Ava Giordano, Sophie Tonino, and Ashley Moore. This season, especially with such a young varsity lineup, has shown great potential for years to come for our girl's basketball program. Good luck down the rest of the road, girls!
Boys Bowling 
To be frank, our boy's bowling squad has been nothing short of incredible. The squad posts a 9-2 record under Coach Martinez, and has defeated numerous tough conference opponents like Howell, Jackson Liberty, and Manalapan. Seniors Robert Havens and Ryan Smith have been productive, but two underclassmen, junior Joe Dominguez and sophomore Brighton Boyce have really shone the brightest. These two have been the two highest scores on the team, both bowling outstanding 279 scores in single-frame play. Moving forward, the bowling community is excited to see what Dominguez and Boyce can do as they mature. We wish our boy's bowling team the best of fortunes for the rest of the season!
Girls Bowling
Although our girl's bowling team (also coached by Mr. Martinez), has not had the same success as the boy's program (posting a 1-6-1 start to the season), that does not mean there have not been impressive individual performances. Junior Gianna Remo has been the shining star of the team, bowling over 200 on numerous occasions. Her consistent performances, along with the likes of impressive play from junior Taylor Douglas and senior Laci Holmes, have put up honorable efforts versus difficult competition such as Jackson Memorial and Howell, and the team (Remo, Douglas, Holmes, and sophomore Grace Zachary) has come together to defeat Jackson Liberty. Although the start of the season has been rocky, the school community is optimistic about better results to come.
Ice Hockey
Our hockey team, led by Coach Fahy, has had mixed results up to about the midway point of the season, but is looking like they are built for the future. Senior defenseman Jake Butler and forwards Michael Craft and Peyton Liebross have continued to be veteran leaders for a relatively young varsity lineu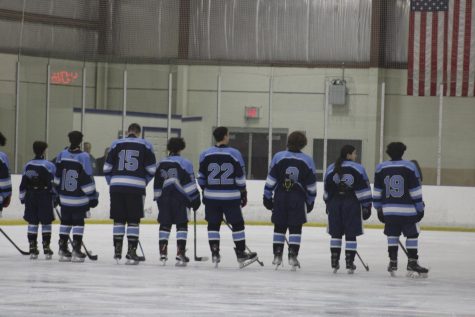 p. Junior Lucas Palm (leading the team with 7 assists) has been making the most of his minutes. Noteworthy underclassmen play from two varsity freshmen, however, deserves to be noticed. Hayden Nubile (forward) and goalie Jason Maietta have had amazing performances as starters. Nubile leads the team in points, while Maietta has had 184 saves inside the crease. Hats off to a great start to the year, and hopefully the rest of the season plays out the same way!
Wrestling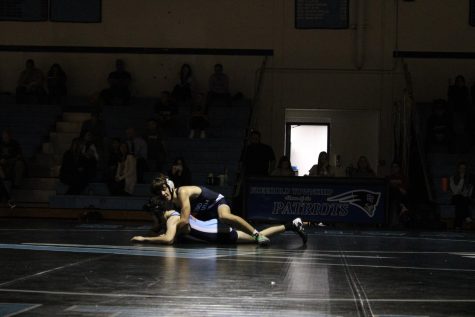 The Township wrestling program has had its ups and downs over the course of the relatively young season. The Patriots, led by Coach Huebel, are off to a 4-2 start to the season. Like most of our winter sports, the team is pretty young and has seen note-worthy performances from both underclassmen and senior leaders. Senior Nick Benjamino has been consistently one of the program's key wrestlers, posting a 24-13 record on the season so far. Fellow senior Liam Flanigan is also a solid 21-14 on the year. In addition, juniors Alex Grant (29-9), Sebastian Andujar (21-10), and most notably district champion Ryan Dubnik (34-5) have aided in the Patriot's victories over Marlboro, Ewing, and Manchester Township. Awesome job, guys!
Girls Swimming
The Township girl's swimming team has been truly remarkable up to this point. Led by Coach Leahy and assistant Coach Hein, the Lady Patriots have stormed out of the gates, posting a 3-0 record (2-0 in conference competition). The team's success is widely spread throughout the program, but a great deal of respect should be given to juniors Vanessa Vaage, Josephine Cunha, Olivia Lehman, and Victoria Rallo, along with seniors Kayla Hohenshilt and Brooke Berman. They have been leaders to another very young team, and have racked up more first-place finishes in meets to list. In addition, freshman Aubrey Trentacoste and Ryann Campbell have both recorded first-place finishes in their respective conference matchups. Amazing job, ladies! Keep up the great work!
Boys Swimming
The boys swimming program (also coached by Mr. Leahy), has gotten off to a .500 start on the year (2-2). However, their two losses were against the formidable competition of Rumson-Fair Haven and Christian Brothers Academy. The team then rallied, however, to defeat Manaplan and Freehold Boro and get their record back to even. Individually, stars like seniors Chase Adams and Thomas Myler, and juniors Michael Carter and Alex Berlinski have continued to grow and improve, and senior Russell Olsen has been solid. Additionally, sophomore swimmer Kevin Carr has posted a very impressive start to the season (numerous first and second-place finishes in conference play). At this point of the year, the Patriots really seem they are trending in the right direction.
Boys Winter Track & Field
Track and field is always a sport in which Township excels, and this year has been no exception. The boy's program (coached by Mr. Fromuth) has seen a number of up-and-coming stars perform at their personal best. Senior Kevin Kuriakose is performing exceptionally well, ranking 1st on the team in the 300m event and 2nd in the 400m. In addition, fellow senior Jake Visco is not only providing veteran experience and leadership to the team, but is currently ranked first on the team in hurdles. Jack Wicke has continued to be another key cornerstone in the program (2nd in the 600m and 2nd in the 1600m), and junior Brian Boszko has been right behind him in their respective races. However, as with all of our winter sports programs, we have seen outstanding production from underclassmen. Freshman Luke Silverman currently sits atop the state as the freshman with the fastest mile time, an accomplishment that will solidify him as a top runner on the team for years to come. Best wishes for the rest of the season to our boy's team!
Girls Track & Field
With all the accomplishments and accolades that our boy's team has collected, the girl's team is not overshadowed at all, and that is saying something. Coach Briggs' team is always amazing, and this year has been perhaps one of the prime examples of success coming from within all four levels of student-athletes. Superstar Emma Zawatski has continued her dominance over just about every distance event, ranking first on the team in the 800m, 1000m, 1 mile, and 3200m. In addition, juniors Ava Biemuller (first in the 1600m) and Lilah Matthews (first in the 600m) have been no short of spectacular as well. Division I Rutgers commit Emily Rogers has continued her outrageous success in pole vaulting (posting a 10'3" PR), which is no surprise to the track & field community. Additionally, the girl's team has another "freshman wonder," like Silverman. Holly Matthews, sister of star Lilah Matthews, has clearly lived up to the hype. She became the first freshman in school history to clear the bar in pole vault, which is an unbelievable accomplishment to say the very least. All in all, this girl's team is packed with stars that look to continue their success as the year continues.
Dance Team & Winter Cheer
Although the Township Dance Team and Winter Cheer squad do not technically compete during the winter season, it is still necessary to shout out the hard work and dedication they have shown in their sports. Senior dance captains Tristin Tobenkin and Jessie Dutka and junior captain Mia Schneider lead an awesome squad that motivates our other winter sports teams and performs complicated numbers for the audience. In addition, cheer captains Alanna Kates and Julia Avivi make sure that they continue their dedication to cheerleading as well, and, like always, do a terrific job at it.