January Athlete of the Month: Jake Butler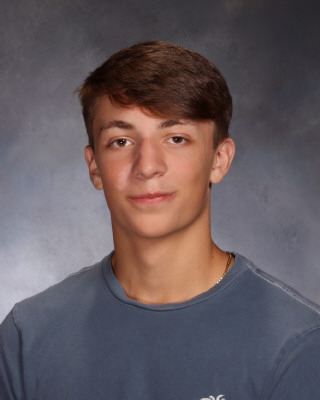 The Patriot Press' Blake David sat down with Patriot hockey's sophomore star Jake Butler after he was named as one of FTHS's January Athletes of the Month. Congrats, Jake!
---
What position do you play?
– Defense.
Why do you like that position and what is the most challenging aspect of playing that position?
– Because it's less skating, more hitting, and you control the plays a majority of the time. Matching the speed of a good winger is probably the hardest part since most of them are able to go from slow to fast very quickly.
What do you like best about hockey?
– The euphoria of winning, scoring, and being with my friends.
What is one of your most memorable moments playing your sport?
– My first year playing travel hockey I played Squirt B. My team and I made it to the state championship. I ended up slashing a kid in the back of the head in the second period out of anger because he tripped me and I got ejected. We lost.
Do you have a favorite memory or game while playing for Township?
– Last year, we won the J.V. championship and we weren't even supposed to have a J.V. team.
Who was your personal and professional inspiration to start playing hockey?
– I was at my cousin's house a playoff game was on (I'm pretty sure it was the Rangers vs the Kings) and I thought it was really cool so I asked my mom if she would let me play on the way home. If I had to name a single person who I've idolized or pushed me to play it's definitely my Coach Anthony and my dad.
What do you like to do in the offseason?
– I play summer hockey so I don't really have an off-season, but I do get a 3-4 week break. I usually lift, play golf, get ice time, and party with the boys.
What is something interesting that people don't know about you?
– I idolize Zyzz and Chris Bumstead.
Do you have any pregame rituals or superstitions?
– Left pads go on first. For travel, I bash heads with my captain, Chris. I also count to 21 on every stretch during warm-ups.
What is your favorite school subject and why?
– English, because I love Mrs. O'Neill so much and she might raise my grade after reading this.
What is your favorite type of music and who is your favorite musician?
– I listen to everything. My top artists from each genre are Hank Williams Jr., Mac Miller, Pop Smoke, Drum Code, and Black Sabbath.
Do you have a favorite hobby outside of your sport?
– I love lifting. When I'm not at the rink, I'm at the gym. When the gym is closed, I'll be in my garage lifting.
If you could live anywhere in the world, where would it be and why?
– Tel Aviv, Ibiza, or Amsterdam. I want to live in a city that I can have a lot of fun in.
Here are some of Jake's achievements from January:
Accounted for 5 points in one game (1 goal, 4 assists).
His individual effort was key to the team's 6-0 victory against Brick Memorial.