The MLB Offseason Unlike Any Other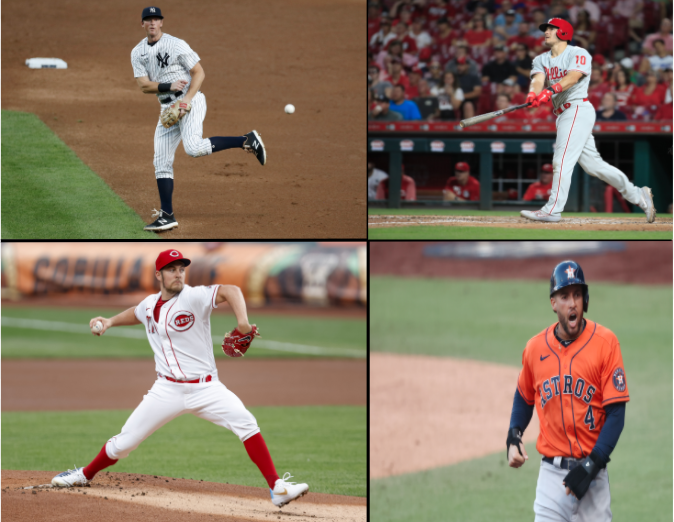 Tommy Kelson, Staff Writer
November 6, 2020
The year 2020 will undoubtedly go down as one of the strangest and roughest times for sports in America and the world. The Major League Baseball season concluded on Tuesday, October 27, and, in the aftermath of an unprecedented postseason unlike any other, the Los Angeles Dodgers stood alone. They defeated the Tampa Bay Rays in six games in a crazy and action-packed World Series. The Dodgers, after being one of MLB's top teams for several years and appearing in the World Series twice in the last five, captured their first title since 1988. This year, the season consisted of only 60 games and shook the landscape of the baseball world. This offseason will be unlike any other and the evaluation of players' worths to teams could change.  
Due to the coronavirus, Major League Baseball teams made a bunch of employee layoffs in an attempt to fill the hole that was left by no fans in attendance of games. Teams have still not fully recovered from their budget cuts and are now in battle in an offseason that consists of many top free agents. Understandably, teams are hesitant on players' performances from only a 60 game season when a full Major League year consists of 162. There has been a big debate among sports circles on how much players should earn and the trend for baseball has recently shown top players getting big nine-figure contracts. For example, last year the New York Yankees gave one of the game's top pitchers, Gerrit Cole, a nine-year $324 million contract. It is a bit crazy for a player to be paid that much but that is how the offseason has gone.
This MLB offseason has many top free agents including outfielder George Springer, catcher J.T Realmuto, and pitcher Trevor Bauer. Contending teams have many holes to fill but there is not the same feeling as in past offseasons when teams would pay big for players. Only time will tell. However, it has already begun where players such as pitcher Brad Hand from the Cleveland Indians have had their player options declined. Hand is one of the game's top closers and was ready to get $10 million from his team but was surprisingly declined his contract when players of his standard would usually get paid that much. This offseason will be nothing short of exciting and teams have big decisions to make in what they see a player's worth is to them. 
Players that are also free agents include pitcher Marcus Stroman, shortstop Marcus Semien, outfielder Michael Brantley, second basemen DJ LeMahieu, and many more. The above-mentioned players along with many others can make big impacts on a team that is planning on making the postseason. The Yankees' DJ LeMahieu and the Astros' Michael Brantley made impacts on their teams that helped them reached the playoffs both years they played for them. Both of those teams plan to contend in 2021 as well and it's a big question for them as to how they can fill their holes now that they are free agents. Teams expected to spend this offseason and go after the biggest free agents include the Chicago White Sox, Toronto Blue Jays, San Francisco Giants, and New York Mets. The Mets are a very interesting case for this offseason as billionaire Steve Cohen bought the team and was not there for the hit that the team took from COVID-19. They are expected to go after all the top free agents and make a splash on this market and go from missing the playoffs the last four years to making it back to October baseball in 2021. Outfielder George Springer and catcher James McCann would make big differences for a team that underperformed last year and perhaps give them the pieces needed to go far in the playoffs. The Toronto Blue Jays are a young and hungry team that made the playoffs last year and need a few pieces such as starting pitching that could make them a legitimate threat in the American League East. Someone such as Trevor Bauer would make a big-time difference for their team. The Chicago White Sox spent big last year and plan to get the final pieces that could help them go from a playoff team to a World Series one. Relief pitcher Liam Hendriks or outfielder Marcell Ozuna could give their team a big boost. The last team that is said to spend big is the San Francisco Giants and, similar to the Mets, they haven't made the playoffs in four years. The Giants are an odd team who doesn't have many big names but still finds themselves right outside of contention. Players such as shortstop Marcus Semien or outfielder Joc Pederson would make sense for them and help their team see the postseason again. 
Top teams such as the Dodgers, Rays, Yankees, Atlanta Braves, and Oakland A's are all filled with great talent and could use a few players to help them out. The Dodgers are looking to defend their World Series title and they're known for spending big, so perhaps they'll do it again. It all remains to be seen but if one thing is for sure; the 2020 Major League Baseball offseason will have a distinct difference from any other one before. The battle for the 2021 World Series has begun and it is going to be fun.