Boone Signs on to Lead Yankees
Hang on for a minute...we're trying to find some more stories you might like.
After ten seasons, the Yankees decided to part ways with manager Joe Girardi. The hunt for a new manager officially began on October 26, and took five weeks for the Yankees to name a manager. The candidates for the position included Yankees bench coach Rob Thomson, former manager for the Indians and Mariners Eric Wedge, Giants bench coach Hensley Meulens, Dodgers third-base coach Chris Woodward, former Yankee Aaron Boone, and recently retired Carlos Beltran.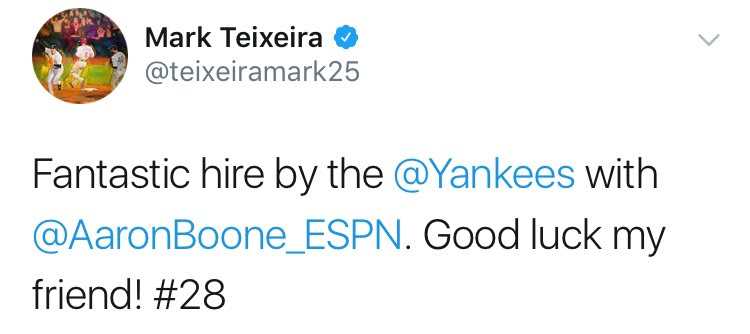 On Friday, December 1st, the Yankees announced that former Yankee Carlos Beltran would not be named the manager. In an interview with MLB.com, Beltran said "I'm extremely happy with the opportunity" and "I feel blessed to be considered as a manager for one of the most iconic franchises in sports, and just a couple of weeks after I retired as a baseball player. I appreciate the opportunity and enjoyed the experience of sharing my vision and passion for the game" (Source: MLB.com).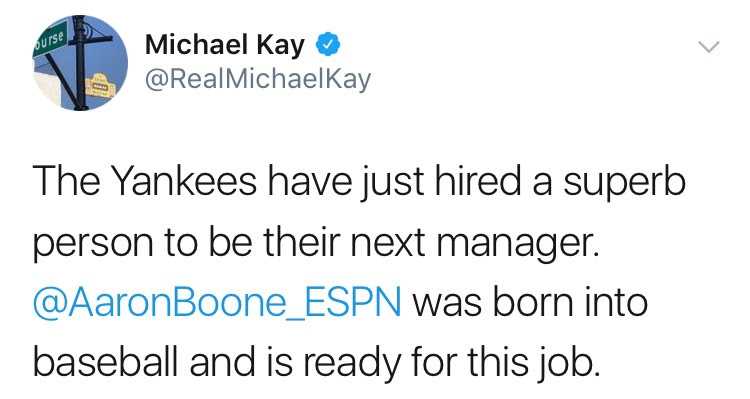 Later that same day, MLB Insider Ken Rosenthal tweeted that the Yankees had made a decision and the two candidates that they have narrowed it down to are Aaron Boone and Hensley Meulens. The Yankees then announced that the new manager would be Aaron Boone. Boone is already responsible for sending the Yankees to the 2003 World Series with his famous Game 7 Walk-off homerun in the 11th inning off Tim Wakefield against the Boston Red Sox. Unfortunately, the Yankees would eventually lost the World Series in six games to the Florida Marlins.
Brian Cashman noted that it was his "communication skills with the players and front office, an open-minded approach toward analytics and performance science, and trust with the player development system and medical staff" among the reasons why why he was named the manager (Source: MLB.com)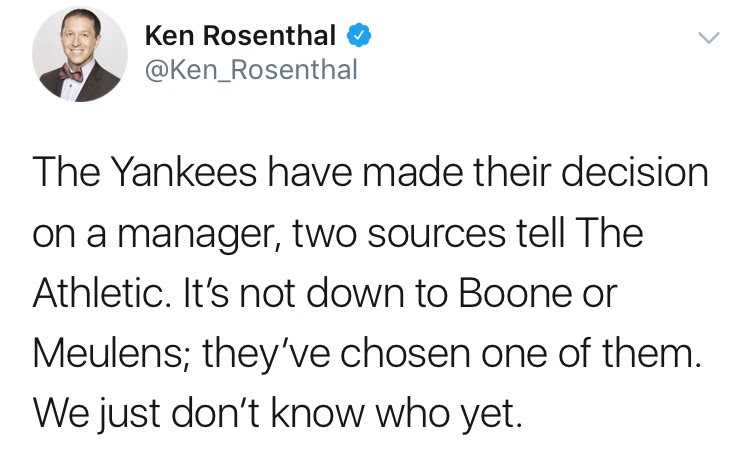 "This is a great opportunity to jump in with a team that has a lot of promise and so much potential," Boone said after his interview on November 17. He also said, "To have the opportunity or the potential to manage this team would be something that I really want to do" (Source: MLB.com). Boone ended this interview talking about how he knows what he's getting himself into, "I feel like I am the guy that can hopefully help these guys go to another level as players" (Source: MLB.com). He also praises the team by adding, "Obviously, they were able to accomplish a lot. A lot of guys not only established themselves this year, but established themselves as stars. Hopefully I can be a part of helping them take it to another level" (Source: MLB.com).