Talking Dead with Pedro: 8.5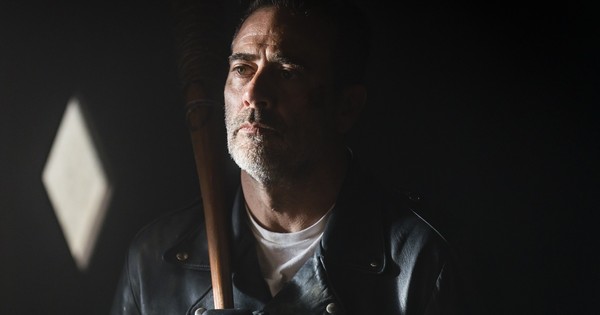 Hang on for a minute...we're trying to find some more stories you might like.
Welcome back walker fanatics to the review of AMC's hit television series, The Walking Dead. Today, I will be reviewing episode five of season eight of the series, and the episode is full of solid moments, character development, and near death moments we did not expect to see. Episode five started off with Father Gabriel in his church, before the fight, praying to God, asking for his purpose in living, and praying he doesn't die in a gruesome matter.
Also, before the battle, Simon decides to deliver some pancakes to Gregory and apparently, he put in a lot of love in it. Simon is pleased with the fact Gregory followed orders given to him, which is to report to the Saviors if there is a problem at Hilltop. Gregory claims he came to the Saviors with a solution to solve the problem within the three communities. Simon then takes Gregory to a meeting with the Savior's top men,  including Eugene, Dwight, Simon, and of course, Negan! Gregory nervously says he doesn't enjoy killing people and relates his statement to Negan, as he feels the same. Negan interrupted him right away by saying he does enjoy killing people, depending on who it is, and when the time is right. Negan follows his statement by saying he believes that killing people is saving people at the same time. Gregory attempts to tell Negan what he told Simon about stopping the battle, before it even gets started. Negan asks Gregory if he exiles people since he is the "top guy". Gregory says yes, but Negan rudely interrupts him again by questioning why the Saviors got attacked by the Hilltop, lead by a mysterious widow at Alexandria?!  Negan begins to question Gregory if he is taking both sides in this situation. Gregory nervously explains that he let Rick's group and the widow take advantage of his kindness, and promises he will fix things. Negan assembles a plan A, which is to kill Rick, the widow (Maggie), and King Ezekiel in public, as he believes in killing the right people, but now in  the wrongest way possible! The Saviors were then interrupted by Rick and his army from the gunfire that lead to the beginning of this war!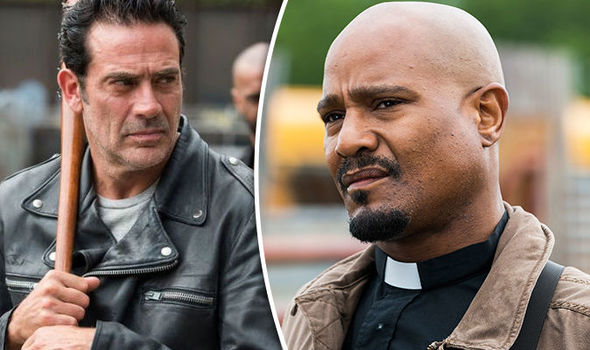 Back to reality, Negan and Father Gabriel are still stuck in the RV. Negan finds Gabriel's fully loaded weapon, and begins making fun of him because he could've attacked and conquered the undead- but Negan is only busting his chops. Negan brings up Rick saying he's a jerk for causing the deaths of the widow's husband (Glenn), and the ginger (Abraham), despite Negan being the executioner.  Gabriel counters that statement by telling Negan it's time for his confession.
Rick and Daryl confront the only Savior who survived the road rage crash to ask him a few questions. They asked about who's alive and who's dead, but the Savior replied with saying everyone is dead, including Rick's army because it's all Rick's fault! Afterwards, the Savior bleeds out from his injuries.
Still in the RV, Gabriel and Negan continue their conversation with Negan telling Gabriel he has nothing to confess. Negan asks Gabe why he became a priest. Gabe's response, is because he loves God and people, so he uses his ability to help God's creation throughout their troubling times. Negan replies that he helps people too  as their leader, since without him, the saviors will all die.
The Saviors have a meeting, and the same thought  is rolling around everyone's mind:  Negan is dead! Regina tries to make a plan by using the workers as bait and clear the undead army that is walking around their Sanctuary. Eugene thinks her plan is inaccurate, thinking they need the workers and the five of them isn't enough against the undead. Simon agrees with Regina,  thinking the workers need to be in line and put in place. But Gavin changes the subject saying someone within the Saviors has sold them out and snitched to Rick their plans. Another interruption has occurred, but this time with Dwight saying they're all the Saviors- including the workers, but Simon wants Dwight to face reality. Dwight believes Simon can't lead the Saviors out of this mess, so he's going to do it instead! Simon agrees with Dwight, and also mentions them finding the person who sold them out, and slowly kill them.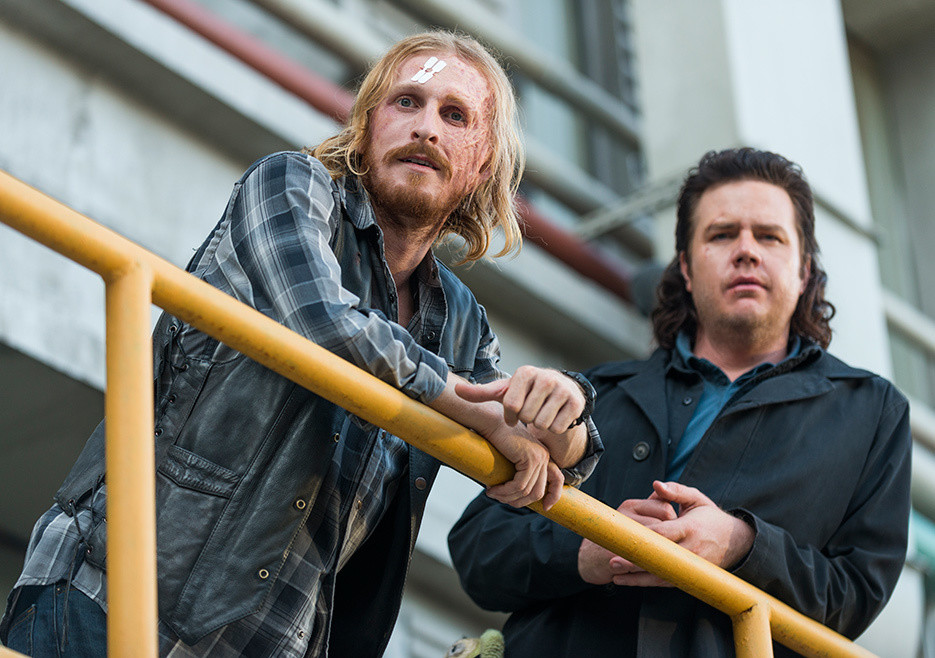 Eugene knocks on Dwight's door and he comes in with a big jar of pickles, as a sign of appreciation for agreeing with his plan, and overall, watching his six.
Gabriel begins questioning Negan about him helping people. Negan tells Gabe the time when he used to help kids, since kids always need an adult role model. Negan claims himself both weak and strong and he uses those character traits as an opportunity to become leader of the Saviors. The former leader of the Saviors was plain flat out weak, and he made the Saviors weak, but when he became in charge, he made the Saviors strong once again! After his speech, walkers begin breaking through the RV barrier and sticking their arms inside. Gabe responds to Negan's address by saying he is already strong, since he attended the fight in the satellite outpost by killing Saviors when they were sleeping. Gabe starts to predict why Negan is weak, and that is because of his many wives, to which Negan responds by telling Gabe they all chose to be with him. Gabriel goes too far by asking Negan if there was a wife before all of this madness. Negan says his infamous line, "Lucille, Give Me Strength" and attempts to hit Gabe over the head with it, but he missed, Gabe draws his gun, but misses his shot, and retreats to another room to hide. Negan takes his anger out on a walker that was trying to crawl in, and tells Gabe that he took his shot, no one's coming for them, and it's time to go!
Daryl finds a truck flipped sideways from the wreckage and tries to scavenge what's left of the heavy machine guns. Rick joins in to help him pull out the crates holding the guns. He is now happy at the fact they have the upper advantage  with the machine guns  in their possession. Daryl has a plan to go rushing in to the Savior compound once again, but this time going all out and finishing this once and for all! Rick doesn't want to go through with his plan because it's too risky without the entire Kingdom by their side,  and he also mentions at the fact some Saviors have families too and don't know how to fight. An enraged  Daryl starts getting up in Rick's face and telling him he's going to fight with or without his help, but Rick still doesn't allow that to happen, so Daryl punches Rick in the face and they begin fighting! They continue to fight until the truck behind them explodes and they went on their separate ways.
Rick finds a car, but fails in trying to get it to work, but Daryl comes with his motorcycle and asks Rick one more time if he is willing to join him in battle. Rick denies the offer again, so Daryl rides off in his motorcycle and Rick has to walk back home.
Negan drags the walker body into the RV and continues to try and talk to Gabriel so  that they can work together in escaping. Negan also says he may have to kill Gabe, but he doesn't want to do that. Gabe finally responds to Negan and says he feels bad about killing the living and the undead, thinking he has failed God. But he is willing to work with Negan in escaping this mess, only if Negan confesses. Negan is hesitant about it at first, but he cooperates, and confesses that he did indeed have a wife wife, before all of this (his only real wife, in fact)  till death did them part. Negan also admits he cheated on her during the time she was sick. She ended up dying during the madness, and the only time he became weak, was when she turned and couldn't kill her! Gabriel opens the door, saying his sins have been forgiven, but Negan punches him in the face, saying thanks. Negan's plan is to escape by using zombie guts and gore, and blending in with the undead!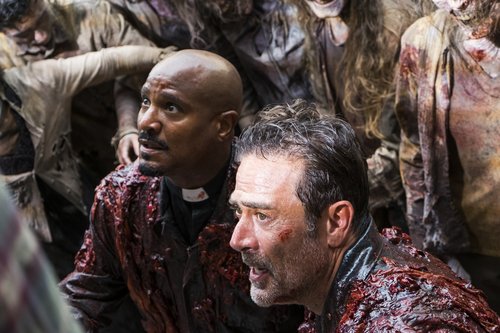 Negan and Gabe are ready to make their escape. Negan begins banging his bat against the RV door and lets the undead in, and walks out. Negan is able to go on ahead, but Gabe is going at a slow and steady pace. Gabe ends up falling, attracting the attention of a fallen walker as well.  Negan hits a walker using Lucille, blowing their cover,  and Gabe begins to open fire-at this point- this is a nail biter! The duo was doing well, but as they were about to find their way in, the pair got intercepted by even more walkers!
Another council meeting takes place, but this time, it's interrupted by the workers! Simon begins by saying the workers belong in the lower level are working, but a black friday crowd of workers are now protesting for water, and the lower level being too hot. The workers mention the deal they were all given, that  they work for protection. Some lady asks for Negan's whereabouts, but no one responds, frustrating the worker even more . Simon says everyone needs to be at factory level working, but they refuse to work in these conditions, so Regina drew her gun, killing one of the workers, and shouting she's Negan! In doing so, the infamous whistling occurs once again, but this time Negan returned, and he brought Gabriel! Everyone began kneeling before him, and Negan says he doesn't die when he has Lucile, his leather jacket, and "a set of balls-made of steel!" Negan claims he needs a shower and a deep tissue massage, but when he returns, he and Simon are going to work and do what they do best: saving people! Some lady says she's grateful that he is alive, where Negan turned to Negan and told him that this is why he's here, as a leader. Negan gave guards the signal to take Gabe away to his cage.
The fourth council meeting takes place as all of the Savior's top men and Negan are trying to figure out who's the snitch. To solve this mystery, they're going to trace back to when their ammo went missing. The group begins leaving the conference room and Negan pulls Eugene aside to tell him he has his side 100% of the time during this situation.
The scene goes back to Rick as he is still walking, but sees a helicopter flying in the sky, possibly a sign of hope.  Rick then approaches on a certain side of the road when a man in armour spots him through his binoculars and blows his whistle, signaling someone to come.  
The final scene shows Eugene knocking down Gabriel's door,  telling him he has extra blankets for him, but Gabe doesn't answer. Eugene opens his door, and spots him sick, looking like he has a fever! Eugene says he's going to fetch Dr. Carson 2.0, but Gabe denies his offer, telling Eugene to get him out of there, since that's Maggie's doctor!
Overall, this episode showed a different side of Negan,  nail biting moments, and the fall of the brotherhood of Rick and Daryl (just like Rick and Shane's brotherhood)! Back to the rating scale—leaning towards Daryl Dixon—the best episode thus far—Glenn Rhee (Very good episode), Rick Grimes (An average episode), Gregory, the Hilltop leader (Poor episode), and Spencer and Aidan Monroe (Each a terrible episode). This episode earns a Rick Grimes rating, (an average episode) only because this episode expressed too much character emotion, and not a whole lot of action, and never explained  how Negan and Gabe escaped  that black friday like hoard of walkers?  Join me next week as we discuss the second to last episode of TWD for the year.
This is Pedro Vasquez signing off, Ta-Ta!