A Complete Guide To The NJ Gubernatorial Election, And Why You Should Care
Hang on for a minute...we're trying to find some more stories you might like.
The New Jersey Gubernatorial elections are coming up on November 7, 2017, and you probably should know the candidates – especially if you're 18 and intend on voting. But maybe you don't feel like scanning through twenty articles to figure everything out about those guys. This article covers all the info you will need on the who the candidates are, what their campaign promises hold, and who's leading in the latest polls.
First of all – reasons to care.
Well, you really don't have to if you are okay with your life as is – but these elections could have a big effect on certain issues that our state and our country have right now. The result of the gubernatorial elections affects things we face in our day to day lives: schools, taxes, pensions, local economy, state laws, covering virtually anything that doesn't go against federal law. So they are a pretty big deal. In addition, the governor obtains a greater influence on national matters, so your vote can have an effect on the wider dilemmas the country is facing.  
Also, it is truly a unique ability to have a say in the dealings of the state, a power to turn the political tide – by voting. Americans are incredibly lucky in that regard, compared to the citizens of many other countries: they, as a whole, have control over who is going to be in their government, and thus,  they have an effect on what will happen in their country.
It's up to you to decide the final outcome, the future of New Jersey (and America) – don't let this chance slip, even if you're still just a highschool kid.
Now that you're feeling inspired, let's get down to business.
Who's running?
Phil Murphy – The Democratic nominee. A former U.S. ambassador to Germany, former finance chair of the Democratic National Committee, and a former Goldman Sachs banking executive.
Kim Guadagno – The Republican nominee. Lieutenant governor under Chris Christie since 2010, former Monmouth County sheriff, former federal prosecutor.
Nina Genovese – Independent, "Reduce Property Taxes". Former Mayor of Long Hill. ran for the state Senate against Republican incumbent Tom Kean, Jr. in 2007, and is the founding executive director of Courage to Connect NJ.
Peter Rohrman – Libertarian Party. Retired U.S. Marine, operations director for an internet-service provider, and nominee for Bergen County Freeholder in 2015, 2016.
Matt Riccardi – Constitution Party. Marine veteran.
Seth Kaper-Dale – Green party. Pastor of the Reformed Church of Highland Park.
Vincent Ross – Independent, "We The People". Mystery man.
What do they stand for?
Murphy: According to his official statement, he plans on raising taxes for the wealthy, revamping tax breaks, and ending overpriced hedge funds. Murphy's platform will also include creating a NJ Public Bank, legalizing marijuana, funding Planned Parenthood,  and women's health programs. In addition, Murphy said he would actively campaign to counter the repeal of DACA and that he would work to ensure that NJ meets the benchmarks of the Paris Accords which Trump left in September.
Guadagno: Lowering property taxes is a big part of her campaign. She plans to do so by capping school taxes at 5 percent of household income. Guadagno also has made plans to curb corruption and hold a performance audit of the space government, looking into if any unnecessary expenditures are made. In addition, she was against making NJ a "Sanctuary State". However, like Murphy, she was not supportive of repealing DACA.  She also believes that climate change is a credible threat and pledged to join the Regional Greenhouse Gas Initiative, a cap-and-trade agreement for carbon emissions in Northeastern states.
Nina Genovese: Genovese is a large property-tax reform advocate. She has said she will fund regionalization and consolidation efforts to lessen property taxes. In addition, she said she is going to reform the pension program by altering many small parts of the big system. She also planned on working with businesses to improve the economy of NJ, and found a Council on Affordable Housing. Finally, she supported a referendum on the legalization of marijuana in 2018 and she committed herself to making NJ more environment-friendly.
Kaper-Dale: His plan includes expanding the Rental Assistance Program and increasing childcare and afterschool programs, increasing funding for affordable housing, reforming the criminal justice system, lessening carbon emissions, protecting undocumented immigrants, enacting single-payer medicare for all, creating a public bank, legalizing marijuana.
Rohrman: The party said his platform will include tax reform, school choice, legalizing marijuana, lowering the legal age to 18, loosening gun ownership rules, and ending corporate welfare. Rohrman also plans on creating a "fiscal democracy" plan that will change the income tax requirement to 10 percent each year, in addition to allowing the citizens to select which programs to fund.
What are the critics of the leading candidates saying?
Murphy: Some have criticized his openness to raise certain taxes (Murphy himself stated that he will raise taxes by around $1.3 billion). Also, people have said that his experience at the unpopular Goldman Sachs will hurt NJ (30% of the 875 people polled by

Quinnipiac University

).

Guadagno: 47% of those polled have also looked negatively at her eight years of work with Christie, the current NJ governor, who has some of the lowest approval ratings in the country. But Guadagno has tried to distance herself from the current governor throughout the campaign. In addition, her tax reform plan has been criticized as being expensive (around $1.5 billion), and withdrawing funding from other tax relief and state programs to pay for it. In addition, her plan to audit the government has been called unrealistic (but she says it can save around $800 for working families a year).
A run down of the preliminary polls. Murphy is in the lead, followed by Guadagno.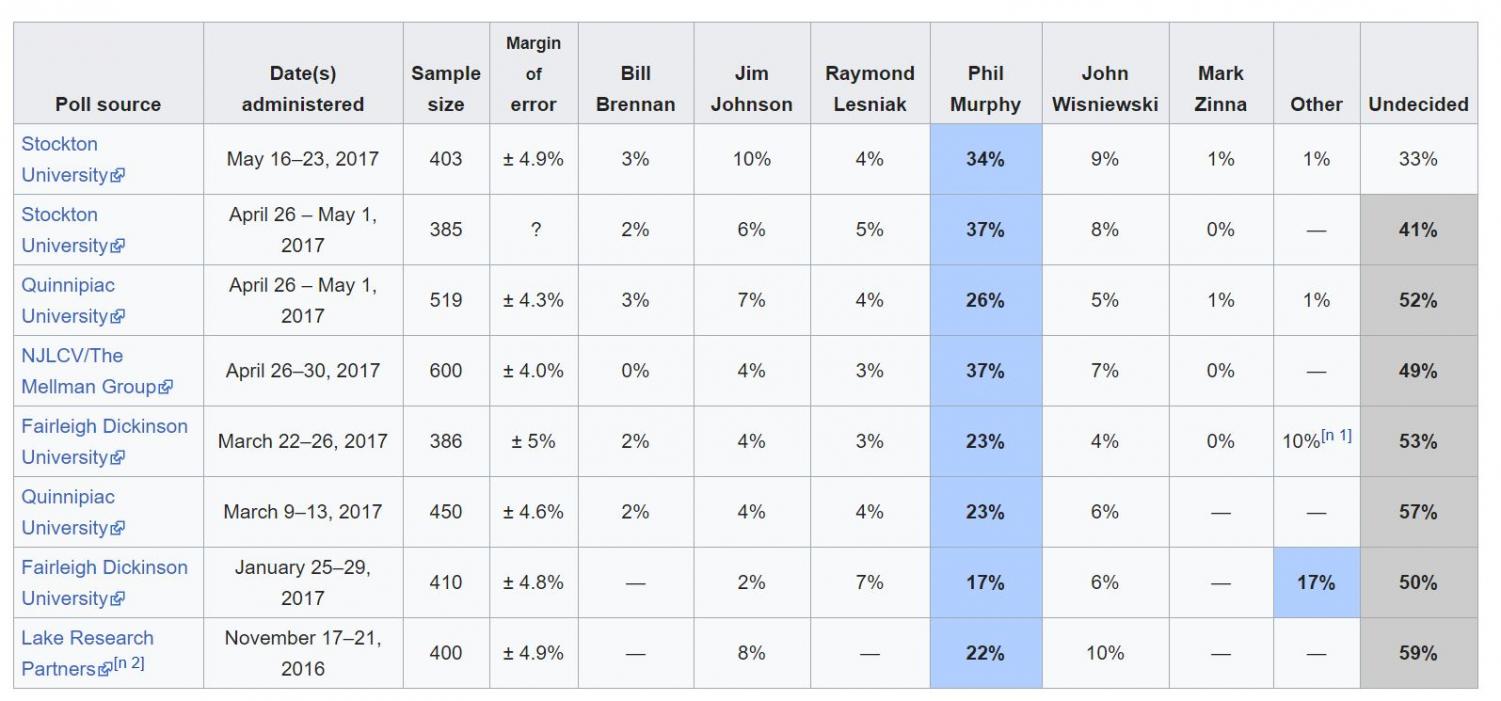 source: Wikipedia
Election Day is Tuesday, Nov. 7. In order to cast your vote, you can register in person a day before the election day if you haven't done so already.
So, now that you have all the info you need, go out there and vote!