Kiersten's Thursday Jams: 3/28/19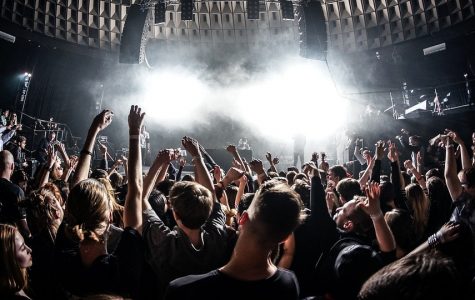 "Everybody Talks" – Neon Trees
[wpdevart_youtube]X5G9tIe84lE[/wpdevart_youtube]
I'm sure most of you reading this have heard this song before. Not to make any generalizations, but this tune practically defined the 2010s era. Released in 2011, pop band Neon Trees sing lyrics of love. The tune has a fun beat typical of a generic pop song, but Neon Trees makes the jam their own. Lead singer Tyler Glenn's unique and rough vocals give the pop tune a lovely and different sound. You should listen to this song if you like pop music, or music from the 2010s!
"Daft Pretty Boys" – Bad Suns
[wpdevart_youtube]VQ017T_euy0[/wpdevart_youtube]
Daft Pretty Boys was the breakout song for small rock band "Bad Suns". The tune rose to over one million views on youtube, giving the ever-growing band a name for themself. The tune tells the story of a seemingly perfect girl who tends to fall in love with boys who don't care about her. Lead singer Christo Bowman sings lyrics such as, "She's a sunrise dressed like dusk
Going out, she's getting into something/He's a moth drawn to a flame/He's going in, he's going all or nothing/They look so pretty from afar" that describe the situation. In addition to these well written lyrics, the song itself is quite catchy. It is a fun rock tune with pop influences that is sure to be stuck in your head all day! You should listen to this song if you like music with well-written lyrics or rock music!
"On Loop" – Fake Laugh
[wpdevart_youtube]NJj2cPUYokM[/wpdevart_youtube]
This song has, pardon the pun, been "on loop" on Spotify for me these past few days. The tune is sung by breakout indie artist "Fake Laugh", almost a year after the release of his first full-length album in 2017. The tune tells the story of repeated sadness with lovely and well-written lyrics. "Fake Laugh", also known by his real name Kamran Khan, sings lyrics such as "Eternally blue/There's not a thing I won't do/To grease the wheels and not upset/The process of my slow regret". The chorus of the song, which utilizes a gorgeous guitar and drum infused melody, is extremely catchy. I can guarantee that you will be listening to this tune "on loop" for the rest of the day. (I couldn't resist the pun!) You should listen to this song if you like heartfelt lyrics, or catchy indie music.
"Heavy" – POWERS
[wpdevart_youtube]P1aO4EU61Uw[/wpdevart_youtube]
I first stumbled upon this song due to a friend a few days ago, and I have been listening to it on repeat since. Heavy is a pop song that is sung by a strong female vocalist, which is one of my guilty pleasures. The tune talks about the love that someone feels when they are with a person. The song consists of lyrics as "Heavy how I want you so bad/Heavy when it hits me so fast/Heavy and it's driving me mad/That I'm never gonna give you up", and it has a fun pop sound to it. You should listen to this tune if you like pop music, or strong female vocalists.