Tasty Tuesdays with Gab: Strawberry Shortcake
Hang on for a minute...we're trying to find some more stories you might like.
For my mom's birthday she always requests that I make her a strawberry shortcake. Usually I go with a more modern approach. In the past I have made some delicious cupcakes, but this year my mom asked me to make the traditional strawberry shortcake that she used to enjoy back home in Virginia!
The cake is basically a biscuit. I preheated my oven to 375°. I then began the dough by mixing the flour, sugar, baking powder, salt, and baking soda in my kitchen aid mixer. I then chopped up the cold butter into cubes and mixed it into the flour mixture until pea sized balls formed and then mixed in the heavy cream. I separated the dough into 3 equal pieces, and then pressed them into three greased/buttered 9 inch round pans and baked for about 25 minutes. The cake should have a gold appearance.
While the cakes baked, I chopped up about 16 ounces of strawberries and made the whipped cream. To make the whipped cream, I beat together heavy cream and vanilla extract until soft peaks formed, I then beat in the sugar.
The cakes must cool completely before adding on the strawberries and whipped cream. On the first layer, spread one third of the chopped strawberries and then a layer of whipped cream. Then place the second layer and top it the same way. For the third layer, spread on the whipped cream and then the remaining strawberries.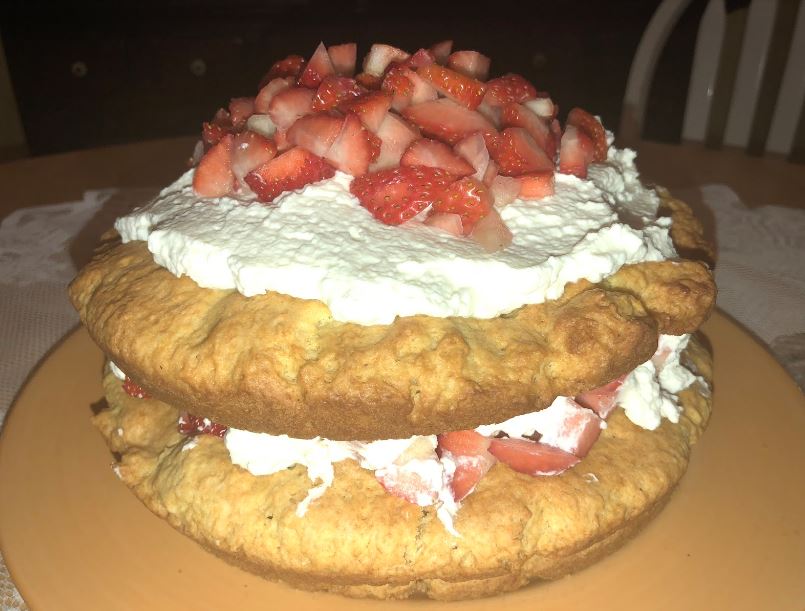 CAKE RECIPE:
10 tablespoons cold butter
3 ½ cups flour
½ cup white sugar
1 tablespoon baking powder
1 teaspoon baking soda
¼ teaspoon salt
1 ¾ cups heavy cream
FILLING:
¼ cup white sugar
16 ounces strawberries
2 cups heavy cream
1 teaspoon vanilla extract