Tasty Tuesdays with Gab: Cinnamon Roll Cake
Hang on for a minute...we're trying to find some more stories you might like.
Who doesn't love cinnamon rolls? I can't name one person! But there is one problem with them that I have to admit, they take forever to make! Who wants to wait that long for the dough to rise? Not me! So I decided to try something new, and just as good: cinnamon roll cake! This recipe is super easy and of course delicious.
To begin I heated my oven to 350°. I then mixed together all the cake ingredients and poured them into a 7×11 pan. A 9×13 pan will work too, 7×11 is just what I had! I then made the cinnamon topping by mixing together the melted butter, cinnamon, brown sugar and flour.
To get the cake to have that pretty cinnamon roll like design, drop spoonfuls of the cinnamon mixture all over the cake and use a butter knife to swirl it around.
I then baked the cake for 30 minutes! While the cake was baking I made the glaze by mixing the maple syrup, powdered sugar and milk. You can also use vanilla extract instead of maple syrup!
When the cake comes out of the oven, let it cool for 5 minutes and pour the glaze on top, then serve and enjoy!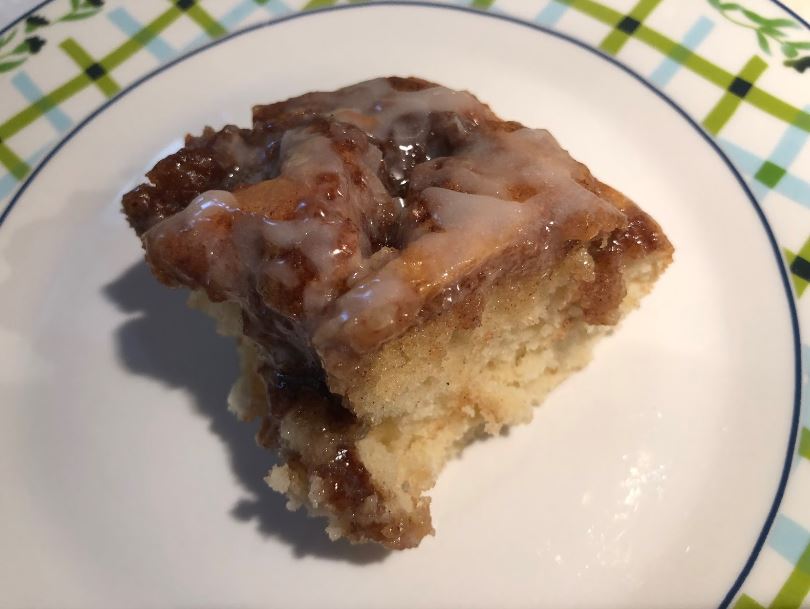 CAKE RECIPE:
3 cups flour
¼ teaspoon salt
¾ cup sugar
4 teaspoon baking powder
1 ½ cups milk
2 eggs
2 teaspoon vanilla
⅓ cup melted unsalted butter
CINNAMON TOPPING RECIPE:
¼ cup melted unsalted butter
½ cup brown sugar
2 tablespoons flour
1 tablespoon cinnamon
GLAZE RECIPE:
1 cup powdered sugar
3 or 4 tablespoons milk
½ teaspoon maple syrup