Gino Granato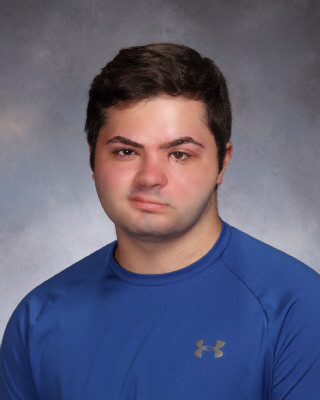 Congratulations to our December Student of the Month, Gino Granato! Gino was chosen as student of the month because of his impeccable dedication to the club. Additionally, Gino took initiative in the club by creating presentations, linked below, to educate others about historical topics he found interesting. By taking these initiatives, Gino showed his leadership skills which benefited the club!
---
Why did you join Mysteries in History?
– I joined Mysteries in History because I really love history, it is my favorite subject to learn. I am very interested in the past, like past wars and stuff like that. 
History is one of my favorite subjects too! I know one of the introductory slideshows this year for Mysteries in History was the "Ghost of Gettysburg," a war conspiracy, and they do a conspiracy every week. What was one of your favorite ones?
– One of my favorites was probably the first one, "The Curse of Tippecanoe". I really liked how the conspiracy really made you think if the curse was real or if it ended. Also, I put a few jokes in there that everyone found funny, so I really liked that presentation. 
So, even though the club may seem serious, there is actually a lot of laughter and jokes. Would you consider the club to have a more relaxing setting for everyone?
– Yeah definitely, you are under no stress. People have two weeks to prepare presentations and practice them. Even if someone messes up, no one would judge them. Everyone is really nice there, and everyone overall has a good time. 
That sounds amazing and a good group to be part of. Have you made any presentations?
– I have, I made a presentation about "The Life of Rasputin," I thought he was a really interesting character, and some people might not know a lot about him. I am also doing another presentation on January 26th called "Mysteries in the military" and will talk about those types of mysteries. 
Interesting choices! Did the club help you develop your love for history, if so how? 
– I loved history ever since I was little. Ever since elementary school, I would always read the history textbooks on my own time, and the club taught me new things about history through other presentations. All this new information made me love history even more. 
So you definitely feel like the club helped you foster your love for history?
– Yes, definitely. 
How is your senior year going, especially since last year was virtual and this year is fully in-person?
– So far, it is going great! I love being a senior, you get a lot of cool things to do. I love my classes, like my honors and AP classes. I also love the electives I'm taking. 
So do you think the club is good for people who are slightly interested in history?
– The club is definitely for everyone. Whether a person is slightly interested in history, loves history, like me, or even people who are not interested in history, this club offers something for everyone. For the club, you do not need to know what happened in World War One and World War Two to be interested in the club. The meeting is laid back and you can just enjoy the environment with your friends, and learn something new. 
That's great! The club definitely does not seem stressful, especially with what you said prior that the club is relaxing and is a fun environment for everyone. Are there any big things coming up in the club?
– We actually started a podcast! It's really interesting, and I encourage a lot of people to listen to it. The board members and advisor, Mr. Grimes, are trying to set up field trips, which would be really cool if that does happen!
I agree, especially since last year we were fully virtual and many people missed out on class and club field trips, it sounds like a good opportunity! Do you feel that mysteries and history helped you learn more about historical events and history classes?
– This is actually my first year in Mysteries in History. I was doing a lot of stuff and did not want to join last year since it was virtual. I'm not taking history this year, unfortunately, but I did learn a lot of interesting things. For example, there was a presentation about anti-Semitism, and there was some stuff I never even knew about. The club helped me learn more things and made me look into more historical events. 
So, in the club, you guys touch upon interesting historical events and events that should be taught even if they do go into "touchy topics." Have you made any presentations about historical events you found interesting?
– Yeah definitely! And one of the interesting presentations I made was about Rasputin. I never really went out of my way to search him up until I wanted to do a presentation on it. I started to look up and learn more about the events concerning Rasputin since I was doing a presentation and wanted to teach others the information I learned, including what really happened to Rasputin and the military. Because of the club, I also started to look more into European history, specifically French history, like Napoleon. I am a history nerd so I am throwing all of these names at you. What is good about the club is that it makes me dive deeper into a topic and that is an aspect I really enjoy about the club. 
The club really seems to push you to, like what you said prior, to "dive deeper" into historical events that you either might have never heard of or knew little about. That is honestly really cool and seems like a great opportunity for people who want to learn more about all history topics! So, the learning aspect is great, but what about the community that Mysteries in History provides?
– Yeah, the community is great! They are all very nice, communicate with each other during presentations, and congratulate each other after a presentation. A lot of people also know a lot of different things. For example, I might know the curse of Tippecanoe, but someone else might not, and since I presented it, they will learn and know it. Similarly, with the presentation about anti-Semitism, I did not know a lot of information there, and now I learned a lot more from it. 
It seems that club has not only been a learning experience for you, but what about everyone else?
– You can not know everything about history, like all the dates and people. But a lot of people know a little about some events in history. 
How have you felt you grew in the club, especially with joining it in a matter of a year and winning club student of the month?
– The first presentation Mr. Grimes gave was about the Ghost of Gettysburg, which I did not know about, so it was interesting to listen to. I also watched a few videos on my own before joining the club about different mysteries, and this presentation inspired me to step up and create some of my own, and some people enjoyed the presentations which I intend to make more. So far, joining the club has been an amazing experience. I am so glad I joined the club, but I wish I would have joined it earlier, like freshman year. But I am glad I joined it later instead of never!
Better late than never! What would you say for new members of the club, so they can be more active in the club?
– Anyone can join, there is no fee or anything, and everyone is super supportive. You can do a presentation on any topic, like who killed JFK, and people will be interested. Like I said earlier, no one knows everything about history, and you might find something that a lot of people do not know. By presenting topics that interest you, that is how you grow in the club and give yourself a name in the club. Usually, at every club meeting, we get about thirty to thirty-five students there. I think a lot of the presentations are really interesting, even though I know history is not for everyone. Including my parents and my brother, who gets annoyed at another history documentary. It would be really cool to fill up the whole room in the little theater, and more people can get a dose of the weird stuff that happens in history. 
Thank you for answering all my questions and congratulations to winning student of the month!
– You're welcome and thank you!
Thank you to Gino for speaking with me about his contributions to Mysteries in History! Members are what help a club flourish, and Gino is a clear example of a great member. Congratulations again!
---
Here's what Mr. Grimes, Mysteries in History's advisor, had to say about Gino:
"Gino is an exceptional club member. Not only does he regularly participate in club meetings but he also volunteered to lead his second meeting of the year with a presentation today on Rasputin! What an exceptional student!"