Leah Marrero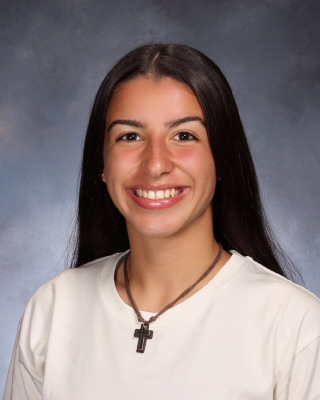 Leah Marrero is a class of 2022 senior here at FTHS. She was named one of the November Students of the month in honor of her astonishing participation in the Students Against Destructive Decisions Club. Although this club operates without a single leader, Leah continues to step up and devote all her time to ensuring the success and efficiency of this club's time management, as well as event planning. Congratulations to our November Student of the Month!
---
Good morning!
– Good morning
First off, congratulations on receiving this award.
– Thank you
After hearing your name announced just moments ago, what was your initial reaction to being elected student of the month?
– I was both honored and excited to be nominated as student of the month for the SADD club. 
That's great! Now, why do you believe you were picked, and what have you done to be a role model here at FTHS.
 –  I think I was picked because of all of my participation that I have contributed to SADD. I handle activities such as photobooths, signings, meetings, and time management for this club.
Perfect! Now, regarding extracurricular activities, are you enrolled in any clubs or sports? If so, can you tell us a little about your participation in them?
– Yes, I'm also involved with the No Place for Hate club, which correlates with the SAD club. It's anti-bullying and promotes unity and diversity in our school. I'm also involved in the Art Club, which contributes to these two clubs because of the different skills I can offer. And I am also involved in the softball team and this promotes teamwork and provides a sense of support. 
What encouraged you to be a part of our Students Against Destructive Decisions club, and you have a specific leadership role in this club.
–  Freshman year, Students Against Destructive Decisions came into my homeroom and spoke about different instances where students made bad decisions. It was a great way to promote safety and awareness to keep our community safe. I contribute to this club by participating a lot and hosting different events such as the photo booth or meeting or signings.
Perfect! What types of skills or qualities do you believe this club has developed in you? How do you feel these skills will impact you in the future?
–  I've definitely developed a sense of leadership from this club just by always showing up. There is no specific president or vice president of the club, but I felt like a leader just by staying devoted to always showing up and participating.
Great! It's so nice to see how much you enjoy your time spent in Students Against Destructive Decisions. Can you elaborate more specifically about what activities take place in SADD?
–  So we do different events, like I said happened my freshman year. They will go from class to class, showing different presentations on how students made bad decisions. In addition we are promoting awareness by also doing bulletin boards, as well as different activities such as photo booths. We are planning something big in the coming future, so stay tuned! 
It seems that this club has you quite busy! So with all these activities on your daily plate how do you manage your time between assignments, after school activities, and your free time?
– I manage my time by making the schedule for every week and specifically making time for everything that I like. I do take a lot of time to make sure that I have a certain schedule and it's a big part of my life.
That is a great strategy! Do you have any advice for any students looking to participate in clubs but are also concerned about it weighing on their workloads with classes?
–  Yes, of course! Personally, just taking the time, maybe writing it out to manage your workload, and making time for what you really like and enjoy is important. That's definitely the key to happiness. Regarding club sign ups, I definitely encourage students to join clubs because it's a great way to discover what they are into and what they like.
Great, it really shows how you manage your time very efficiently. To close our discussion, is there anything else you would like to say to our students and staff?
–  Thank you for choosing me as one of the students of the month and thank you for all the support and encouragement that you give me on a day-to-day basis. 
Thank you so much for your time, it was a pleasure speaking with you.  Congratulations on being awarded student of the month!
–  Thank you so much.
After speaking with Leah, it's clear how significant the SADD club is to her life. Not only is she dedicated to improving this club's event planning, she also displays acts of teamwork and commitment through her participation in softball. Therefore, Leah's well-rounded, optimistic, and devoted attitude makes her highly deserving of this award! It was a pleasure speaking with her. The Students Against Destructive Decisions Club is very fortunate to have such a committed member on their team!
---
Here's what Mrs. Clyne and Mrs. Zaharakis, SADD's advisors, had to say about Leah:
"Leah is the first member to volunteer to help with anything we need. She has taken on organizing activities, as well as assisting with the roll-out. She has taken her personal time to do extra as well."