Gavin Pessel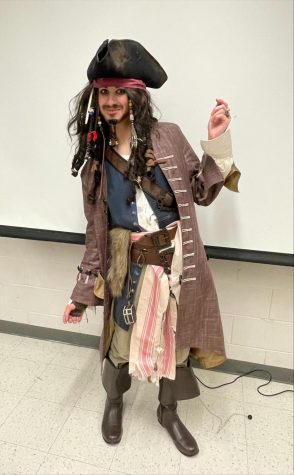 Behold, one of our October Students of the month! Gavin Pessel is a junior here at FTHS. He received this honorable recognition thanks to his continual dedication, and outstanding leadership in our Art Club! In such a short period of in-person interaction during the past school year, Gavin continued to persevere through any challenges and maintained a progressing involvement as a member of this club. Gavin truly embraces the proper means of a respectful, responsible club member! Congratulations to Gavin on receiving this honorable mention – the Art Club is very lucky to have such a dedicated member!
---
For starters, what was your initial reaction to being announced student of the month?
– My initial reaction to being announced student of the month was at first surprised, but also appreciative knowing my efforts were acknowledged. 
Why do you believe that you were picked?
– I believe I was picked for my dedication to try to make everything as good as it can be, such as dedicating lunch periods and time during the club meetings to work on anything that needed to get done while also dedicating a lot of time, effort, and dedication on making sure my costume for the "Track or Treat" Halloween event was as accurate as it could be to the character Captain Jack Sparrow from the Pirates of the Caribbean franchise. 
Are you involved in any extracurricular activities? If so, what are they?
– The extracurricular activity I am involved in is the art club because I've always had a creative personality, and being a part of it really allows me to be as creative and out of the ordinary as I usually am. 
How do you manage your time between school work and extracurricular activities?
– I manage my time between school work and extracurricular activities by attending any meeting or event that is directly after school first, and as soon as it ends, start any homework or assignment with an approaching due date.  
Do you have any advice for our new students entering the building next year?
– One piece of advice I have for any new student entering the building next year is to be themselves and find what makes them unique. I am not a very talkative person, but after being in the art club and making friends there, I notice that I have become a lot more open to people and expressive with my work and personality. 
Is there anything you would like to say to our students and staff?
– One major thing I would like to start off with is by thanking Ms. Alvarado, who has been an amazing teacher and friend throughout my time so far at Freehold Township, and for being the one who gives me the excuses to be creative and stand out. I would also like to appreciate ALL teachers and students who put in the effort to create an amazing school environment. 
How do you plan to continue your involvement in our FTHS community?
– I plan to continue my involvement in our FTHS community by once again participating in our amazing art club.
Congratulations to Gavin for his achievement and we're all excited to see what you do with the Art Club in the future!  
---
Here's what Ms. Alvarado, the Art Club's advisor, had to say about Gavin:
"Gavin was the representative for the Art Club in regards to Haunted High School.  He attended the required meeting and took the lead in the event. Without him, the Art Club's contribution wouldn't be what it is.  He sacrificed his lunch period on several occasions to help prepare for the event. His talent, creativity, compassion, and willingness to lend a hand is not only admirable but something I am always grateful for. Gavin was also one of the Art Club representatives at this year's Spooktacular Window Painting Contest. Gavin is amazing!"