Julia Glatt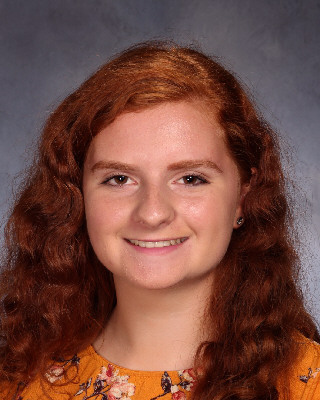 Julia Glatt is a senior bari-saxophone player, her instrument's section leader, and one of April's club students of the month! Her commitment to the school band is evident, as she helps out in any capacity to ensure the ensemble's success. After an unprecedented school year, she assisted Mr. Gattsek, FTHS' band director, in setting up this year's outdoor spring concert. In regards to her, Mr. Gattsek has nothing but praise for the senior. He stated, "She is particularly helpful after the outdoor bonus concert in being sure that all equipment was returned to its proper place and was a true role model to our younger students in this regard. Julia has served as a section leader this year with distinction!" The senior class is characterized by their perseverance, enthusiasm, and dedication to making the most out of this year — and Julia clearly embodies it.
Read the interview below:
Leona Gagalac: What is your favorite stand tune?
Julia Glatt: Probably either "September" or "Fraggle Rock". The parts for my saxophone are sooo fun to play, plus everyone is just dancing and having a good time.
LG: What is your favorite part of playing the bari-sax?
JG: I like playing baritone sax because it's such a low instrument for a woodwind, and it is much harder to play than it looks. Plus, I like playing saxophone because it can be either played in a concert band way, or just in any music you listen to on the radio. It's very versatile. The low notes are especially cool because they sound like a tug boat, haha.
LG: When did your journey start with band and how did it lead to you playing at the high school level?
JG: I started playing saxophone in 5th grade. I took a gap year in 6th, but joined again in 7th grade and have played ever since. I think that not only my love of music grew over that time period, but I loved the community of the band and how it was a second family for me. As I continued to go through high school, my passion grew and I wanted to show underclassmen how enjoyable the little moments really are. Obviously playing instruments are cool, but I met so many great people through the band, and being together as a whole feels so unified and special.
LG: Being a section leader, what does that job entail for the marching and concert season?
JG: As a section leader, I am in charge of all the saxophones (altos, tenors, and baritones). Usually in a normal year, we mainly help with getting new freshmen in the loop of band camp, learning music, having sectionals to socialize and meet each other, and even helping them learn how to march properly. Overall, section leaders help include leadership towards underclassmen, and act like an older sibling if anyone needed. We also make flip books for our sections, spread information about any upcoming dates, and even get to pick costumes for the Spooktacular parade. Still, section leaders and anyone in the leadership of the band have to act as role models not only to the underclassmen, but to the community we are in, and to help future generations with whatever they need to succeed; even if it is not music related.
LG: The "new normal" that we're all living through hindered our daily lives and schedule. From outdoor concerts, new instrument PPE, and online band class, what do you think was the biggest challenge? How did the band overcome these circumstances?
JG: I think one of the biggest challenges was how we were going to continue our lives and play as a band while being safe for the wellbeing of others. In band, we are constantly wearing our playing masks, staying 6 feet or more apart, and even wearing PPE (protective equipment) for our instruments for extra precaution. We were lucky enough this year to have a marching band show/football games, to have a spring concert, and even a musical! I also think it was challenging to have 2 classes at once; virtual students and in-person students. It is hard for teachers to talk to both types of students and teach class at the same time. Plus, for some music events we did this year, it was hard to get people to have the motivation to participate. I know some people are not doing events to be extra cautious, and that affects the band because we do not have as many players to fill the gaps of the music (especially in the musical). Still, as much as I wish things could be different, people's health and safety comes first, and that is one of the band's top priorities this year.
LG: A part of why you were awarded club student of the month is your contributions to the recent outdoor concert, a bonus performance of Holst, One Life Beautiful, and the Beguine. Besides how windy it was that day, how different was this compared to a regular concert? How did you help ensure the concert's success?
JG: Oh boy, was that wind such a problem. I was halfway playing my music and my stand flew over, my music blowing across the field as we were performing. It was harder to play outside because not only were we playing with PPE and masks, which takes a couple of seconds to put on, but we were standing and playing, and the wind was blowing tremendously. Not only were things falling or tipping over, but we also had an audience of our families and parents, which some people might have been nervous to perform in front of. I ensured the concert's success by helping bring chairs and stands out, telling students to head towards the direction of the field, bringing out water bottles for students, and overall helping as much as I could. Of course after the concert, we had to bring all the heavy equipment back inside as well, which took a while because people left, so I stayed behind with others to help finish the job.
LG: Considering the challenges of this year, what does being a leader mean to you?
JG: Being a leader means doing what's right; to help anyone who is in need. Because of this year, I know many students' mental health dropped and everyone was sad about this year, but I tried my best to give Mr. Gattsek ideas about what we could still accomplish in a pandemic. We still had marching band, we still had senior night and awards, we still had a concert, and more! I would say that's an accomplishment. I also think being a leader meant to be nice to everyone, to be respectful, responsible, and show how much you care about the band. A leader is selfless, confident, and never gives up; the band is a unit, and we cannot function without each other. At the end of the day, we all come together to do something we enjoy.
LG: Looking back as a senior, what advice would you give your freshman-self for her next four years of high school?
JG: would tell her to be proud of herself. She needs to enjoy the moment with her friends, her family, (especially because of Corona), because soon a new chapter will begin. Her worth is to be determined by no one, but only herself, and she is worth it. Even though some things did not work out, or she fell down a couple of times in life, she is stronger than she thinks is. Honestly, even though my 4 years at township, especially senior year, was not what I expected, I made the best of it; that's all I could do.