Hannah Orloff, Basketball Star, Named Female Athlete of the Month for December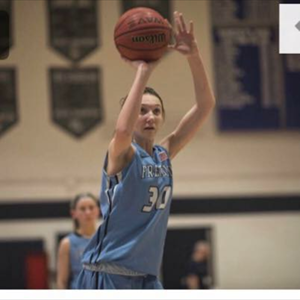 Abby Hynes, Staff Writer
January 16, 2019
What grade are you in?
I am in 10th grade.
How long have you been playing?
I have been playing since 3rd grade but I really started getting into it in 7th grade.
What position do you play?
I play center for the school.
How did you start playing?
I played other sports in time and my parents wanted me to play basketball. I liked the sport so i continued in it and by 7th grade, my team wound up making it to the championships which was really cool to do and fun especially with my close friends.  Ever since then, i have been seriously playing.
Have you played any other positions?
On my outside team I play the outside more, but in school I just play the center.
Do you want to play in college and or, do you know what school you're attending?
I'm still a sophomore so I am just looking. I know what I want to do as for the future but I don't know where I want to go yet. As for sports, I can go either way. I am not totally against playing sports in the least bit, but I do not know if I want to play in college yet. I will definitely take the opportunity, though, if I am given it.
Do you play any other sports and/or do you play outside of school?
Well, I did play soccer but I prefer basketball so now I just play on a Basketball team outside of school
Do you like playing in school or outside of school better? 
Both inside and outside of school are equally great. Personally, I love the school recognition, but I also like traveling places with my outside team and seeing all kinds of great teams.
What was the hardest thing to learn about the sport?
For me, nothing was really hard. When I played soccer, there became a point in time when I couldn't grow or improve and there was nothing more for me to learn. I prefer basketball because you can always improve at everything and you can do so individually.
What is your favorite thing about the sport?
I love the game, especially when the girls all get really into it, t makes it enjoyable and fun to participate in. I also love having a team and being able to hang out with the girls both in and outside of school and being able to work out wit them as well as play together on our own.
What was the greatest moment you had during the season?
Being granted athlete of the month as probably the greatest achievement this year. I have been in small competitions this year with friends which was also really cool but this is definitely the greatest thing.
How do you stay in shape?
I just work out and continue playing, because school is like 6 days a week so we are always in the gym and I also work with my AU team outside of school so I get a lot of exercise on a normal basis.
Is it hard for you to balance school and basketball?
I have never had a big issue because I always find time to do my work and I try my best to get as much done in class when we get time and in other periods or lunch.
Do you ever think about going pro?
I always think about college but I never really think about going pro. If I really tried I guess I could but it really takes a lot to get to the professional level.
Do you have any before game superstitions or rituals?
No, I actually do not have any superstitions. I used to, a while ago, have a favorite type of socks, but eventually I lost them and realized I played the same without them so I gave up on that idea.
How does the team look for playoffs?
I had no clue at the beginning of the season as to who would lead the team or who would o the best this year, but from our recent games and the recent victories I think we are going to be pretty good this year. I know that us sophomores are going to be really good by the time of our senior year but I think that we are  going to do good this year too.
How are the season stats so far?
I think that they are pretty good, we are currently 6 and 3, and we have played and won some tough teams that we could possibly play in the future which is great.
---
ACCOMPLISHMENTS FROM THE MONTH:
-Hannah averaged 18 points and 14 rebounds per game
-Hannah recorded a double-double (double digit points and rebounds) in every game
-Hannah was nominated for Player of the Week by the Short Sports Network and the Asbury Park Press
ATHLETE'S IMPACT ON THE TEAM'S OVERALL SUCCESS:
-Hannah led the team in points and rebounds and controlled the paint defensively in helping the team to a 4-2 record through December
-Hannah helped the team finish 3rd at the inaugural Blue Devils Holiday Tournament