Current Events (11/26/18): California Wildfires Edition
California Wildfires
This article will move away from the typical format of this column and focus on the wildfires that have devastated California over the past week, the specific ways in which they hurt people, and the ways in which first responders and the government reacted to the disaster.
Go to this link to see images of the disaster in California.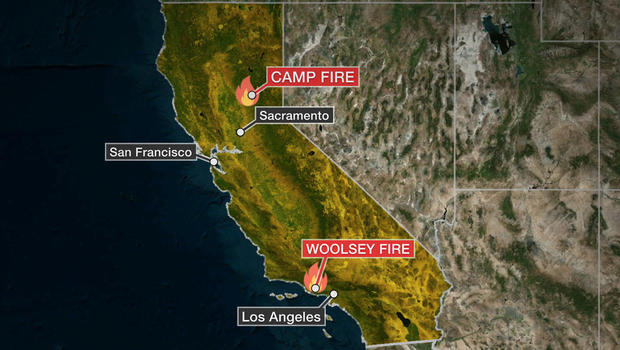 Over the past week, two major wildfires ignited across Northern and Southern California. At the moment, 87 people are dead and nearly 500 people are missing. The fires had burned more than 250,000 acres of land, and destroyed up to 19,000 structures. There were two rainstorms in the area last weekend, which helped slow the blaze.
The bigger wildfire was called "Camp Fire", and it has ravaged the northern parts of California. The vast majority of the deaths — 84 in total — were due to the Camp Fire in Northern California's Butte County, making it the deadliest and most destructive wildland fire in the state's history. The smaller firesite (although it's still very destructive) was called "Woosley Fire", and it has affected the South of California.
President Donald Trump arrived in California last week to survey the devastation and meet with firefighters, alongside California Gov. Jerry Brown and the state's governor-elect, Gavin Newsom.

What's the current status?
At the moment, both fires are 100% contained. 2018 is the most destructive wildfire season on record in California, according to the California Department of Forestry and Fire Protection.

The southern Woosley Fire was fully contained by last Wednesday. In Southern California, more residents were allowed to return to areas that were evacuated because of the 151-square-mile Woolsey Fire as crews worked to repair power, telephone and gas utilities. About 1,100 residents are still under evacuation orders in Malibu and unincorporated areas of Los Angeles County, down from 250,000 at the height of the fire.
Camp Fire, located in northern California, has been completely contained this weekend. The firefighters were aided by heavy rainfall on Friday, but the rain triggered the National Weather Service to issue a flash flood watch, warning that ash and debris could begin to flow. As of right now, however, there hasn't been a downpour strong enough to cause flooding or mudslides.
California has been ravaged by record wildfires in recent years. 2017 was the state's costliest and most destructive fire season on record. The Mendocino wildfire in July 2018 was California's largest-ever by a whopping 60 percent. Even though California's wildfire season has traditionally ended in October, the Camp Fire raging in November 2018 is the state's most destructive on record.


What causes the fires?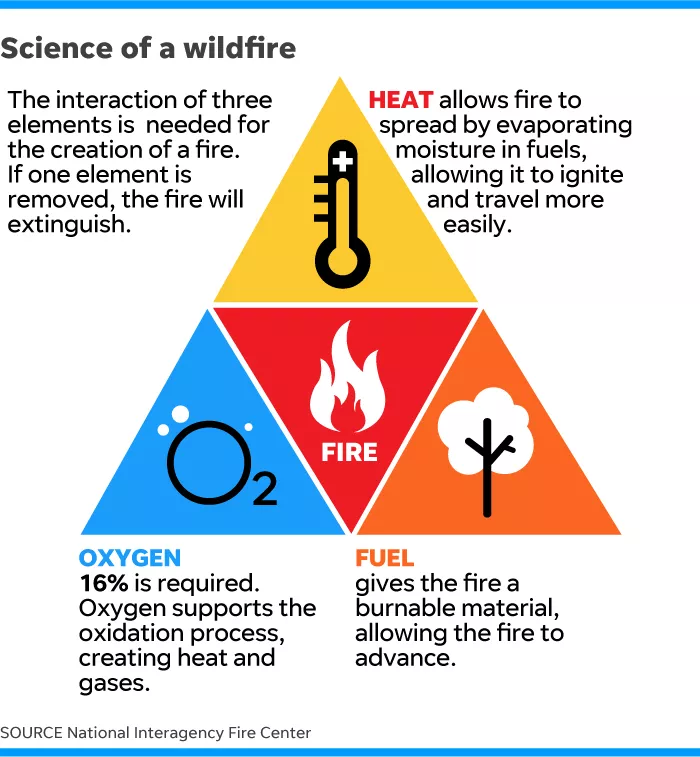 The deadly wildfires such as the ones raging in California this week can begin with something as simple as a downed power line, a flat tire or a tossed cigarette butt. Once a fire ignites, the combination of heat, oxygen and fuel (trees, brush, etc.) can cause it to explode in size. A single spark, combined with dry forests and strong winds, can be all that's needed for a catastrophic wildfire to start. About 84 percent of wildfires in the USA are started by people, according to a comprehensive study in 2017 published in the Proceedings of the National Academy of Sciences.
The definitive cause of the wildfires is still being investigated, but so far two electric companies have been identified potentially at fault. Both companies have been found to be responsible, or partly to blame, for fire disasters in recent years.

Hot, dry weather this summer and fall has been a factor in the wildfies: "Over the past two months, the areas now burning have had far less precipitation than normal for this time of year, while experiencing above-average temperatures," said Jacob Bendix, a geographer at Syracuse University. The entire state has seen above average temperatures, with the Sierra Nevada region (the Camp Fire location) having the warmest summer on record.

Moreover, similarly to the hurricane disasters in the South and East, there is increasingly more infrastructure and housing – often in the way of the disasters, as more structures are built in areas with high risk of fires. An L.A. Times report explains that, for example, the areas that experienced the deadly Camp Fire and last year's Tubbs Fire have seen massive and seemingly unstoppable infernos before. But back then, neighborhoods and cities weren't in the way. Ecologically, natural fire is a fundamental agent in many of our ecosystems and only becomes a problem where us humans choose to inhabit fire-prone regions, or perpetuare fire through their actions.
How does climate change worsen the wildfires?
"The wildfires burning in California provide a reminder that our changing climate and weather are powerful drivers of catastrophic fires," Bendix said. California, like the rest of the world, is warming due to climate change and, consequently, fire season is getting warmer.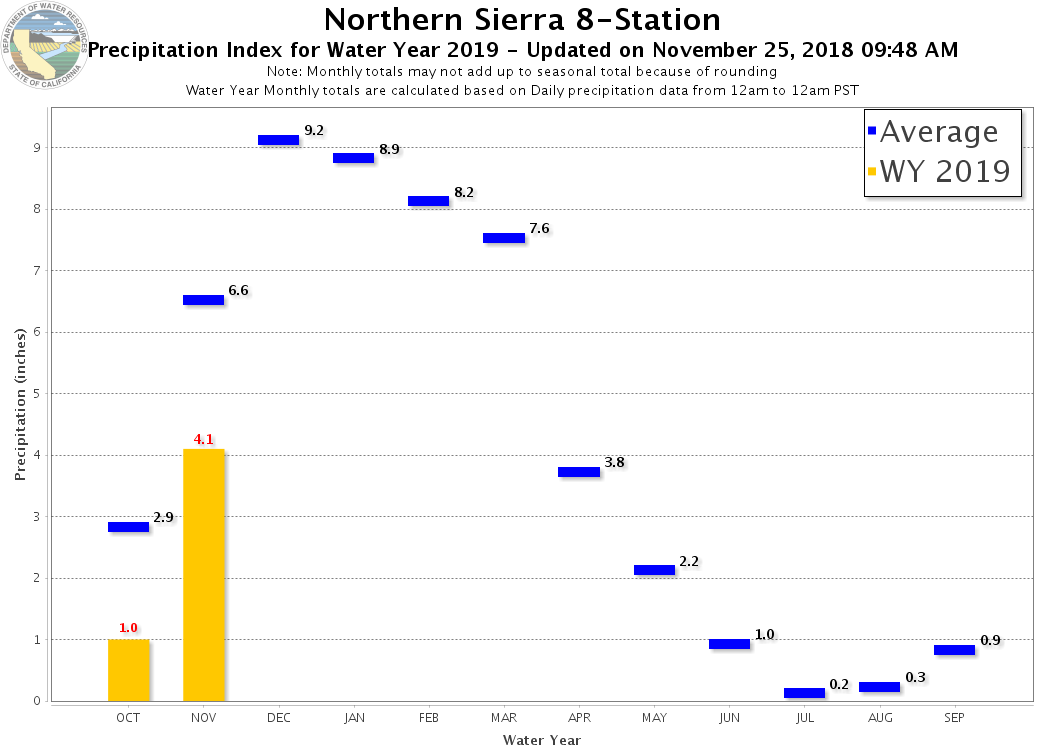 Global warming causes higher temperatures, and 2014 through 2018 have been California's five hottest years on record. Six of California's ten most destructive wildfires on record have now struck in just the past three years. Climate change is real.
Climate change is caused by the increase of greenhouse gases such as carbon dioxide that are created by burning fossil fuels. Greenhouse gases build up in the atmosphere, trap heat and warm the planet. Essentially, global warming causes plants and soil to dry out as the atmosphere holds more water vapor, and releases less rain. Climate change is shortening the California rainy season – thus extending the fire season.
Furthermore, rising temperatures dry out grasses and brush, making them easier to ignite. Shifting winds due to changes in temperature – such as the infamous Santa Anas in Southern California – can then rapidly move fires and increase their size, creating wildfires bigger than ever before.
Although droughts will always happen naturally, as studies have shown, they'll become more intense in a warmer world. The combination of dry, hot weather will create bigger risks for Californians. You can find more information on this topic in this article.

"To ignore the link between climate change and wildfires is to put lives and property at risk," Balch said. "What's going on out West is eventually going to hit around the world (including the eastern USA) unless we curb fossil fuel burning," University of Michigan climate scientist Jonathan Overpeck warns.
President Trump's tweets last week suggested forest mismanagement is to blame for the disaster as he threatened to withhold federal funding. Forest management does play a role in creating wildfire fuel, but the fact that climate change worsens the wildfires stands, supported by much research from respectable scientists.
How do we prevent this?
We can't completely prevent wildfires – they are a natural disaster, after all. But we can take action to manage them, prevent them, and lessen their severity.
First, we need to promote fire safety efforts include such as creating buffer zones between human habitation and susceptible forests, and meeting home and city fire-safety standards so as to keep residents out of direct harm's way.
Second, prescribed burning has been shown to mitigate effects of wildfires. It safely reduces excessive amounts of brush, shrubs and trees and encourage new growth of native vegetation. Last year, a study concluded that wildfire smoke contains three times as much pollution as smoke from planned fires. However, a prescribed fire is still fire, thus fire-management experts need to be extremely careful in planning and executing one.
Third, we need to take steps to reduce our impact on the climate.
Besides the obvious dangers to property and human lives, there is the additional health hazard in form of smoke, which can cause a great deal of lung problems. Air regulators and fire officials say that to promote prescribed burns will require better public education about their relative hazards.
California's state assembly has passed a series of bills to increase wildfire prevention, including providing grant money to localities and increasing controlled burns on wildlands. But getting money moving can often be a cumbersome, bureaucratic ordeal – and so, California may have to wait and watch as disasters take place. Moreover, the plan encouraged use of wood for biomass – that is, burning it to create electricity. Kathryn Phillips, director of Sierra Club California, said that this part of the plan is worrisome, as such usage of wood, in fact, releases carbon that aggravates climate change. These points are important to keep in mind to comprehensively address this issue.