How does an actor take on the school play? An interview with Patriot Player Riley Martin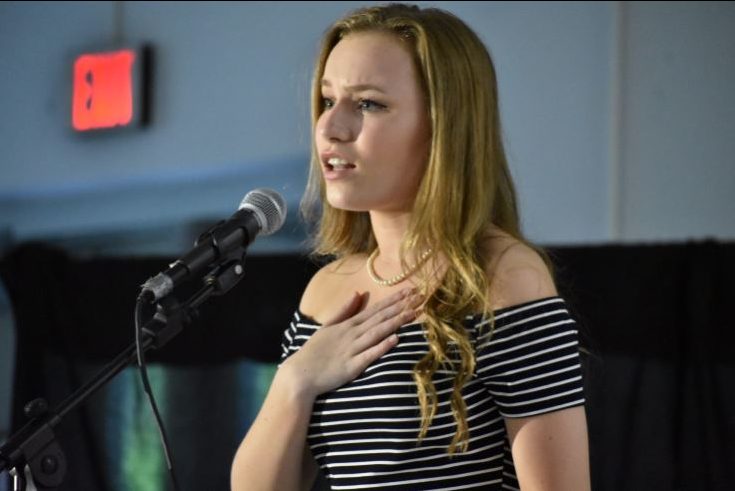 So how does the auditions work? Did they make you audition with a particular song or did you choose something that was better for your voice?
The audition process for the school play is that each auditionee has to prepare a minute monologue from a play/movie/musical. For the musical auditions though, you should prepare about 16-32 bars of a song that showcases your own voice to it's best ability. Callbacks are a whole different ball game, but auditions are usually about executing yourself in the best way possible so the Drama Club can get a good sense of your strengths and to get to know the person auditioning for their show.
The cast of Boeing Boeing is very small this year. It's really condensed which can be a very good thing for a show since it gives an actor more screen time to build up their character. That being said, do you have more time on stage this time around compared to your previous roles?
Yes, there are only 6 people in the cast of Boeing Boeing this year. Each girl in the show generally shares the same amount of time on stage, excluding one of them. The boys are on stage the entire show, though my character doesn't reach the stage until Act 2. This is very different from sharing the stage the entire show with my previous roles, but I really like the setup of introducing each character and I also like being able to take a breather as Act 1 commences.
Boeing Boeing is a very different show from the majority of plays because it's actually shorter than the average play and its cast is mostly female. Its tone is also very different from the last two plays you did here at FTHS. This show is, however,  very similar in a way to the musical you did last year, 9 To 5. Did the musical help prepare you in any way for Boeing Boeing?
Boeing Boeing is extremely different from the other plays I've been apart of at FTHS. Last year's play, Little Women, was very fun to put on, but it was all very serious acting. The play this year though is so funny which makes it 10x more enjoyable to put on stage. In 9 to 5, I got the amazing opportunity to play Doralee Rhodes, the comedic southern belle who mostly had the punch lines and the crazy physical comedy. This year, I play Gretchen, the german flight attendant who is very much like Doralee with her comedic remarks and extreme physical comedy. So yes, Doralee helped me very much when it came to getting the role of Gretchen. Especially with the accent.
How long do you practice each week?
We practice 4 days a week for 2 hours after school. But, the process of building these characters has been so much fun and the cast gets along so well – so 2 hours feels like nothing even though it is a lot!
Is it hard to concentrate when performing because of the band even though they help you know when you have to say something or when a certain scene is about to begin?
No, actually. During musical season the band helps very much since Mr. Gatzek is conducting their playing. He's also conducting you on when you're supposed to sing. It makes performing with a live band 10x easier. Concentrating as a performer is much easier when you have a band backing you up.
Improvising is something all actors have to do. When you can't remember you line in front of a hundred people obviously you have to come up with something right on the spot? How do you take on a moment like this when it happens?
Improvising is something that ALWAYS happens – and it freaks performers out. You never want to be caught on stage not knowing your lines. But the best part about is that the audience will never know that you messed something up – as long as you don't physically show it. Also, having cast members that you can bounce right off of and that you're comfortable with when performing is a must when forgetting a line and covering it up. There was a specific moment last year on stage with Lexi Santitoro when either someone didn't show up on stage or one of us had forgotten a line, but we handled it like pros. We just kept talking about our situation or things that could possibly lead us to the next line. Our connection on stage is awesome, so covering that up was so much less stressful with her by my side.
The drama club changed leadership this year, but do you still operate normally or is auditioning and rehearsal now different?
We're operating just as normally – auditioning and rehearsals are just as they were before for the cast members.
What advice do you have for Freshmen interested in auditioning for the musical later this year?
My advice is to absolutely, 100% audition. The Drama Club is way more than just getting up on stage. You can learn so much from everyone around you and making friends is the easiest thing in the world with our group. We become a very big and happy family, and you get to put on an amazing performance and show everybody how important the arts are at our school! It has been the most amazing experience in my high school career. I have done so many things because of this club and because of the confidence it gave me. I've also made my best friends in this club who mean the world to me. If you love to perform, drama club is definitely the place for you to shine, no matter what part you receive. But if you want to have the coolest high school experience, drama is 100% the place for you.
Is there anything you can tell us about the upcoming musical as of right now?
Sadly, I don't know anything about what the musical is going to be this year. Although everybody should come and audition regardless. The show is going to be great but the experience itself is even better!