Tasty Tuesday with Gab: Chocolate Chip Pumpkin Muffins
Hang on for a minute...we're trying to find some more stories you might like.
Baking has always been one of my favorite hobbies. If I have some free time, anyone can almost guarantee that I'll be in the kitchen!
This past week the excitement of fall, my favorite season, really got to me, so I couldn't help but make something pumpkin flavored! I searched all over online until I found the perfect recipe: chocolate chip pumpkin muffins. As I write this I wish that I could give each and every person reading this one of these muffins but for many reasons, I can't. So the next best thing that I can do is share the recipe with all of you!
To begin, I set my oven to 400 ° Fahrenheit. I also lined a cupcake pan with liners. This recipe makes about 30 cupcakes so depending on the occasion, you may want to cut these ingredients in half! The next thing I did was mix together the eggs, pumpkin, oil, and vanilla in a large bowl until they were smooth. After that, I mixed all of the dry ingredients in a separate bowl. I then poured the dry into the wet ingredients and blended those together very well. Now, this part is optional, you can add chocolate chips and/or pecans to your recipe. I just added chocolate chips and they were simply divine! Lastly, I scooped the batter into the paper liners about ¾ full and baked for 18 minutes.
---
RECIPE: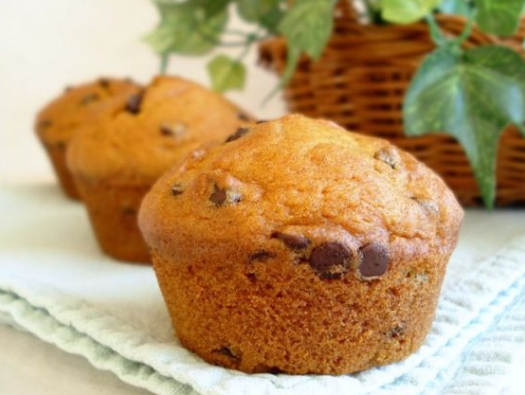 4 eggs
2 cups of sugar
2 cups (16 oz) pumpkin puree
1 teaspoon vanilla extract
1 ¼ vegetable oil (canola oil works too!)
3 cups of flour
2 teaspoons of baking soda
2 teaspoons of baking powder
1 teaspoon of cinnamon
1 teaspoon of pumpkin spice
1 teaspoon of salt
1 ½ cup of chocolate chips