FTHS Film Making Club Auditions Aspiring Filmmakers at Activities Fair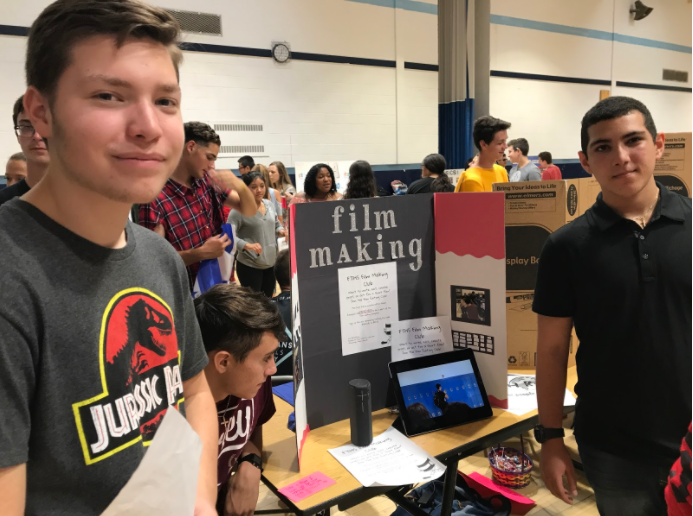 With the commencement of another engrossing year for the student populace of FTHS, much anticipation also lies for the organizers and clubs that participate in the annual school activities fair. Such is the case for Presidents Marc Kaliroff and Luke Elias of the FTHS Film Making Club, who promise an interactive and guaranteed experience apart of the filmmaking process.  Originating in the 1890's,  the art of film and storytelling has preached a rich and diverse history that's consistently focused on traits that involve immense creativity, leadership on sets, and extreme precision in execution.
The club, which promises aspiring directors and actors the opportunity to compose, edit, create props, and act in their own productions, has attracted a great amount of popularity, not only for its unique emphasis on acclimating students to one of the most universally acclaimed professions in show business, but for fostering an independent and collaborative environment that distinguishes itself from other afterschool activities.
The Patriot Press had the opportunity to speak with Kaliroff regarding the club and his personal experiences in detail, as well as his focus for first time members this year.
---
Why did you get involved in the Film Making Club?
I was always an avid admirer of films and originally intended to create a school podcast, but when I found out the school already had one, I was later inspired by director Avery Cohen's short films and wanted to start a club which helped students about the process of making short films.
What's your focus for underclassmen this year?
A big focus for us this year is to help new members get involved in the filmmaking process and allow them to flesh their ideas to get started for their short films in an interactive process.
What makes this club different from the rest?
Unlike most clubs which focus on pretty similar things in one way, the Film Making Club gives students more creative liberty and freedom in the way in which they want their short films to be, as well as the way they want to use their equipment to create their unique short films.