'Beauty and the Beast' Lives Up to the Beloved Classic
Hang on for a minute...we're trying to find some more stories you might like.


Besides adorable characters and lovable soundtracks, Disney movies are known for their unique and important life lessons. One life lesson in particular is to never judge a book based on its cover. That is a common life lesson, to look past appearances and deeper into something or someone. This is exactly what happened in the original Beauty and the Beast from 1991. This has also happened on the opening day of the Beauty and the Beast from 2017. Being that this was a remake, no one could have predicted for it to be that good, because come on, when is a remake ever as good as the original? Never. Well, the complete opposite is what happened when millions of people fell in love with this classical Disney story all over again in theaters.
Just on the opening day of Friday the 17th, the movie made $63.8 million from over 4,000 locations.
But when discussing its global accumulated amounts, the numbers hit an astonishing– and near record-breaking– $115 million! Clearly, people are in favor of this elegant and magical movie directed by Bill Condon. Condon is also known for directing the first two
Twilight
movies (2011 and 2012), as well as directing
Chicago
(2002).
Dan Stevens plays the Beast for most of the movie, until his miraculous transformation back into Prince Adam. Gaston was played by Luke Evans as a perfect remediation of the ever so cocky and selfish character from the original movie. Josh Gad played the role of LeFou as a comical, and lovable, right hand man to Gaston. And if you're thinking that you have heard this name before, you are probably right because of his prominent role in Frozen (2013) as Olaf. As for the main character of Belle, Emma Watson played the role flawlessly as I could see no better actress for the part.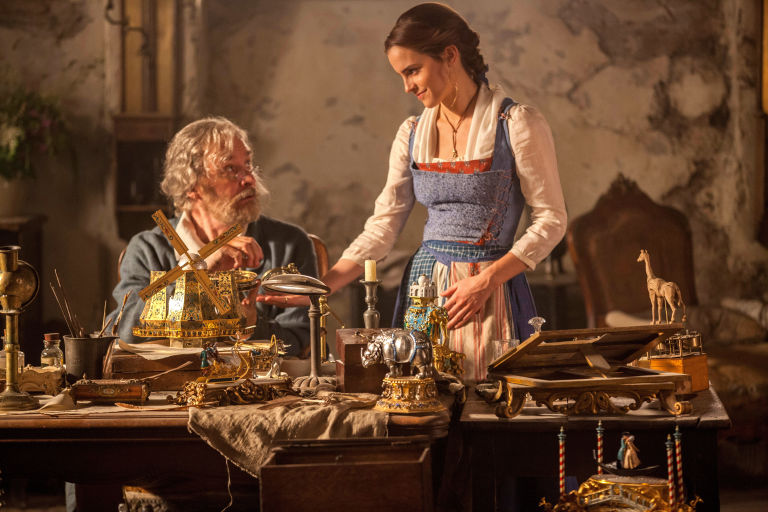 Now for those who are unfamiliar with the plotline, Beauty and The Beast is a movie about a girl, Belle, who doesn't fit in in her village. She doesn't want to just marry a man, and be a woman at home. She is driven, intelligent and seeks adventure. When saving her father, by taking his place in the cell of a castle, she becomes very familiar with the castle's owners. Being held captive by a beast, and talking objects, isn't the most ideal situation for anyone. Yet Belle makes the most of it and looks deeper into the beast to discover how much more he has to offer than his angry and bitter facade.
As said before, Disney movies are definitely known for their music. Even though this film added new songs and a twist on some of the old ones, they were all still brilliant pieces of music that played a valuable role alongside the story line. And don't worry, all your favorites are still there; "Belle," "Gaston," "Something There," "Be Our Guest" and of course, "Beauty and the Beast." The only downfall to this is with each song, it becomes harder and harder to keep still quietly in your chair without jumping up and singing along to the songs loved by so many.
Personally, I am a die hard Disney fan and am a sucker for the classics. I was surprised myself at how much I fell in love with this movie. They did not butcher the original movie in any way, in fact, they just embraced its original gracefulness and heart warming effect that it gives its audience. The newly popular, 2017, Beauty and the Beast is a movie for all people and surely is two hours very well spent.