Think Tank Stimulates Proactive Environment in FTHS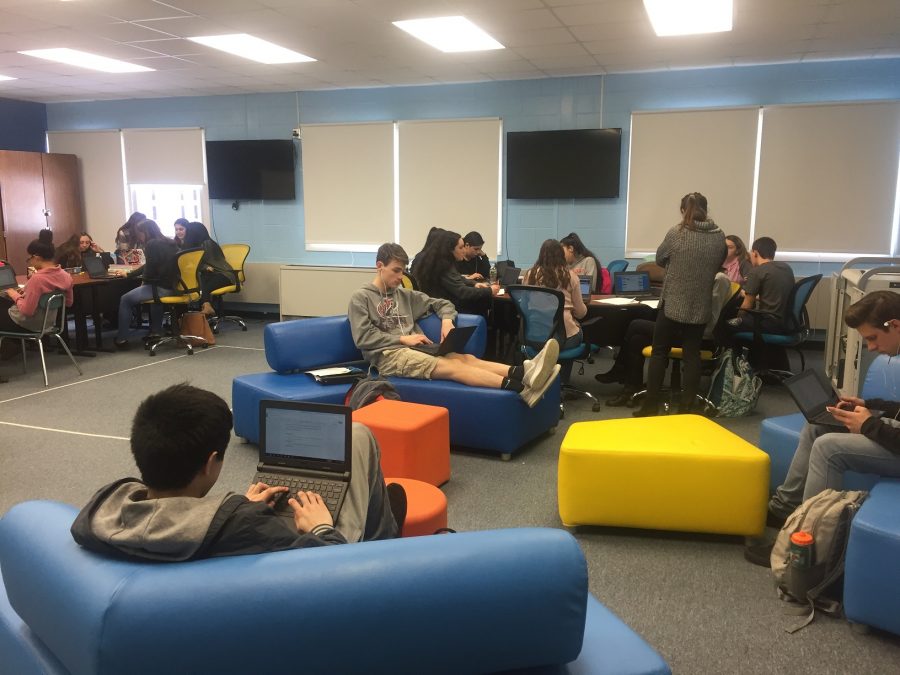 It has been six months since the implementation of the Think Tank to the student body, and since then, it has firmly served as a diverse and efficient environment that has engendered a transformational  experience for both students and educators alike. Located in room D113, its distinctive interior and atmosphere aren't the only reasons that make this classroom unparallel to any other. Rather, its emphasis on the values that comprise the foundation of Freehold Township High foster a collaborative environment that advances learning and innovation seamlessly into a spacious surrounding.
It can be argued that the greatest source of comfort derives itself from the pleasant and welcoming chairs that greet visitors upon entering the room, adding a sense of versatility and pleasure from the standard classroom tone. Replacing the typical arrangement of desks, the Think Tank adopts a conference like disposition one would witness in a formal setting such as a university or a corporate office.  It also contains numerous whiteboards that allow an interactive expression of thoughts at once, making ingenuity pervasive for the common student.
Many students have greatly benefited from these factors through the course of the school year, with FTHS faculty greatly appreciative of its role in increasing productivity and initiative in a manner that allows them to teach challenging lessons. In fact, a recent poll administered to 216 students and 15 teachers last week has noted unprecedented growth in attendance in the Think Tank from September, with utilization rates increasing from 54% to 73% just last month.
Using  money from the OceanFirst grant, FTHS was able to purchase chromebooks and smart tvs for student utilization in the Think Tank, correlating to an overwhelming response from attendants, with 79.75% agreeing that the chromebooks were either somewhat or very effective in achieving the goals of a lesson, with 51.29% in accord with the same consensus regarding smart tvs.
When asked how effective the think tank is in allowing students to work collaboratively with their peers, 83.98% of respondents had agreed that it has been very effective. Michael Galanaugh, a junior here at FTHS, spoke with the Patriot Press regarding his time in the Think Tank and its implementation during his school day.
"The Think Tank has been a great addition to the school by making it easier to work on assignments and have club meetings," he said. "For example, when we had to record an interview for Team Challenge, we were able to set up the room in a professional way which contributed a lot to the effectiveness of our presentation." Mike and the team challenge chapter placed third overall in the district the following week.
When examined, it can be stated that the Think Tank has succeeded in its goal of creating a truly unique and progressive environment for both students and teachers alike. If your class gets the opportunity to visit this room, consider yourself lucky! It's one of the greatest experiences FTHS can offer!