Student Profile: Anthony Lotti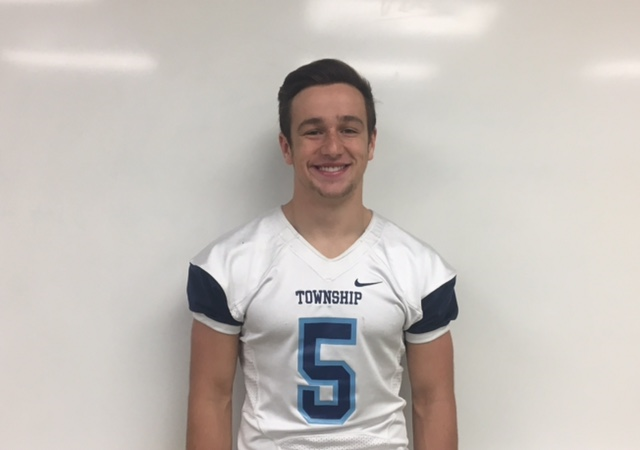 Name: Anthony Lotti
Grade: Senior
How long have you been playing football?
"I've been playing football for about ten years now, I've been playing ever since I could remember, ever since I was seven years old, and it's been a huge part of my life ever since."
Who out of all your friends and family would you consider your biggest fan?
"I'd have to give two on this one. I'd have to say my parents because, my mom is always there for me, you know, from an emotional standpoint, she's always support me after a game, she comes to every single game, and she's always there to cheer for me. And as far as my dad goes, I would say that's on a different basis, because my dad was, you know, he was kind of on that grind with me, on that hard work, because he would come to my training sessions, you know, he would pay for my training sessions, he would drive me all the time, sit in the parking lot, come watch, and he watches film with me every week, so, you know, he kind of helped me become the football player and person I am today too. So I would say it would have to be my mom and dad."
How many D1 offers did you receive, and what made you finally decide on UPenn? 
"I had 11, and for me, you know, I know a lot of people, everybody, every football player's dream is to play in the NFL. You know, everyone wants to go pro. But, you know, the thing that a lot of people don't realize is that the chances are so slim, less than .5% of football players ever make it to the NFL, let alone making a career out of it. So my focus was going to the best school possible, using football to get into the best school possible, cause you know as Mr. DiGiuseppe can tell you, you know, I'm not the sharpest tool in the shed, I'm not the smartest guy."…"So, I had 11, ranging from Temple, Bucknell, a lot of Patriot League schools, Delaware, and then the Ivy League schools I had were Yale, UPenn, and Cornell. And what UPenn was different from everybody else, they're top the Ivy League in football, you know, they're the best from a football standpoint, the best in the Ivy League and they have the best business school in the world, and it's very close to home so my family can come to my games. So the ties of academic and athletic excellence kind of went hand in hand so, it was an easy pick for me."
What can Patriot fans expect form the rest of the season? 
"So far we're 5-0 [editor's note: since the interview was conducted, the Pats won another game and are now 6-0] and that's great, as a team we don't wanna look, we don't wanna think about being 5-0. We're a team that kind of has a target on our back, everybody sees Freehold Township, undefeated, people wanna knock us down, so you're gonna see a team that's going to work very hard this season, you know, continue to work hard. Hopefully, a team that's gonna make a run for a state championship. It's going to be very difficult, but, it's something that we wanna give. We wanna gibe Patriot Nation one thing, and that's a successful football team, and that hasn't been done in a while around here."
check out some of Anthony's football highlights here: http://www.hudl.com/video/3/2736285/57c0c16fda51143d48f0f31e