Super Bowl Halftime Show Solid, but Not Memorable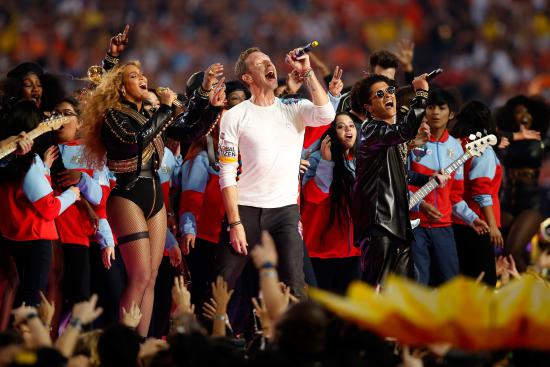 Hang on for a minute...we're trying to find some more stories you might like.
As it is no surprise to anyone, I don't watch football. So during the Super Bowl, I typically sit in the room scrolling through Twitter ignoring the fact my ears are bleeding from everybody else's unnecessary yelling. This year I spent my time sitting and watching buzzfeed videos.
Nevertheless, I only look forward to the one break where everyone else is quiet and I'm yelling my head off: the Halftime Show. It especially didn't help my energy level that Beyoncè was part of its festivities.
This year's show had a lot of hype since it was featuring the stylings of Beyoncè, Bruno Mars, and Coldplay.
Coldplay was the main focus as the stage and extra little fun parts were detailed to their aesthetic.  They opened up the performance with "Viva La Vie" then moved onto singing "Paradise," "Adventure of a Lifetime," and "Fix You." During these songs there were people dressed up as flowers wandering around the field, a marching band providing some music, and a crowd of people who looked like they were forced to enjoy the moment. Coldplay sounded pretty good and I can't really knock them too much for the vocal parts of their performance.
Next up was Bruno. It began with a (fairly) smooth transition into "Uptown Funk." Bruno and his crew were wearing coordinated all-black outfits like a "squad goals" post on Twitter. I couldn't help but sing along to "Uptown Funk" as my grandma stared and my mom shook her head in disappointment. For as little as I care about Bruno Mars as a musician, his part didn't disappoint.
Now it was time for the Queen B. The camera panned over to Beyoncè on the field looking fantastic as always, opening to her new song "Formation." She and her little crew, who also seemed coordinated in black, made arrows and moved in a way an uncoordinated white boy like myself can only dream about. Overall, her Dancing, A+. Her Look, A+. Her Lip-Singing, A+. Her S. L. A. Y. I. N. G. everyone, A+. I hope the BeyonCIA doesn't come after me for that lip singing remark. Anyway, Beyoncè, as always and forever, has not let us down.
The three then began singing "Uptown Funk" as a trio which was amazing, then Beyoncè copped out of hitting the whip and began riffing on the "Uptown Funkk" saying, "Say What!?" and just made the moment so much better.
Bruno and Bey then exited stage for Coldplay to slow down the moment for a look back on past halftime performances as a celebration for the 50th Super Bowl. Then, during this, Beyoncè and Bruno came back on to join in on the little ballad and made everybody happy.
It was a very happy and uplifting Halftime show, perfect for the 50th Super Bowl.
The only problem I have is that I feel that it isn't going to be very memorable. With nothing as memorable as the likes of Left Shark, Twitter's main topic of the performance was just the fact that Beyoncè was present.
I may not know much about football, but I claim to know a lot about performing, and overall, I feel it was a pretty good halftime show– it just wasn't one of the best.