Student Profile: Krissie Dempsey & Jonny Kandell
Hang on for a minute...we're trying to find some more stories you might like.
What is your favorite memory you have at FTHS?
Krissie: "My favorite memory would probably be Senior for Hire. This year, all of my friends and i went as an 80s jazzercise group. It was so much fun to see the whole grade dressed up and decked out!"
Jonny: "Winning Homecoming King was pretty lit. All of my friends (including you, the beautiful author of this student profile) were there to support me. It was an amazing moment because i always try my best to be the nice guy, everybody's friend, and I'm glad my congeniality paid off in the end."
Who has been your favorite teacher and why?
Krissie: "My favorite teacher would have to be Mr.Mopsick. I had him freshman year and now I have him again senior year. I like him because even when the topics that we're learning about seem dry or boring, he is so genuinely interested in them that it makes the whole class excited to learn."
Jonny: "I've had a few really inspirational teachers at FTHS, I don't think I can pick just one. So I'll name them all in no particular order as if I just won an Oscar: Ms. Littman, (who is the greatest guidance counselor on earth), Mr. Achilli, who gives great advice and puts up with me against his will, Mr. Digiusseppe, my newspaper advisor who wears too many suspenders and inspires me to be the most creative person I can be, something I can never repay him for,  Ms. Laplaga and Ms. Kuban, my two student government advisors who just organized the best BOTC team in history, Mr. Leahy, another SGA advisor that smells like garbage and looks like it too (but he has an adorable daughter so that's cool), Mr. Brusotti, who quit the Student Government but I still annoy him every chance I get, Ms. Sherman is a literal angel, Ms. Nisman is someone I trust with my life forever, Ms. Armstrong (now Mrs.Thwaits) is someone I'm proud to call my friend, the two NHS advisors Ms. Foerg and Ms. Mahon who are so awesome at what they do it's incredible, I'm so glad to work alongside them,  Mopsick is the boy, Ms. Johnson is a queen, Mr. Patterson is really tall, Mr. Mehl is a really cool guy, Ms. Higley is always kind to me, Ms. Lanza and Mrs. Manzar are English teacher royalty, Ms. Newins is the QUEEN of CGI and she's amazing. Mrs.Clark is so strong she could lift me and throw me and I would go into FREE FALL (a term I learned in her class). Wow that was a lot. Nothing but great people work at FTHS and I'm so glad to be a part of the patriot family where I can consider myself to be friends with the staff and will miss all of them when I graduate and become, like, a billionaire. It's a great feeling to walk down the hallways and be viewed as more then just a student by your teachers, an aspect of Township that makes our school so unique."
What are you going to miss the most about high school?
Krissie: " I'm going to miss being able to see my friends everyday! In college, you are way less likely to run into your friends in the hallway or passing by, but in high school you get to see everyone you know every single day!"
Jonny: "My closest friends and my friends and my enemies and my teachers and BOTC and Prom and Mr. FTHS and my CGI family and the tennis team which I somehow made, like I literally have no idea I still think they made a mistake and I'll miss wearing my varsity jacket because if you wear it in college then you're a lonely baby. As you can tell I won't miss much?"
If the senior quotes make a comeback, what would yours be?
Krissie: " Reduce, reuse, recycle, Rihanna."
Jonny: "This doesn't come as a surprise but probably something from Kesha or Scandal. Could you imagine if Kesha was in an episode of Scandal? That'd be LITTTT! But really, I'd probably do that line from Wreck It Ralph: 'I am bad and that is good; I will never be good and that's not bad. There's no one I'd rather be than me.' Because Wreck it Ralph is fire?"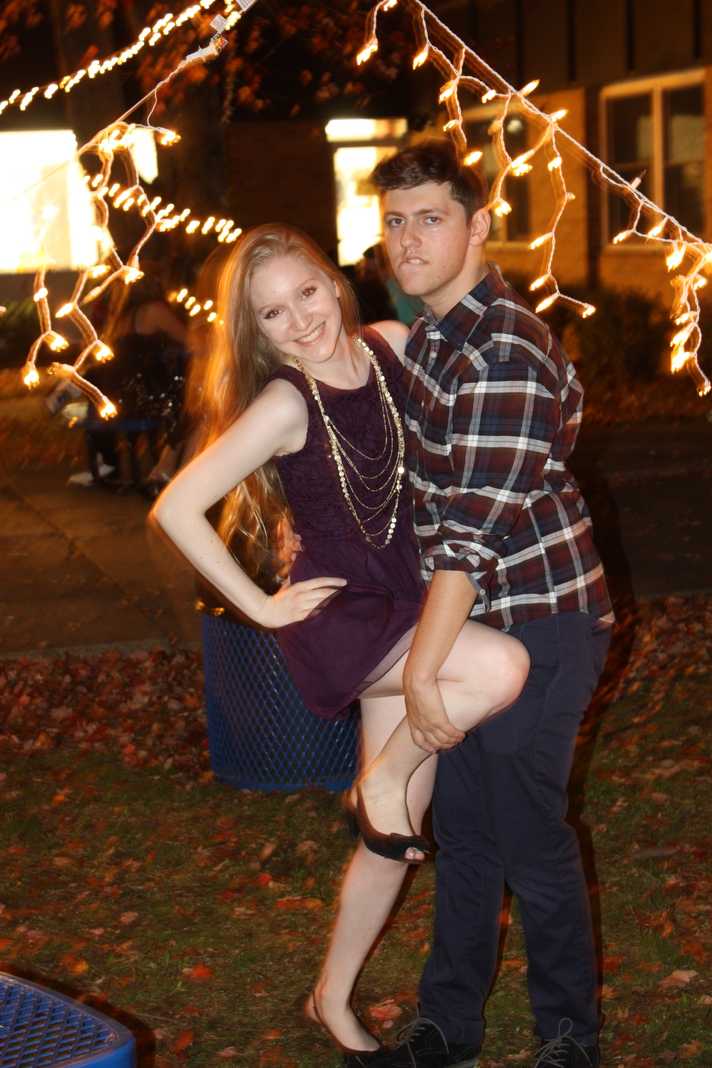 Will you cry at graduation? Be honest.
Krissie: "100%."
Jonny: "I keep telling people I'll cry and honestly I might. At 8th grade graduation these girls sang "Breakaway" by Kelly Clarkson and I tried SO INCREDIBLY HARD to hold in the tears. Save the tears for your pillows, that's what mom always says! I don't know if I'll get upset on that day, but when I leave my parents and friends next August, Monmouth County will be issued a flood warning because of my tear overflow."
What is the number one college you want to go to right now?
Krissie: "Ooooohh that's a tough one! I picture myself at Temple University the most but it would be a dream to end up at Northeastern or Syracuse because they both have really prestigious communications programs."
Jonny: "Pass lol."
What letter of the alphabet describes you best?
Krissie: "E, N, or Y. I feel and identify with them and i just feel like we're similar."
Jonny: "X cause I'm a [Hershey Kiss]."
If your life was a movie, what would be the title?
Krissie: "Trial and Error, but Mostly Error"
Jonny: "Blackfish."
What is one of your biggest pet peeves?
Krissie: "People interrupting me mid-sentence."
Jonny: "I don't like it when people that i don't like exist. Like, can you stop!? It's honestly SO rude, totally disrespectful."
What's the naughtiest thing you have done in school?
Krissie: "I received a morning detention for writing on a desk in PENCIL. I made an acrostic of my friend's name and it took up merely one square inch of space on the desk. My teacher was not happy."
Jonny: "One time I accidentally opened the door in the back of the library to get to the lunchroom quicker and an alarm was triggered and it was v scary. Thankfully they believed that I was an ignorant sophomore who didn't know you couldn't go out that way, and I wasn't in trouble. That door still gives me nightmares. Stay away from it for your own good."
Where would you go if you were invisible?
Krissie: "I would travel the world so I wouldn't have to pay for any tickets on the plane because no one would know I was there!"
Jonny: "I'd steal a kiss from your lips, and probably watch movies for free. I'd sneak onto a plane and fly to Tahiti. I'd whisper things to Michelle Obama and she'd be so confused. Gosh I love Michelle."