Senior Jess Gets Ready for College Fencing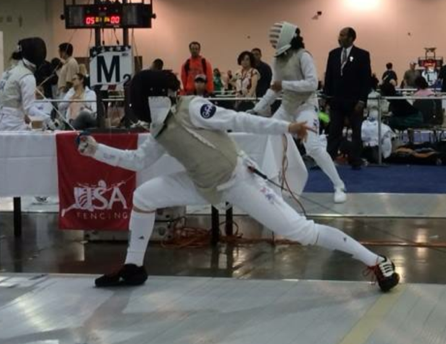 Hang on for a minute...we're trying to find some more stories you might like.
Senior Jess Gets has trained in the past for multiple international fencing tournaments, and she is continuing to train in preparation for her athletic career in college. Fortunately, she spared some time to share the excitement with the Patriot Press:
Q: So how old were you when you began fencing?
A: I was nine when I began.
 Q: What really captured your attention about fencing? How did you get started with it?
A: My family friend did it, and he was on the national team. I never watched him, but I tried it anyway. It was really cool. I did tennis, piano, karate, basketball–I tried everything–and when I tried fencing I realized that it is really cool.
Q: Tell me about this training. How and when did the opportunity present itself?
A: After my first year, I went to my first local tournament, and I wasn't really good at first. I was coming in last or second-to-last place. I was going to a mediocre club, but then I switched clubs. I actually started going to more tournaments so I was getting better and better. I hit my all time high last season when I came in the top sixteen in a senior event. I was ranked twelfth in the under sixteen category and twenty third in the senior category. Olympians fence there so it was a big deal.
Q: Are you trying to fence in the Olympics?
A: No, because the Olympics are this summer so there are people taking years off. There is a girl who came in top 8 and who is a really great American fencer. She was 17 or 18 in the last Olympics. She is supposed to be a senior at Notre Dame, but she is taking this year off for fencing. I can't do that.
Q: Wow, that sounds like a lot of dedication. So you're more interested in taking the college route?
A: Yes, I'm looking to get recruited for a college.
Q: How often have you been training? I'm assuming it must be pretty intense.
A: Yeah, it's pretty intense. Not as much this year because I'm already being recruited, but previous seasons I have practiced three to four hours a day, five nights a week. It's a lot of matches, conditioning, foot work, and drills. My commute is an hour and half so I would do homework on the way there and back.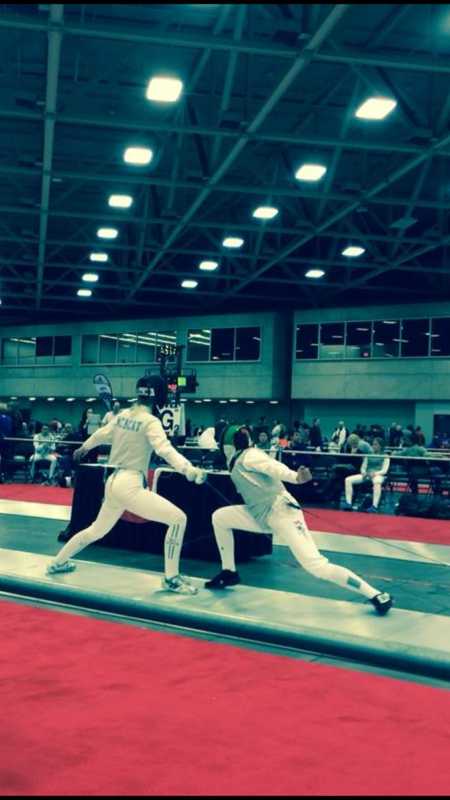 Q: Sounds like you have a very busy schedule. Do you feel like it's all worth it?
A: Yes, I think it's all worth it. I think fencing has given me so many opportunities that I think I would have never had otherwise. I went to the Maccabi Games which is the Jewish Olympics and the third largest sporting event in the world, and I won. Fencing isn't the only event there though. There's squash, baseball, gymnastics, soccer, and a bunch of other sports. I didn't even know squash was a sport. It's like racquetball against a glass wall. That's something I found out! I was there for three weeks, and I met so many people and made over 100 Facebook friends. I met people from different countries which was cool. Last year, I went to International Tournaments in Hungary, Germany, and Italy, and I ranked twenty-seventh out of two hundred people. That was my best international result.
Q: Are you nervous or excited to compete in college?
A: I'm excited to compete in college because it's less stressful. Last year, I was really nervous to compete because I was competing to get into college. That was the wrong mindset though. I really should have been competing for fun, but my nerves got the best of me.
Q: What is it about fencing that you really love?
A: The thing that I love the most about fencing is that you can be creative. Fencing is like physical chess. There are three weapons: Foil, Epee, and Sabre. The type of blade and location of where you can hit differs for each weapon. You can create the most action with the weapon and try different moves which I love because fencing really is about living in the moment. Fencing has also taught me to be confident in myself and not care about what other people think, and it has allowed me to meet so many new people. I'm so incredibly thankful for the opportunities and life experiences that fencing has given me.