The fantasy of finding a buried treasure as "X" marks the spot pervades the imagination of many children. Especially around Halloween, as kids make the big decision of deciding who to dress up as, a popular option is a sea-sailing adventurer. Pirates, although they have been commercialized, were and still are a massive phenomenon out in the real world, as sailors have been known to invade and take over ships. One such infamous pirate from hundreds of years ago was named William Kidd, and the legend he left behind is one that still exists today. He buried his treasure but told no one where it was.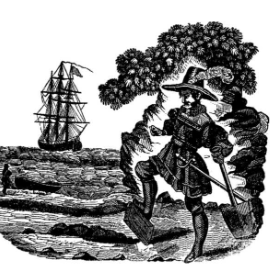 Captain William Kidd was originally from Scotland and was born in 1654. He emigrated to New York in his 20s, which at the time was a colony of Britain, after training to become a ship captain. His qualifications attracted the attention of the locals in the colony, and soon after he was tasked with the Blessed William. This ship was quite large and was used by William Kidd to safeguard the trade routes used by Britain and America in the West Indies and Western Hemisphere. As his work continued, Britain reached out to him and assigned him an expedition in the Indian Ocean to attack pirates. 
On this assigned voyage, the crew of the ship was not very happy with the conditions. William Kidd, in fact, was absolutely terrible at locating pirates. Because of this, the crew threatened mutiny, and this caused Kidd to take up the role of a pirate. The pirate hunter turned pirate was in trouble, though, because piracy was completely outlawed by the British government during his trip. When he arrived at his destination, he found that pirates were being hunted left and right, and he was arrested about three months later due to piracy. During this time, his crew abandoned him to go to another captain.
Kidd was put on trial months later only to be found guilty. He was hanged soon after. Before he was arrested, Kidd attempted to set sail back to Boston where he could potentially return home. On this journey, he made a couple of stops to bury some treasure he had recovered on the trip. There are many theorized locations where he potentially could have buried his treasure, including (but not limited to) Boston, Key West, Coney Island, and Nova Scotia. These locations have been searched thoroughly for any potential evidence or signs of gold and treasures worth millions of dollars. 
The only location of Kidd's treasure that has been confirmed is Gardiner's Island, located at the very end of Long Island. The mansion that was constructed on the island held some of Kidd's belongings, like a piece of cloth that was gifted to him. Many other locations are strong contenders for traces of Kidd's riches, including Lion's Rock, Connecticut; Milford, Connecticut; Monhegan Island, Maine; Damariscotta Island, Maine; and Sandy Hook, New Jersey. Not only have these locations been searched, but there have been reports and even sightings of apparitions.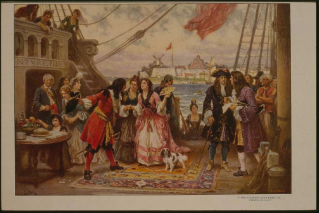 The idea Kidd is guarding his treasure in the afterlife makes the search for the goods even more terrifying. Any pirate is very protective over his or her treasure, so heaven knows Kidd would fight even in death to guard his precious booty. Despite this potential terror, there have been some suggestions and discoveries that have been linked to the pirate. Remarkably, some archaeologists have even claimed to find it.
These scientists did not locate Kidd's treasure anywhere near America. In fact, it was found off the coast of Madagascar. This buried treasure would have been the result of his initial voyage before he returned. The object they found was 121 pounds of pure silver while diving in the area. The archaeologists in this case are actively working to prove the silver was Kidd's while also searching for any other potential remains of his wealth. The people in the area believe it will increase tourism, which will help their economy, but the main concern of the people working on the case is William Kidd himself.
Many claim to have discovered Kidd's treasure, but whether each claim is legitimate or not has yet to be determined. What we can do in the meantime is choose who we want to believe and maintain faith that someday we can potentially find the treasure trove that Kidd lost. Finding buried treasure is never out of the question, not even as we grow up.
Resources:
https://www.smithsonianmag.com/smart-news/captain-kidds-treasure-has-been-discovered-deep-180955214/ 
https://www.legendsofamerica.com/ah-kiddstreasure/ 
https://www.historic-uk.com/HistoryUK/HistoryofScotland/Captain-William-Kidd/