Greetings, and welcome back to October Horror Fest! Today, I watched the one and only, Five Nights at Freddy's Movie!!! And to celebrate, I am going to be changing up Horror Fest's formula a bit. Instead of an in depth summary, I'll be going old school, and reviewing the film without any spoilers. The spoiler review will be coming to the Entertainment Section soon, so be on the lookout! Without further ado, sit back, relax, turn off the lights, grab some Candy and Popcorn, and let's review…
Five Nights at Freddy's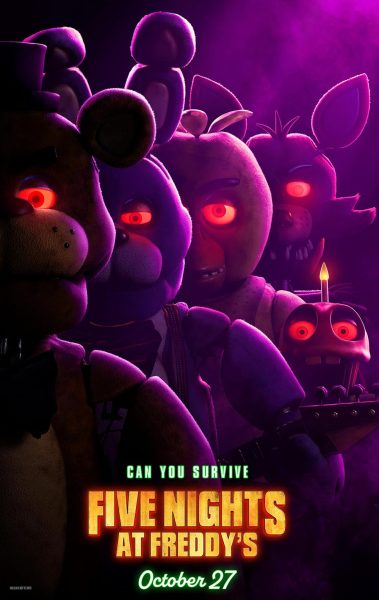 Five Nights at Freddy's was a movie that was made for the fans, and I am so happy that it was. Being created from the mind of Scott Cawthon, it was dedicated to the people who grew up and changed with this franchise. I'm telling you right now, ignore the critics on this one. The audience knows.
Our story is centered around Mike, a security guard working for a mall. Mike lost his brother when he was young, and he has taken up the responsibility of raising his young sister, Abby. Mike is eventually approached by Steve Raglan, a career counselor, who offers him a security gig at Freddy Fazbear's Pizza. Mike accepts the offer, and through almost two hours of incredible storytelling and visuals, this movie becomes one of my favorites.
Let's start off with something simple. The visuals. The visuals in this movie are absolutely impeccable, and make you truly feel like you are at Freddy's. Going through this movie feels nostalgic and new, and truly makes the perfect visual experience with its visuals. Due to the PG-13 rating assigned to the film, the filmmakers had to get creative with some of the violence in the film, and that is perfectly shown in its visuals as well. Due to the use of shadows and other methods, the movie is still utterly terrifying.
Next stop on my praise list, the story. The story of Five Nights at Freddy's is notoriously complex, and would take the word count and page number of all my Horror fest installments and then some to write out. However, this incredible story is put on display front and center for all to see. The story is presented to appeal to all fans. The OG fans (like myself), the new fans, and people who have absolutely no idea what's going on. This movie, like stated previously, is made for the fans, and we are put front and center in every single decision of the film. The story with the new characters is incredible as well. Mike and Abby create a heartbreaking and hopeful duo, with Steve Raglan playing an incredible part as well. The acting in this film is just as superb.
Although I could sing this film's praises forever, I will start to wrap things up now, and save all of my little nerdy details for the in depth review, coming soon. This movie was filled with little references and easter eggs that made me incredibly happy, and I am so excited to finally be able to watch this film after 8 years. Thank you all so much for reading! Before you go to bed tonight, I just want you to ask yourself something. If you were at Freddy's… could you survive?