Greetings, and welcome back to October Horror Fest! Today, we are going to watch another Huluween short film. I know, I know, but I promise I am actually watching other movies! I just don't have much time. Don't worry though, because tomorrow, I am seeing the one and only, Five Nights at Freddy's! So please, bear with me one more day, and celebrate 4 more days of Horror! Without further ado, sit back, relax, turn off the lights, grab some Candy and Popcorn, and let's review…
Carved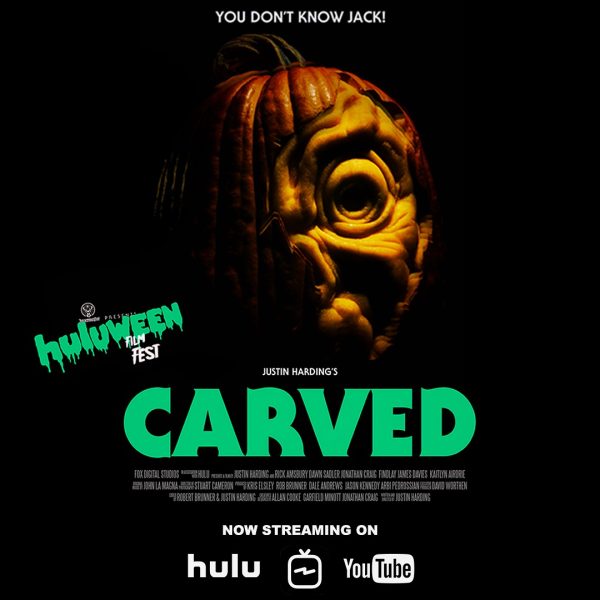 We start our short film with eerie music playing. The camera flies over a field, as we see a crow on a scarecrow. The camera continues going into the field, until we see a man. He has shears, and is in the grass. He looks down, and finds a perfect pumpkin. He cuts the stem off, and goes around the patch more and more, cutting pumpkins and putting them in his farmer's pale.
He goes around and around, until he finds a strange, terrifying looking pumpkin. It has holes in it that look like a face. The man is perplexed by the sight, but tries to cut the stem anyway, as the crow violently and loudly crows. The scene becomes more and more frightening, as the man struggles against the pumpkin. Eventually, he cuts the steam, and the crow stares at him. 
We then cut to a pumpkin sale at the man's farm. Lots of pumpkins are lined up, and a young boy and his family are there. The young boy wanders off, and finds the crow. Underneath it, is the face pumpkin. The boy stares at it, and says he wants it. His father tries to convince him not to take the ghoulish looking pumpkin, as the crow continues to squawk louder. The boy violently and continuously points at the pumpkin, saying he wants that one. Almost like he was put under a spell. The scene becomes scary again, as the boy continues begging for it. The father then takes the pumpkin, and the farmer smiles at him.
We cut to the father's house, as he cuts open a fresh pumpkin. We see scenes of the family cutting and gutting their pumpkins, laughing all the way with their newly carved jack-o-lanterns. While they cut into their pumpkins with knives, the ghoulish pumpkin looks at them.
The family goes to wash their hands, as the father picks up the scary pumpkin to cut into it. He laughs, and raises his knife. Before he can, however, the pumpkin unleashes a vine coming from its stem. It stops the father's knife wielding arm and holds it in place, and begins to wrap around his throat. The pumpkin then rises up, as the father screams.
The family enters back into the room, as they see their father being killed by the pumpkin. They scream, and the pumpkin turns around. It has grown eyeballs, and stares at them, smiling, and raising a vine. We cut to the outside, as it's halloween. Trick or Treaters come to the house, as they see a strange looking pumpkin. In a horrific scene, they look, and the camera zooms in on the bloody, decapitated head of the father. Now being used as a Jack-O-Lantern. The pumpkin then sneaks up behind the trick or treaters, and raises its vines, smiling…
Thank you all for reading, and thank you for bearing with me! I know that all of these short films can get annoying, but I really try to help you all enjoy them. Have no fear, as tomorrow, FNAF IS HERE!!! Remember everyone, I want that one…