Donald Trump's Historic Indictment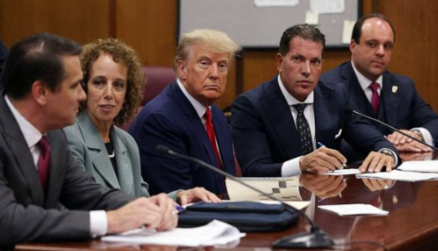 America is currently in the midst of an unprecedented situation: former US president Donald Trump has been indicted. Throughout our nation's history, a former US president has never been charged with a crime. Therefore, this indictment is prominent as a New York grand jury has charged Trump with thirty-four felony counts of fraud, relating to falsified business records that involved the billionaire secretly paying money to adult film actress Stormy Daniels and others in order to conceal his criminal activities during his 2016 presidential campaign.
An indictment simply lists out the crimes an individual is accused of and does not necessarily mean that the suspect will be arrested. As a result, while Trump was indicted, it did not automatically cause him to be arrested. Nevertheless, due to his obvious criminal actions, the former US president was prosecuted on Tuesday, April 4. Trump pleaded "not guilty" to the court, yet the jury found blatant evidence that went against Trump's plead. According to the provided evidence regarding the time period when Trump paid Daniels the hush money, it is insinuated that the transaction was done solely to benefit and protect Trump's 2016 presidential campaign in a wrongful manner.
The main focus of this indictment revolved around Trump's attempt to hide negative information about himself that would hurt the success of his presidential campaign. In addition to the hush money he paid Daniels, Trump also paid money to Playboy model Karen McDougal, and a publishing company associated with the former president paid a former doorman at a Trump Tower $30,000 in order to protect Trump's secrets regarding his fathering a child out of wedlock. 
Trump's indictment case revealed that his falsified business claims related to the hush money were predominately created in order to hide other crimes associated with his 2016 presidential campaign, including falsified tax claims and breaches of New York's election law. All of these crimes were hidden from the public during the election, so there was clearly a lack of transparency. 
Source:
https://www.cnbc.com/2023/04/04/donald-trump-unsealed-indictment-ny-arraignment.html#:~:text=The%20indictment%20against%20former%20President,before%20the%202016%20presidential%20election.