Senior Spotlight: Max Hawksby
Earlier this year, senior Max Hawksby won the coveted title of Mr. FTHS at the annual senior fundraising competition. But notably, he's even more suited for the title of Mr. Multi-hyphenate, as he dipped his toes in entrepreneurship, performing, puzzles, and more throughout the past four years. Hawksby sat down with the Patriot Press to recount his Mr. FTHS win and how he seizes every opportunity, both in school and in life.
Read the full interview below:
---
Hi, Max! As many people know, you were our 2023 Mr. FTHS winner back in February. When they announced you as Mr. FTHS, what was your first reaction?
– My first reaction was satisfaction because I knew that all the time working on my acts and talents had paid off. I put a lot of work in behind the scenes, more than I think people realize, so for it to be rewarded was very pleasing.
That must have been great knowing all your hard work paid off! What do you think sets you apart from the competition? 
– I think my personality sets me apart because I am a true showman. I also like to think that my wisdom of performing in front of crowds helped me very much to keep my composure the entire show since I used to compete on stages in front of thousands.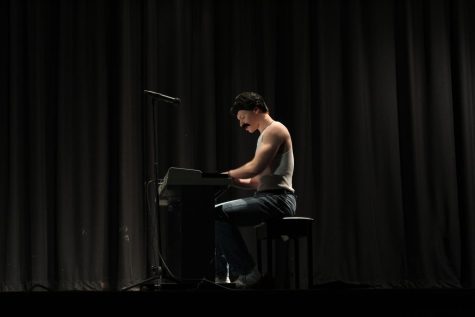 That sounds really interesting! Can you elaborate on your experience performing and competing on stage in front of thousands? What did you perform and compete in? How did your experience help you become wiser in performing in front of large crowds?
– My entire life, I competed in Martial Arts tournaments. At fourteen, I won third at a national qualifier and was supposed to go to Nationals in Michigan but it was short-lived due to COVID. At most of these tournaments, about seven schools with anywhere from 1-200 kids would compete, and all their parents and other spectators made up for quite the crowds. I enjoy performing and being the center of attention sometimes, and with karate, it really helped me grow as someone who can speak in front of people and not shy away from the limelight. 
As a member of the crowd, we definitely noticed your confidence. What other quality about yourself do you think every Mr. FTHS has? 
– A winner mentality. 
What advice would you give to future seniors who compete for the title of Mr. FTHS?
– Some advice is to be unique, you need to set the pace early and make sure everyone knows you are not going to go down without a fight. 
Our current juniors will definitely be thankful for that advice!  What was your favorite part of the competition?
– My favorite part of the competition was the talent portion because I knew I was going to do well with the piano, but I did not expect the crowd to love my act so much. 
Do you have any favorite songs you like to play on the piano?
– I like playing classical music a lot, and my favorite song to play at the moment is Chopin Op 9. No 2. (working in progress). 
So, during the talent portion, you revealed that your secret talent was playing the piano; any other tricks up your sleeve?
– I am missing two teeth because they got knocked out in a fight. Kidding. Actually, I was born without them. I also know how to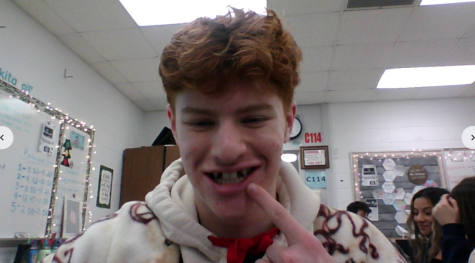 do martial arts, it is what I have done my entire life so I can do some more cool flips from that. I can solve a Rubix cube, I used to do professional yo-yo-ing, and I like to write poetry. I won money playing video games during quarantine, I can type 85 words-per-minute, I have two grand champ trophies for martial arts tournaments, I sang in a concert, and even know the first 50 numbers to Pi. 
What made you get into all of these different hobbies?
– I have quite the joy of learning. I know how to do a lot of semi-random things, and also know a lot about both general and specific things. Anything I find a liking to, I get pretty hooked on for sometimes short, but other times long periods of time. I like to go through phases where I do not become a jack of all trades, I just try to master one and once my skill is complete in that field to my enjoyment, I move on. Pretty nice set up. 
What has been your biggest accomplishment throughout your high school career?
– My biggest accomplishment would be with my business, which I scaled to over two thousand total sales and I have sold items to big-name celebrities like Jack Harlow and Travis Barker. I sell vintage t-shirts from the 70s-90s for my job, and I have been doing it now for about fourteen months.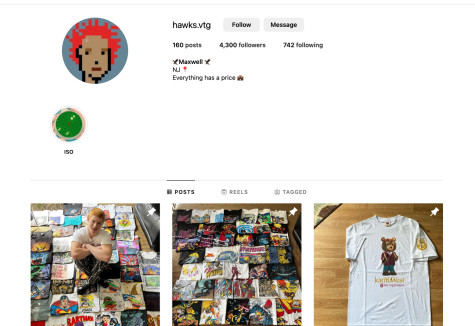 That is so cool! What made you get into vintage items and what motivated you to turn selling them into a business? How do you manage the time for everything?
– I got into vintage when I was sixteen with my Grandpa. It started as a way for me to get cheaper clothing, but eventually took off into something quite crazy. The motivation was getting out of working for someone else, I enjoyed being my own boss and I wanted to make sure I could act on my own ideas. I honestly do not know how I manage, my life is quite stressful but I enjoy every part of it. A lot of nights staying up late, but every moment is worth hustling for. 
What has been the best part of your high school experience? 
– The best part of high school has been all the events I have been in. Being a crucial part of our victory this year in BOTC was very satisfying and an extremely good feeling on its own, and then winning Mr. FTHS was the icing on top. I love all the great people I have got to meet and how everyone is so kind in their way of speaking about my performing talents. 
It seems that you have really made your mark on this school and had a great four years here! What advice do you have for incoming freshmen who also want to make an impact?
– Some advice is to get involved early and not let something be up for regret later in life. Make sure to enjoy the process and cherish all the time in this school, because it is over before many expect it to be.