Songs, Magic, and More at the 5th Annual Character Breakfast
It was no joke on Saturday, April 1st, as over fifty student volunteers from various clubs came together to put on FTHS' 5th annual character breakfast! Students dressed as characters such as Snow White, Mario & Luigi, Ursula, Belle, Cinderella, and even the Easter Bunny were there to make the morning magical.
Junior class advisor Mrs. Blair was elated by the turnout of over 200 families! Everyone involved seemingly had a good time, from the kids to the parents and even the students and staff involved.  
The Art Club ran the arts and crafts table in which participants could color Disney-themed pictures or get their faces painted! Paws for a Cause was also there running the tattooing station.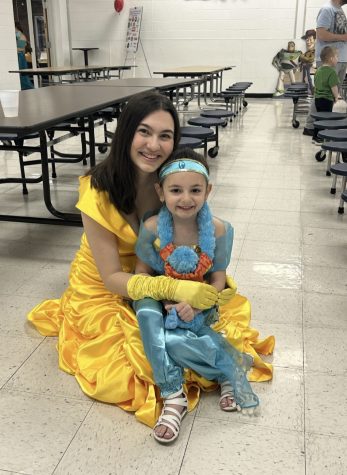 Other students who were members of Patriot Productions performed Disney songs that the kids loved. Emily Landolfi's rendition of "Part of Your World" from The Little Mermaid captivated kids and adults alike! Alison Karmazin and Hannah Ferro dueted "First Time in Forever" from Frozen which had the kids ecstatic. Some of the guests even went to sing with the performers.
Throughout the morning, kids went up and interacted with students in costume which were fun for both groups. Seeing kids meet their favorite characters was a cute and incredible experience. Volunteer Shain Stanley said, "I loved playing Rapunzel because I know a lot of kids look up to her, she was my favorite Disney princess, I know did. It was really amazing to see kids get so excited to meet her. I loved being a part of it to make a special moment for them!"
The morning went off without a hitch with children and their families coming together to join us for a breakfast that included pancakes, french toast, bagels, scrambled eggs, bacon, and more! As the event progressed we had story time and closed the morning off with the entire group of performers singing "Let it Go" from Frozen. 
We would like to thank all the students and staff involved in making this event a memorable one that we hope to continue. We can't wait for the character breakfast next year!