FTHS Leaders Meet With Human Relations Council
During the Freehold Township Human Relations Council's March meeting, its members invited FTHS club leaders to discuss diversity and issues at the high school level. Present clubs included Lead for Diversity, Black Student Union, Asian Heritage Club, Jewish Heritage Club, GSA, and Unity Council. Advisors Dr. Villareal and Mr. Wong were also present for the discussion. 
The goal of introducing FTHS students to the HRC's delegation is to foster relationships between Gen-Z and Freehold Township, with hopes of joint initiatives, HRC speakers at club meetings, support for in-school events, and more that bridges the gap between student and town leaders. Dr. Villareal notes, "It is incredible to see the willingness to collaborate with FTHS and not only work together, but learn the point of view and needs of the students. This creates [and] embraces the true meaning of Patriot Family."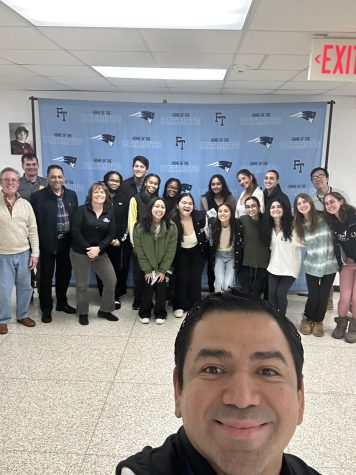 Jewish Heritage Club leader Heather Feinstein agrees with this sentiment, stating that "I'm thrilled to be working with the Human Relations Council, and I hope that it will shine light on our community through promoting equality." In the body's 30 years of operation, this is one of the first times where FTHS students and HRC leaders met to come up with plans for collaboration.
The Freehold Township Human Relations Council is a multicultural body of different chairs who live and work within the town. Members include Don Cruz (Chairman), Steven Boyce, Maureen Fasano, Pastor Matthew Jones, Ibqai Naqvi, Jamie Rattien, Daniel Rehberg, Rabbi Brooks Susman, and Dr. Stan Zebrowski. The HRC website notes that the group's aims are to "[conduct] forums that will allow groups or individuals to share the benefits of diversity, and to review any bias incidents which may occur in Freehold Township," and these aims are being further strengthened through the voice of FTHS' finest students