Student's Guide to College Applications: The Common App
Welcome back to my column! This column will take you on a step by step journey on how to apply for college!  Last time I talked about general tips on how to narrow down your search.  But after you select what schools are worth applying to, you need to know how to do it.  Don't worry there's a very simple and easy way to apply called, The common app.
What is the common app?
The common app (short for common application) is the most commonly used way that students apply to a school because of how widely used it is.  For the 2022-2023 school year, 1,033 schools accept the Common App so it would be a good idea to take the time to fill it out.  I applied to 5 schools this year and used the common app for all of them.
The first thing you are going to need to do is to make an account.  Once an account is made then you can start filling out all the personal information colleges require.
On the common app home screen there are 5 tabs.
Dashboard:

view all the colleges you added to your common app and your progress on the application

My colleges:

here is where you can view if you've completed everything that colleges require.  You can also upload your letters of recommendation in this tab.

Common app:

Here is where you answer all the questions

College search:

in this tab you can search from every school that uses the common app to add them to your dashboard

Financial aid resources:

learn about financial aid resources and the FASFA.
How do I fill it out?
Here's the hard part.  Filling out the Common App isn't difficult, but it's tedious. You will need to fill in a lot of personal information that is required by all schools that accept the Common App.
Navigate to the "my common app" tab on the top

Once on the "my common app tab" look at the menu on the left hand side.  Here you will be prompted to fill in information on the following topics

Profile (general information about you)

Family

Education

Testing

Activities

Writing (more on this later)

Fill in all information on each tab.  It is really important to make sure this information is correct.  Normally if you were applying to 10 schools you would need to fill in that information 10 times, 1 for each school.  But with the common app it saves you the time and effort of only filling it out once.
How do I add a school?
To add a school you want to apply to simply:
Navigate to the "college search" tab and type in the name of the school

Hit add 

Navigate back to the "dashboard" tab to see the schools you added

You can add up to 20 schools on your dashboard
How do I actually apply?
This should be the last thing you actually do.  Once you add a school and answer the questions DO NOT apply immediately.  Things to remember before you apply are:
All your information is correct

You request your letters of recommendation 

You filled out the Ferpa

You copied and pasted your college essay into the common app questions section

You answered any supplemental essays the school may have

Make sure you submit before the deadline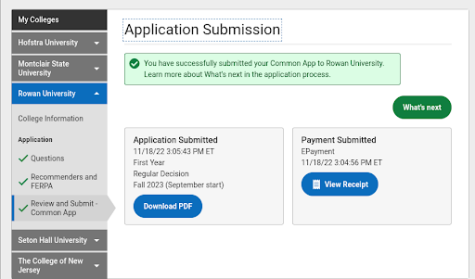 When ready to submit make sure to hit the school from the drop-down menu on the "my colleges tab".  Once the school is selected hit "review and submit" from the sub drop-down menu. Then you will review your information and submit your application.  The image to the right is what a submitted application looks like.
I realize right after reading you are not ready to submit the common app because there are still so many facets to cover.  However please take away a few things from this article.
Filling in the common app is beneficial because you only need to fill out the personal information once, and it will be the same for all the schools

You must include your college essay if the school requires it

You must upload your letters of recommendation

You can apply to 20 schools using the common app

Each school will also have its own additional information you need to fill out for them (but filling out the common app still saves time)

Most schools have an application fee you can be directly on common app