A Student's Guide to College Applications: Where to Start?
Now that it's a new year and the third marking period is upon us, most of us seniors have already applied to all of the schools we wanted to. Some of us have already committed to schools for next fall. Now it's the juniors' turn to start worrying about applying to college. At this time last year, I had no clue where I wanted to go. But, I worked hard between April of my junior year and November of my senior year on the application process, and I'm happy to announce that I will be attending Hofstra University in the fall. I know that the college application process can be really intimidating at first glance. But, once you get into the thick of it, it's really not as scary as it seems. In this column, I will teach you everything I know about applying to college to hopefully relieve some of the stress.
Where to Start?
The most terrifying thing about applying to college, besides leaving your old school behind, is starting the process.  Most students won't even know where to start. At this time last year, I was as clueless as I possibly could be about the process. But, once the spring of junior year rolled around, I started to get more serious about college. Here are the first few steps in applying to college.
Tour schools/go to college fairs

Identifying fit and values

Safeties, targets, reaches 

Consider finances
Going to College Fairs:
FRHSD hosts multiple college fairs every single year. At least one in the fall for seniors and juniors, and one in the spring for all underclassmen. This opportunity is hosted at one of the schools in the district and has 70+ universities and colleges from across the country in attendance.  
An important note about colleges now is that schools have admissions officers all across the country for recruitment.  Even if you are thinking about applying to Arizona State University, chances are they have an admissions officer (AO) whose main focus is recruiting students from New Jersey. With this in mind, your dedicated AO will be well-versed in the process of applying to the school from out of state, specifically what it's like for other kids from your state.
When I attended the college fair in the spring of my junior year, the only thing I knew was that I wanted to major in something in the school of communications. At the fair, I was able to ask AOs from different schools about their program to see which ones prioritized this major. After that night I had already made a list of my top schools based on their program.
Tour Different Schools:
The first step on the journey to applying to college is actually visiting schools! Now, this may be unrealistic if you are looking at a school that is out of state, but it's a good option if you are considering an in-state option.
If you are considering touring a school, visit the university's website to see what the tours will be like and when they are available. Important things to think about on the tour include: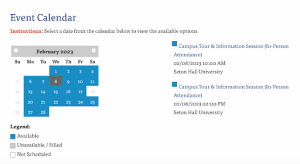 Group size:

Generally tours will be done by students. It's important to check the school's website to see if they say how many students are going to be in one tour group. The smaller the ratio, the more personalized the tour will be to what you want to know about a school!

The information session:

Most tours will either be preceded or followed by an overview information session about the school. There you will watch a presentation and have the opportunity to speak with admissions counselors and deans of different departments. Make sure to get there early to get a seat in the front so they will answer your questions.

Also ask about:

Extra opportunities regarding the tour. I reached out to my Seton Hall admissions officer and told them that I was interested in their communications program. He responded allowing me to tour the radio station and view students broadcasting live. It was a great experience that helped me understand the program better.

Virtual tours:

  Say you can't make it to UCLA because it's a 6-hour plane ride. Well, you're in luck because most schools also offer virtual tours. Be sure to check the admissions website to see when those tours are offered.
Identifying Values and Fit:
The first question you should ask yourself when looking at a university is, "Can I see myself living here for the next 4 years?" In reality that is the most important question, and there are a ton of different factors that play into that answer. You need to decide what you value in a university so you can start finding schools that align with what you want.  Things to consider include:
Location:

Usually the biggest factor in a student's decision. Maybe the University of North Carolina is your dream school but then you realize it's a 10-hour drive back home. In a lot of cases, students want to be close to their families so they can come back home for a weekend. If this is the case, look at applying to state schools that offer a comparable program to what UNC is offering.

Campus and Campus life:

Some students would prefer to study in a nice rural setting like Cornell. Some students find it relaxing and want to get away from it all. Other students may want their campus to be located in the middle of it all like NYU, where all of Manhattan

is

your campus! It's important to identify what kind of campus you want to better narrow down your list.

Academics:

Look at a school's reputation and decide if a school's reputation matters to you. If so, applying to the University of Michigan or Penn State may be in the cards. If not, you could still get a quality education at a state university, like Rowan.

Class size:

Do you want a small campus feel? Do you want to have classes with the same people and develop close relationships? In a smaller school like Immaculata, you see the same kids all the time, and it makes the feel of campus more quiet and close. Or would you prefer a big school like Rutgers? Where you can go to school with someone for four years and never see them once. Both types of schools have their advantages but remember it's a personal preference.

Religious affiliation:

Is it important to you to study in a place where faith is present? Most schools have a church and temple on campus, but do you want religion to be a part of your everyday learning?
Safeties, Targets, and Reaches:
By the middle of junior year, most students know where they fit academically.  So when applying to a school it's important to look at their admission website and see what a typical admitted student's academic profile looks like.  
Safeties:

A safety is a school that may not be your first choice. It's a school that you wouldn't mind going to, but there is no question of whether or not you are going to get admitted.  It's a school that you have almost a 100% chance of getting accepted to. You should apply to a few just in case your targets don't work out.

Targets:

A target is a school that you have a realistic chance of getting accepted to, but you are not a shoo-in.  Generally for a school to be considered a target, you should be very close to what a typical accepted student's GPA and test scores are. These should make up the majority of your applications.

Reaches:

For a school to be considered a reach it should be something you have a very low chance of getting into.  A school like Princeton would be a reach for almost everyone. You should still apply to a few reach schools that interest you on the off chance that you get it.  
Consider the Finances:
As I touched on before in my section about private vs public, be sure to check out the average tuition costs for a school vs what your family can afford. Of course, there is always the FAFSA (federal application for free student aid) but it's not guaranteed you will get any financial aid to cut costs. Consider how much your family can afford before applying to a school. However, if a school is out of reach financially there are ways that you can help cut costs.
Scholarships:

Athletic and academic. Private schools give a lot of money in merit-based scholarships that can help cut costs. Scholarships do not need to be paid back

Loans:

loans are another way to cut costs, but unlike scholarships, they do need to be paid back. Work with a financial advisor or someone in the financial aid office of the university you are applying to see if taking out a loan is a wise decision.

School-based scholarships:

Both your high school and college will offer scholarships that you need to apply for. Starting in January of your senior year, check the scholarship section of the college's website to see if you fit the description for any of the scholarships.  FTHS also has a scholarship night where seniors can receive awards for their academic achievements. Usually around $1000 (for one year). It may not be a lot, but every little bit counts!

Look for scholarships online:

Find a group sponsoring a scholarship (Knights of Columbus for example) and write an essay to try applying for these scholarships!
I know the task at hand is incredibly scary. Choosing to go somewhere for the next four years of your life is a big commitment. But just remember, no matter where you choose to go, make sure it's a place where you are happy and can continue to get a good education!