A Day With Speech and Debate – The Summit Hilltopper Classic
This past weekend, I, along with the rest of the Speech and Debate team, attended our favorite tournament of the year. We all woke up super, super early, and got on the bus at 6:30 AM. We all dressed in our fancy business attire of suits. The bus was filled up with anxious, but excited club members. We definitely all felt the butterflies in our stomachs. After a long bus ride, we finally arrived at Summit High School. A swarm of students dressed up as a Rabbi, Santa, and even Buddy the Elf greeted us while handing out candy canes. 
In most cases, talking to a wall is considered weird, but in Forensics, it is a common sight. Talking to a wall allows people to practice their speech without having to say it to someone else. We all nervously practiced before we warmed up. The warm-ups consist of a bunch of funny songs that we all scream to get our jitters out. Our personal favorite is "Baby Shark."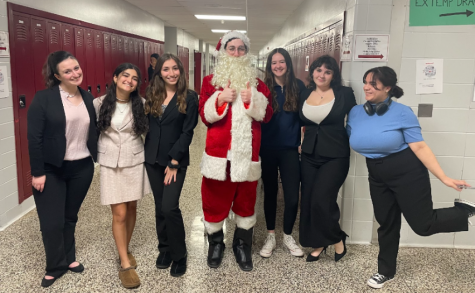 We all wished each other good luck as we made our way to our first round. We are put into rooms of 5-7 people who are in the same division as you. For example, I compete in Original Oratory and it consists of writing a speech that is personal and about deeper subjects. We continued on to round two, and then finally ate our well-deserved lunch. 
Summit High School always has the best entertainment for their holiday tournament. This includes a pillow fight tournament that definitely takes the ease off of all of us. The dressed-up elves walk around with a giant mistletoe and try to force two unlucky people together. 
After the three rounds, "breaks" come out. To break in Forensics means to make it to the fourth round which is the finals. If you break, you are placed top 6 and get a medal. 
It is always such a heartwarming feeling when breaks come out. We all rush to the posters and eagerly look for our given name code. Everyone runs to tell their friends and joy fills the air, "I broke I broke!", "I can't believe it!", "OH MY GOSH!". 
After the fourth round, all of the schools pack into the auditorium. It is a Forensics tradition to give out posters for the winners. These posters include a funny play on words that include the division you competed and won in. 
The bus ride back is always so much fun. We have a team tradition of singing songs and playing "We are the champions" as we pull back into the school. Speech and Debate is such an amazing club. I always enjoy my time at tournaments and have made some of my closest friends because of it. Overall, the Summit Hilltopper Classic was a great success!