Grace Bakes: Cornbread Cookies
Hello everyone! After taking a few months off, I am back and have yet another awesome recipe for you all to recreate. 
If you're a new reader to my column, Grace Bakes, welcome! I am Grace Lorenzo, and every month I share a new recipe that anyone who wants to bake can easily follow.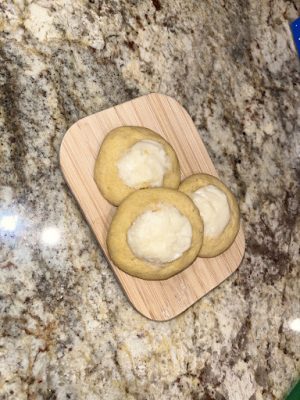 I hope you all had a wonderful Thanksgiving! It's so crazy to me that it's already December. However, going back to Thanksgiving, I made an interesting, but delicious, sweet treat 
for my friends and family last week for the occasion: cornbread cookies! 
These cookies were inspired by the Crumbl cornbread cookies (if you haven't already tried Crumbl, it's a must! The one in Manalapan opened December 2!), and while I was a little hesitant about making them, I knew that they would be the perfect Thanksgiving dessert. Plus, who doesn't like cornbread? You really can never go wrong with it. 
Paired with a dollop of honey buttercream (which, again, I was a little skeptical about), these cornbread cookies are actually a really delicious and light treat! They aren't overly decadent and have the perfect amount of sweetness to satisfy your sweet tooth without being too overpowering. I got positive reviews during my Friendsgiving and Thanksgiving dinners, and even from some of my teachers! Enough of my rambling, let's get to the recipe. 
For the cookie BASE, you will need: 
1 1/2 sticks of softened butter (you can microwave your butter in the microwave in 20 second intervals until it is soft if you didn't take out your butter beforehand!)

2 tablespoons of canola or vegetable oil

1/4 cup of white sugar 

1/2 cup of packed brown sugar (use a tablespoon to spoon the brown sugar into a measuring cup, pressing down each spoonful!)

1 egg

1 1/2 teaspoons of vanilla extract

1 tablespoon of honey

1 1/2 cups of flour

1/3 cup of cornstarch

1/2 teaspoon of baking soda

1/2 teaspoon of baking powder

1/4 teaspoon of cream of tartar (this can be found in the spices aisle and will probably be near the vanilla extract! This ingredient helps a lot with the texture of your cookies)

3/4 cup of cornmeal (this will be found in the baking aisle near the flour!)

1/2 teaspoon of salt 
For the cookie FROSTING, you will need: 
6 tablespoons of softened butter (once again, microwave trick if you need to!)

3/4 cup of powdered sugar 

2 teaspoons of honey

1 teaspoon of vanilla extract

Milk, as needed (this is used to thin out the texture of the buttercream if needed, but mine didn't need it!)
Other materials you will need: 
A large mixing bowl

A mixing utensil

A sifter (the dry ingredients have to be sifted before they are added to the mixture; if you don't have a sifter, one of those handheld strainers with the super tiny holes will also work really well, believe it or not!)

A baking sheet (lined with parchment paper)

Measuring cups/spoons, of course 

Cooling Rack 

Spatula (to take cookies off the sheet and onto the cooling rack)
Have everything? Great! Let's move onto the recipe! (If you're unsure about these like I was, trust the process): 
First, preheat your oven to 350 Degrees Fahrenheit and line a baking sheet with parchment paper. 

Mix the softened butter, canola or vegetable oil, white sugar, and packed brown sugar in a large bowl and use your preferred mixing utensil (this could be an electric mixer, a spatula, a spoon — whatever works!) until combined. The mixture should be light and fluffy; if you aren't using an electric mixer, you'll probably be stirring for a long time until it is smooth. 

Add the egg, vanilla extract, and honey to the mixture in the large mixing bowl and mix until combined. 

Using a sifter (or anything that resembles one), add in the flour, corn starch, baking soda, baking powder, salt, and cream of tartar. Personally, I put one ingredient at a time into the sifter so that it is easier for me to keep track of what I've already put in (a lot of dry ingredients look the same, so when they're all mishmoshed in the strainer at the same time, I know I would forget what I still need!). This part is really important to make sure the cookies come out soft and smooth. If using a strainer, shake it back and forth or pat it until all of the contents have left the strainer (using a tablespoon to stir around and get any remaining powder out always does the trick, too). Once everything has been sifted, mix until combined. 

Then, add the cornmeal (the most important part!) and mix until combined. You should have a nice cookie dough with a hint of yellow!

Now, roll the cookie dough balls in any size you want (I personally like to make mine much smaller than Crumbl cookies usually are, since it just makes more in a batch, and I knew that no one would want to sit down and eat a massive cookie after a Thanksgiving meal). If you want to go big or go home, absolutely go for it! Put these cookie dough balls on the lined baking sheet and slightly flatten them (it helps to keep them in a round shape as they bake). 

Bake for 8-10 minutes (it may take longer if you make bigger cookies). 

Once done, allow the cookies to set on the baking sheet for about 5 minutes, and then transfer to the cooling rack to completely cool before frosting. 
Speaking of frosting, here's the directions for that: 
Mix the softened butter, powdered sugar, honey, and vanilla extract together until light and creamy. Be patient with this step and try to make the buttercream as smooth as possible; you want all the clumps of butter to be broken up and to have a light and creamy mixture.

If the buttercream is too thick, add milk as needed until you reach the desired consistency. 
Finally, frost each cookie (once they are cooled). I frost them with a butter knife to keep it simple, but you can also go for the classic Crumbl swirl using a piping bag! For these cookies in particular, I kind of tried to do a dollop on top of the cookies (kind of like how diners serve a dollop of butter on their pancakes if I had to describe it to you), so I didn't spread out the frosting as much as I usually would. 
At this point, you have nothing left to do but enjoy! I ended up enjoying these cookies, and I was proud that they turned out as good as they did: it made cornbread taste like a dessert! I hope that you have the same thoughts about these cookies (but if you don't, at least you tried something new). I know this recipe is a little belated for Thanksgiving, but who says you can't have cornbread during any time of the year? 
Since the holidays are coming up, I have some brainstorming to do about what I'm going to bake this year for Christmas Eve; so far, I've made about 4 dozen chocolate chip cookies (my recipe for those is also posted if you'd like to check it out). When I think of something creative, I'll be sure to write to you guys next month and tell you all about it. Until next time, I hope you all had an amazing Thanksgiving and wish everyone the happiest of holidays!