Senior Captain Interviews: Emily Rogers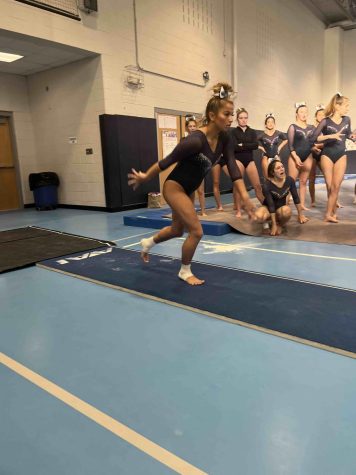 Emily Rogers is a senior here at FTHS and is one of the main gymnasts that have helped contribute to our, once again, amazing season.
She donated her time to senior interviewer Blake David to discuss her accolades, memories here at Township, and college athletics career, which, surprisingly, does not gymnastics. Take it away, Blake!
Hi, Emily! Thanks for the interview and for donating your time. 
– Oh, no problem. Thanks for having me!
– Okay, let's get into it! So, how long have you been a gymnast?
– I've been a gymnast for basically my entire life. I've been a gymnast for 15 years, since I was only two. I started competing at four years old. Gymnastics has been a part of me since a young age, and I've dedicated a lot of time to it.
What events do you participate in, or which is your strongest?
– Beam is definitely my strongest event. Generally, I don't fall off, and I have put the most focus into perfecting my routine.
Well, considering you won second place at the Shore Conference Tournament in this event, I would say that you are near perfect at it! Let's pivot to a question outside of gymnastics. What is your pre-competition ritual?
– I have two things that I always have to do before a competition. First, I always like to take a nice nap ahead of time, that way I feel well-rested and energized, and ready to go come competition time. I also always need to eat pasta before I compete. It might seem random, but it is just something that I've incorporated into my ritual and have stuck with.
I won't question it, don't worry. Who can question pasta? Anyways, do you have a professional inspiration that you aspire to be like?
– Simone Biles is definitely a gymnast I look up to, simply because she is the best in the world at what she does, and she is a great figure and role model to look up to.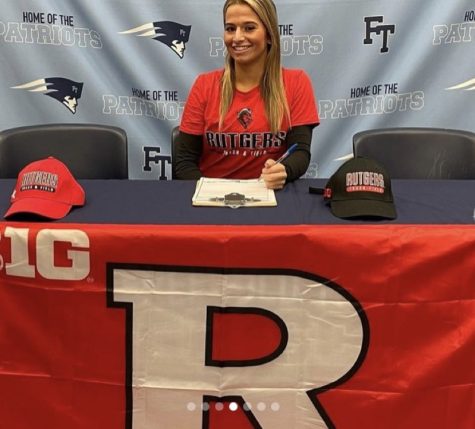 What does your future as a gymnast look like?
– Sadly, I'm not going to continue my gymnastics career in college, which I am bummed about. Don't get me wrong, I love the sport, my teammates, and my coaches, but I am going to focus on pole vaulting at Rutgers University instead.
Well, even though you won't be a gymnast in college, I'm sure your coaches and teammates will be extremely proud of you for being a college athlete anyway. Besides, Division I Track and Field is no joke! Is there anything you would like to say to your coaches, mentors, and teammates?
– I would just like to thank them for always being there for me. Day in and day out, my coaches and teammates have always had my back, which I appreciate more than words. Thank you for being so supportive and awesome!
You are not the first Rogers to compete in FTHS sports. Does having fellow [gymnasts] in the family pressure you at all?
– Yes. Because I am the youngest, I usually feel the pressure to beat my older sisters and what they have accomplished here at Township. They really push me to be the best I can be.
Alright! We're on to our last question. Considering that you are an amazing gymnast, are there any areas of the sport that you struggle with?
-I think floor routine is my worst event. I simply can't do it. Dancing is definitely not my thing.
Okay! Well, that about wraps things up. Thank you again for your time, and congratulations on an incredible season!
– Thanks, Blake!