Senior Captain Interviews: Gabby Koluch
Gabby Koluch is a senior here at FTHS and is the main leader behind our unbelievable girl's soccer team. To reflect on her great season and the team's historic success, Sophia Monteforte and Jenna Volpe sat down with Gabby.
---
Hey Gabby! Congrats on an amazing season up to this point!
– Thank you so much!
Alright, let's get started. So, for those who don't know, what position do you play?
– I play center-back.
What is your favorite aspect of your position?
– Well, I didn't always play center-back. I originally played center-mid, but this season, we needed another center-back. So, I switched my position, which actually worked out very well, because I play well with Grace [Miraglia].
What is the most challenging part of playing your position?
– I would say that communication is the toughest element of the position. A lot of communication goes into being a center-back. The most important thing that I have to ensure is making sure the back line is constantly organized.
What is your favorite memory while playing for Township?
– Our success. Obviously, winning is great, but to win the Shore Conference Tournament back-to-back years, that's just amazing. It was the first time in ten years that we won two consecutive Shore Conference Tournaments. I would definitely consider these accomplishments my favorite soccer memories while playing here.
Well, when you're not on the field, what do you like to do in the offseason?
– I don't really have an offseason, honestly! When the school season isn't happening, I play for my club team, Cedar Stars Academy. That way I can stay sharp throughout the year.
Transitioning back to talking about school, do you and your teammates have any pregame rituals or superstitions that help you get ready for the game?
– I wouldn't say I necessarily have superstitions, but on the bus, my teammates and I love to get hyped together. We play our music and get all get pumped, and we play our playlist over and over again during warmups as well.
That's awesome! That seems like a fun time. Aside from athletics, what is your favorite subject in school and why?
– Hm. I would say AP Stat is my favorite subject in school, mainly because I love my teacher, Mr. Patterson. He makes the class enjoyable.
So, Gabby, this is your senior year, and it's almost time to begin your college career! First, congratulations on your commitment to Villanova University! I'm sure it still seems surreal. What are you looking forward to most while playing for Villanova?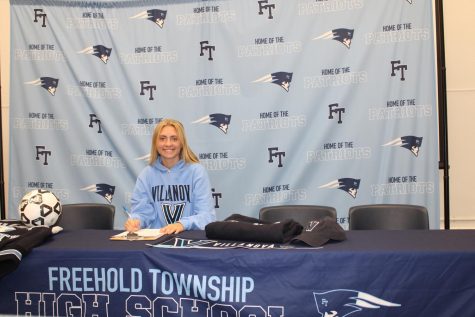 – I am extremely excited about the change that college life offers. I'm thrilled to meet new people within my college community, and I am also thrilled to be more independent and be living on my own for a while.
What made you realize Villanova was the right fit for you?
– It wasn't all about soccer. First, I loved the school and campus when I went to visit, even though I committed pretty late in my junior year. I also just felt that the school offered the perfect blend between athletics and academics, which I why I chose the Wildcats.
What advice do you have for those looking to be college athletes, considering that you are soon to be one?
– Start early, and put in the work. You have put as much effort as possible into all aspects of the college application process. Email the schools you are interested in, watch film, and never give up. It took me a while, but remember that everything happens for a reason. If something doesn't necessarily work out at first, know that there is always something else waiting for you, so go for it.
What do you think is going to be the biggest college playing at the college level?
– I think the overall change in play style is going to be a difficult transition. The game is at a much higher pace of play and is a lot more physical than it is at the high school level, so I know that I have to put in the physical and mental work.
Knowing your work ethic, I'm sure you will be able to do so. Alright! Last question. What do you think was the most difficult part of your college recruiting process?
– I would say that getting noticed by colleges was the hardest part at first, and then once I did, keeping up communication with colleges. I had to remember that even if they drop you or don't want you, somebody else will and that you have to keep your head up.
Great words of advice, Gabby. That's about it! Thank you so much for your time!