Streaming Hot Topics: Smile
Hello and welcome back to Streaming Hot Topics! If you haven't noticed already, there's been a slight change within this column. Instead of focusing solely on Netflix Hot Topics, I am expanding to other streaming platforms, such as Hulu and Disney Plus, alongside Netflix. In honor of Halloween being just days away, I thought it would only be fitting to discuss one of the newest horror films to be released in theaters. So without further ado, this month's Streaming Hot Topic is….. Smile! You may have heard about this title through social media buzz or if you've already seen it in theaters! Either way, let's dive into the plotlines and conflicts in Smile!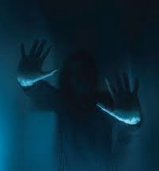 Before we jump into the heightened parts of the movie, let's review the background of the setting. Smile (directed by Parker Finn) centers its attention on Dr. Rose Cotter, a psychiatrist who visits a psych ward to speak with her patients. Rose has carried trauma from both within and before her time spent with patients. At just the age of 10, young Rose watched her mother die in front of her at the expense of combining pills and alcohol. In addition to such weighted childhood trauma, during her time with patients she had experienced the horrifying death of one of her patients right before her eyes. With that being said, both of these painful moments in her life had taken a toll on her mental health, until things shifted into a higher gear. It all starts after her meeting with one of her newest patients, Laura Weaver. Just days before their meeting, Laura had witnessed the death of her professor caused by suicide. Since then, Laura has believed that she is being compelled by a spirit that takes the action of anyone smiling as a sign that she is going to die. The most concerning part of it all is the fact that Laura isn't the only one haunted by this smiling entity. As Rose makes her way to each patient, she discovers a graphic pattern while she finds each of her patients dead with an unbreakable smile. This means that the more patients that die, the closer Rose is to awaiting her own death. Will Rose escape the curse before death catches her first? Can the curse even be escaped? Most importantly why are Laura and Rose held captive by the same curse? I guess it's up to each of you to find that out for yourselves! 
Overall, if you are someone who enjoys a good scare and frightening plot lines, this movie is absolutely for you! If this glance at the plot peaked your interest and you would like to see it for yourself, you can find this title streaming only in movie theaters. Although, Smile is expected to stream on paramount plus sometime in the month of November! If you are unable to view it in theaters, be sure to stay updated on its possible release dates in paramount plus! Thank you all so much for returning for the first Streaming Hot Topic of the year! Stay tuned for next month's Hot Topic! 
Happy Halloween everyone!