Softball Press Release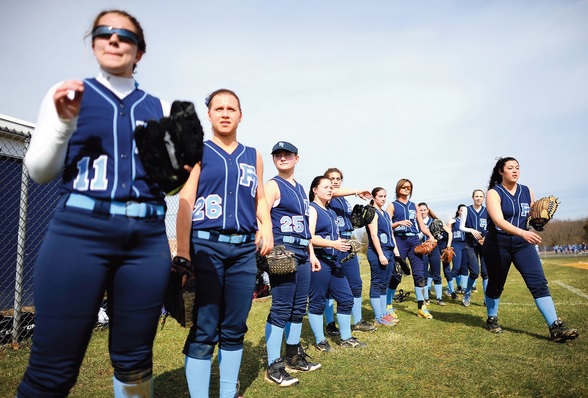 Elissa Masin, Writer
April 30, 2015
As Coach Kuzma comes back for a second year coaching with the help of JV Coach Withstandly and Freshmen Coach Stoia with high expectations for the girls this season. The Patriots are competing in the A-North Shore Conference and plan to beat their standing from last year. With an upsetting 5-13 record last year Coach plans on leading the team to more victories this season with help from her seniors Gabriella Graziano, Megan Callahan, and Katie Tirabassi.
Gabriella dominates the outfield as starting left fielder but really shows her competitive and aggressive nature when she's up at bat. When I asked Gab what her expectations are for the softball season she replied with, "Being a senior and a four year varsity player, I expect to be one of the leaders on the team. And under the guidance of our relatively new coach Kuzma, and the program being in a rebuilding year, with mostly having underclassmen we can hopefully have a 500 season."
Gab has been brought up to Varsity since freshmen year with her teammate and Megan Callahan. Megan is the starting third basemen and you can usually find her big bat either fifth or sixth in the lineup.
Tirabassi started her Varsity softball career as a freshmen. Her natural leadership skills landed her the captain position last year-the only junior to do so. She is the starting first basemen and a clear leader for the Patriots.
Come out and support the softball team at their upcoming games. They will be playing their rivals Howell High School on Friday April 17th. Our former JV Coach, Johnny Strapa, now holds the position of Howell's Varsity coach. Last year the girls faced a devastating lost to Howell only to face them later in the season to beat them. Monday April 20th they will be playing at freehold Borough where our former Varsity coach now holds the position of the JV coach at Borough. Borough v. Township is expected to be a good game considering they are closest in the standings in the A-North Shore Conference. We wish the Patriots good luck in the rest of their season!